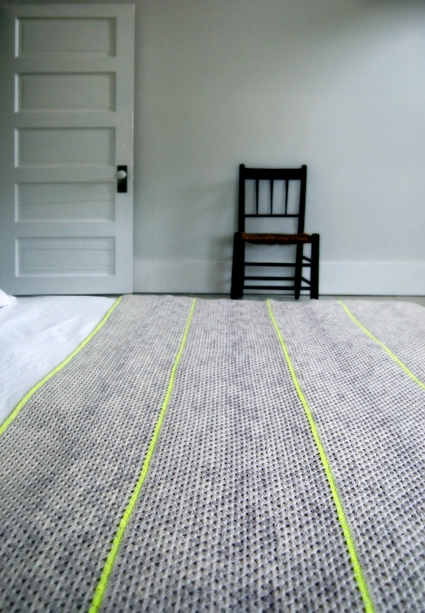 All too often I hear people saying "this isn't your granny's crochet" or disparagingly calling something handmade "granny" to mean that it's unstylish, ugly or fussy. I personally think this is unfair to our collective Grannies, women who made so many beautiful things that still inspire us today.  I made this bed sized Granny Stripe blanket with the hope of showing that Granny Style can indeed be a thing of beauty.  I think this blanket is both modern and elegant, especially with its playful color note which for me harkens back to the fun and funky crocheted blankets made by many of our grandmothers.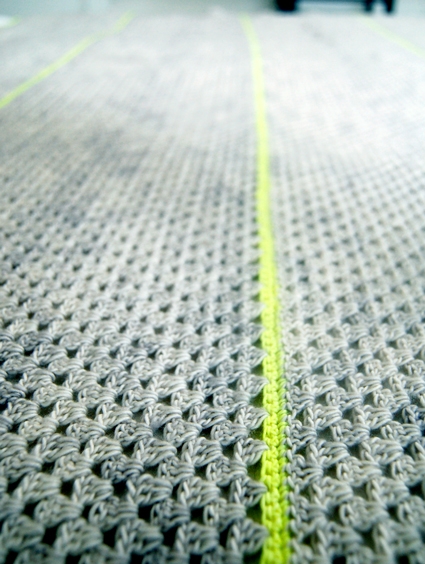 The Granny Stripe is a crochet pattern that is made just like the iconic Granny Square, but instead of stitching around and around a center square, it is made by stitching back and forth in rows.   The beauty of the Granny Stripe pattern is how effortlessly it lends itself to graphic elements, like bright stripes or big blocks of color.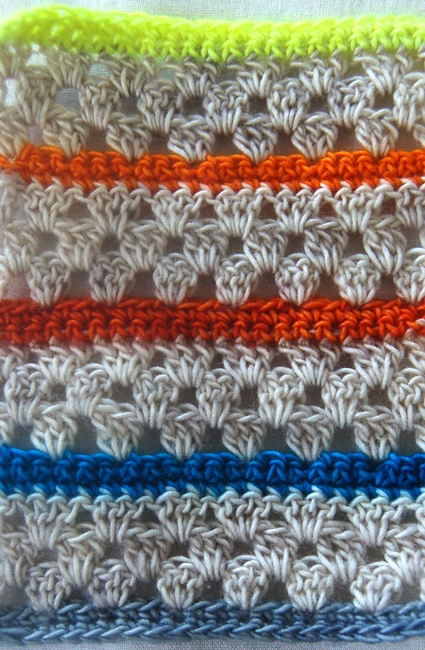 For my Granny Stripe blanket I used the incomparable Madeline Tosh, Tosh Merino Light. As I worked on the blanket I fell madly in love with this yarn, it is an amazingly strong but delicate single ply beauty.  Tosh Merino Light comes in an astonishing range of gorgeous hand dyed color, and truly any one of them (or any dozen!) would make an incredible Granny Stripe blanket.  Above are a handful of colors I really love and considered for the blanket, the off white is Antler, the top stripe is Edison Bulb (both used in my blanket), then Citrus, Napoli, Oceana and Denim.   -Joelle
Update: New Version!
July 2017
We crocheted this version of our Granny Stripe Blanket with just one Cotton Pure on Cone for the main color and one skein of Cotton Pure for the stripes. A timeless motif, plus a classic cotton… Perfect.
Materials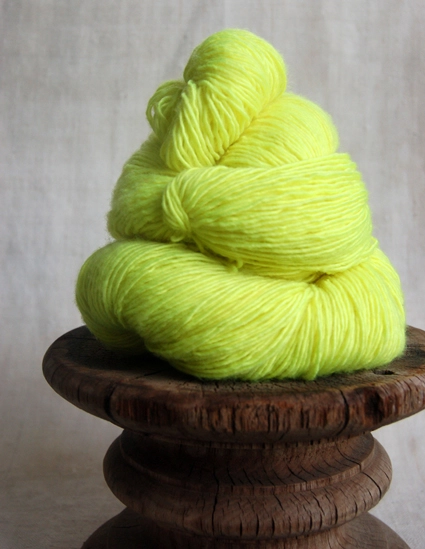 Size
Finished Measurements: approximately 50-inches x 56-inches wide.
Gauge
24 double crochets = 4 inches wide
Notes
The hardest part of this project is the first part – making a very long chain, and then working into the very long chain for your foundation row. I'm not going to lie to you and tell you I enjoyed this part, I didn't! However, it's totally worth it! Also, if you have some crochet experience, you can avoid all this with our step-by-step Foundation Single Crochet tutorial which teaches you to create the chain and first row of single crochets all in one step!
The pattern stitch is a multiple of 3 + 2, so if you want a smaller blanket, it's easy, just chain less, making sure that the stitch count is a multiple of 3, plus 2 stitches.
Pattern
With Contrast Color, chain (ch) 302.
Foundation Row:  1 single crochet (sc) into 2nd chain from hook, 1 sc into each chain to end (301 sc).
(If you're an experienced crocheter, you'll probably prefer to make a Foundation Single Crochet of 301 stitches instead of 302 chains and the Foundation Row.)
Foundation Stripe Row: 1 sc into each sc to end. (301 sc).
*Switch to Main Color.
Main Color Set Up Row: Ch 3 (counts as 1 double crochet (dc)), 1 dc into first sc, [skip 2 sc, 3 dc into next sc] to end (you will have: 2 dc stitches plus 100 dc groups).
Main Color Granny Row:  Ch 3 (counts as 1 dc), 1 dc into very first stitch, [3 dc into next space between dc groups] repeat to last space, 2 dc into last space and then 1 dc into 3rd stitch of ch 3 from previous row.
Repeat Main color Granny Row 31 more times.
Switch to Contrast Color.
Stripe Row Set Up:  1 sc into each dc to end (301 sc).
Stripe Row: 1 sc into each sc to end. (301 sc).
Repeat from * 4 times more.
Sew in ends and enjoy!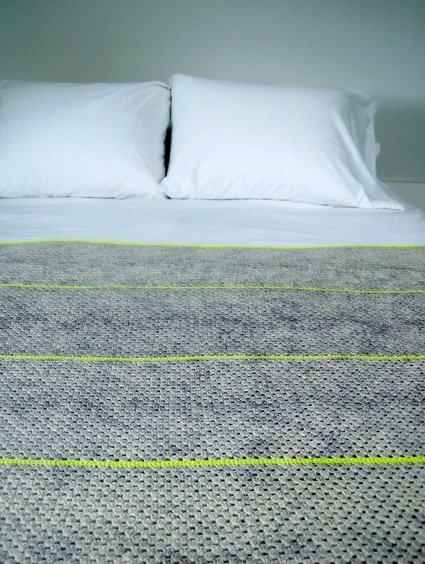 ps- For those of you asking for a photo of the edge of the blanket here you go!