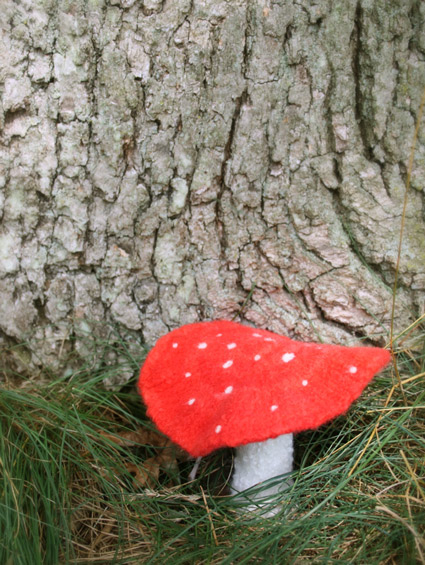 These lovely felted mushrooms created by Kathryn Ivy look great in many different color palettes.  We had fun choosing ours from a wide spectrum of natural organic colors to rich playful colors.  It's amazing how both extremes are just as beautiful and truly feel like they belong in nature. The red spotted mushroom above is one of my favorites! I needle felted the spots onto the cap with cream color roving.  Please see Kathryn Ivy's Blog for the complete (and free!) patterns.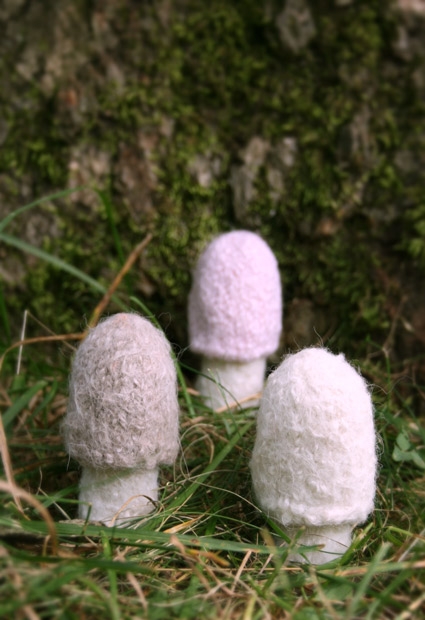 Bell Shaped Mushrooms
These are all bell-shaped caps.  They all have medium stems.  The cream colored mushroom has the large bell-shaped cap and the pink and taupe mushrooms are small bell-shaped caps.  As you can see, the size difference between the small and large cap is minimal.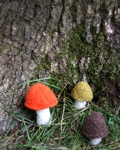 Rounded Cap Mushrooms
All three of these are the rounded cap mushrooms.  The orange one has a tall stem and the brown and green mushrooms have medium stems.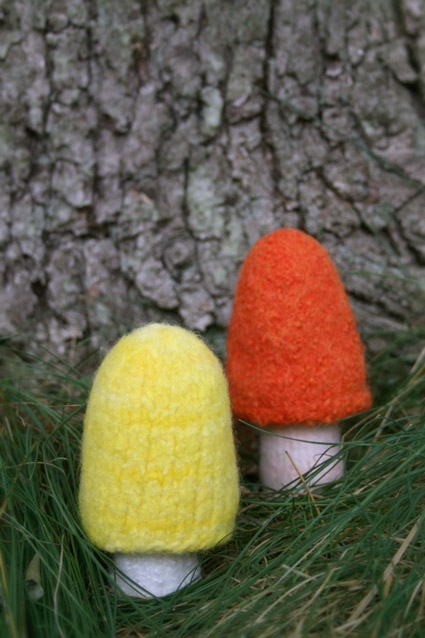 Large Bell Shaped Mushrooms
We love the fun colors of these mushrooms which actually exist in nature!  The yellow mushroom is the large bell-shaped cap and the orange is the modified version of the same pattern that I give instructions for below.
Materials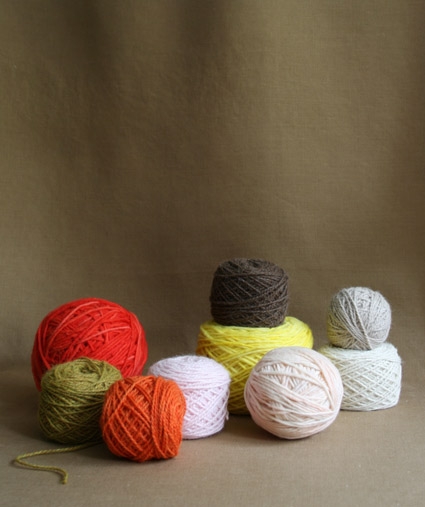 We used:
Pattern
Unfelted Caps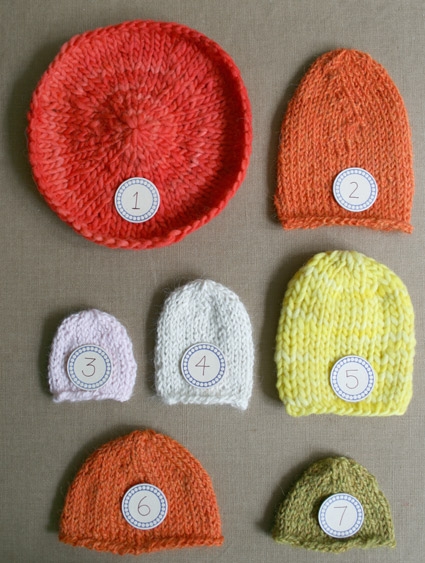 I knit up 7 different size caps.  Six of which Kathryn gives the patterns for and one I made by combining two of her patterns.  See the below key for which cap is which.
*For cap #2, cast on 33 stitches as if to make the small rounded cap.  Now knit rows 1-16 as you would in the large bell shaped cap.  Then refer back to the pattern for the small rounded cap and pick up where it asks you to (k2tog, K9) to end.  Follow the rest of this pattern to the end.  In summary, you are knitting 16 rows before decreasing instead of just 2.
Felted Caps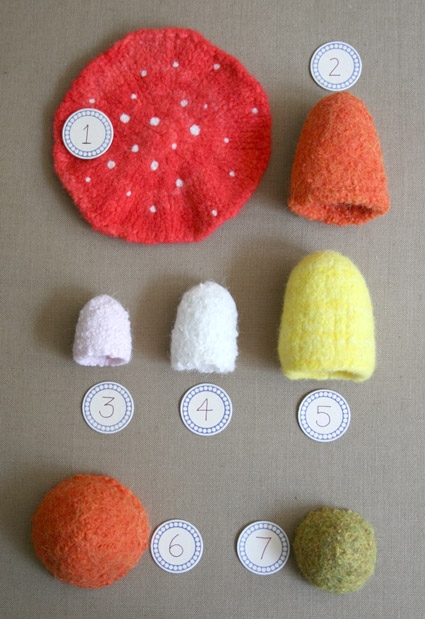 Here are the caps felted!
Unfelted Stems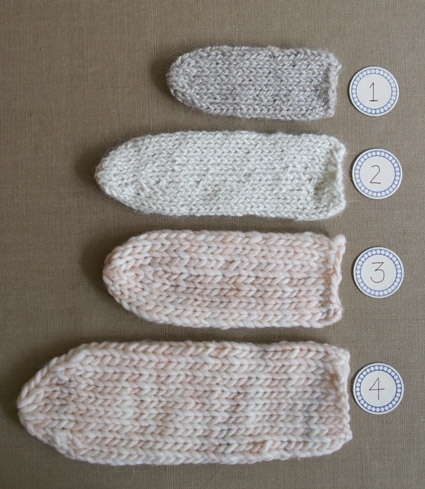 Kathryn Ivy's pattern offers two stem sizes, tall and medium.
Above I have knit both sizes in two different weight yarns:
Medium stem in Blue Sky baby alpaca sport weight color 505
Tall stem in Blue Sky baby alpaca sport weight color 500
Medium stem in Andy's Merino II single ply worsted Pink French Vanilla
Tall stem in Andy's Merino II single ply worsted Pink French Vanilla
Felted Stems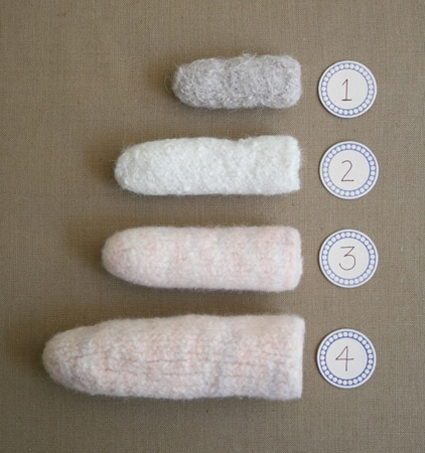 Here are the stems once they've been felted.  See Kathryn's pattern for how to felt them. I found that they felted best when you roll them vigorously between your hands in two different ways.  One way is to scrunch it up and roll it like you would roll something into a ball.  The other way, which lengthens it, is to roll it as if you were trying to make a long tube.  I wouldn't recommend taking the short cut of throwing them in the washing machine.  I tried this with one of my stems and the entire thing fused together into a wonky shape.  It also felted in some places and not in others.  You can really control the shape when you felt it by hand.  Enjoy!! –Page