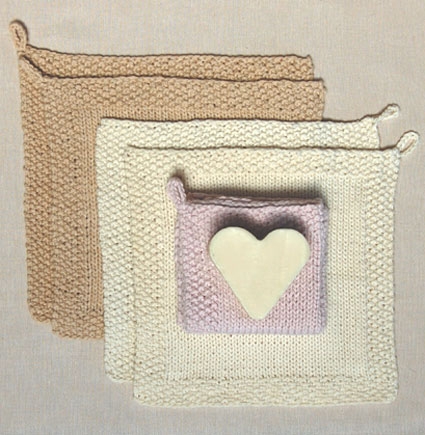 When we got married, my husband and I didn't register for gifts. We were young and naive and just felt kind of weird asking people to give us stuff. So instead of gravy boats and champagne glasses, we got lots of funky and surprising things, like these salt and pepper shakers. They came from my wonderful Aunt Rosemary who collects vintage treasures wherever she goes. We never could have registered for these!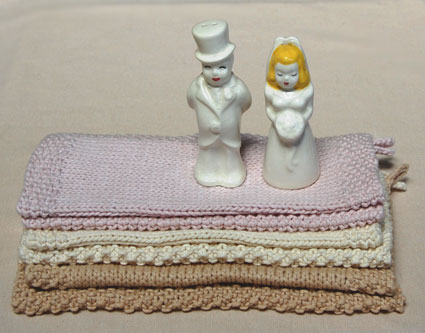 I have to admit that sometimes I do regret the decision to not register, like in the morning when I eat my cereal out of my Ikea bowl with my Ikea spoon at my rickety kitchen table. But, really, I would trade a thousand silver spoons for the thoughtful, personal and often handmade gifts we did receive.
So, in that spirit, I decided to make my cousin Maria and her soon-to-be-husband, Len, a set of cotton washcloths for their June wedding. Blue Sky's new Skinny Cotton is organically grown and, in the case of the tan and cream, undyed. It is soft and sturdy, and will just get better and better as Maria and Len grow old together!
These organic cotton washcloths are a cinch to make. The two styles, one seed stitch and the other stockinette with a seed stitch border, are both easy enough for very beginners. But I don't think the washcloths will be less appreciated for their simplicity. They are beautifully soft and sturdy and will definitely stand out as having been made with love!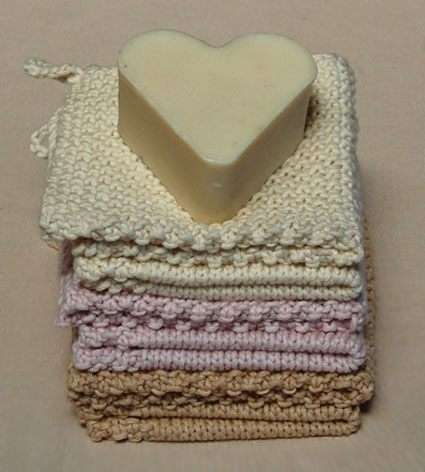 I'm also giving them some heart shaped soaps that I got at a store near Purl called Sabon (You can get them online too – click here.) Weddings are the perfect time for such luxuries! Thanks! – Whitney
Materials
Blue Sky Alpaca's Skinny Cotton, 100% organically grown cotton. 1 skein makes 2 washcloths. The colors here are Organic Clay 31, Pink 305 and Birch 30 (The Clay and the Birch are naturally occurring colors, in other words, undyed).
US #5 knitting needles, straight or circular.
A small crochet hook, like a size "E".
Gauge
21 1/2 stitches = 4 inches in seed stitch
Size
8 inches x 8 inches unblocked size
8 1/2 inches x 8 1/2 inches blocked size
Seed Stitch Washcloths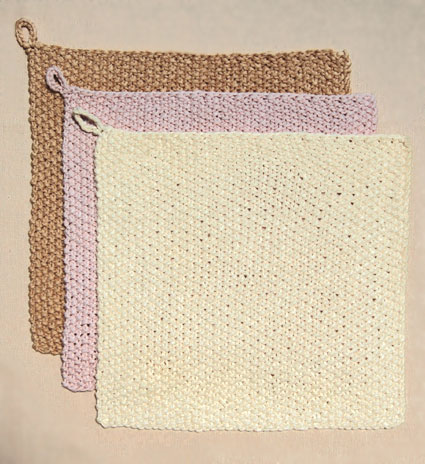 Cast on 43 stitches.
*k1, p1, repeat from * to end of row.
Repeat this row every row until piece measures 8 inches.
Bind off and finish, leaving a tail about a foot long.
Stockinette Washcloths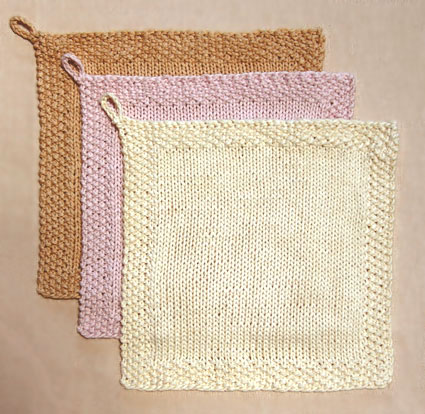 Your gauge in stockinette stitch may be different than your gauge in seed stitch, so I suggest doing a gauge swatch in stockinette stitch. When you know how many stitches per inch you're getting, take that number and multiply it by 8. Cast on the odd number closest to that number. For example, if your stockinette gauge is 5 3/4 stitches per inch, multiplied by 8 is 46, so cast on either 45 or 47 stitches.
Row 1: *k1, p1, repeat from * to end of row.
Repeat Row 1 six more times.
Row 8: [k1, p1] 2 times, knit to last 4 stitches, [p1, k1] 2 times.
Row 9: [k1, p1] 2 times, k1, purl to last 5 stitches, k1, [p1, k1] 2 times.
Repeat the last 2 rows until piece measures 7 inches.
Knit Row 1 seven times.
Bind off and finish, leaving a tail about a foot long.
Crocheted Loop
To make a little loop for hanging the washcloth, insert the crochet hook into the corner of the washcloth. Pull a loop of the tail through.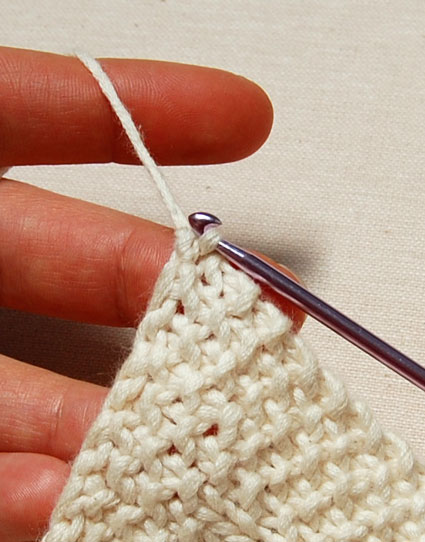 Chain 11.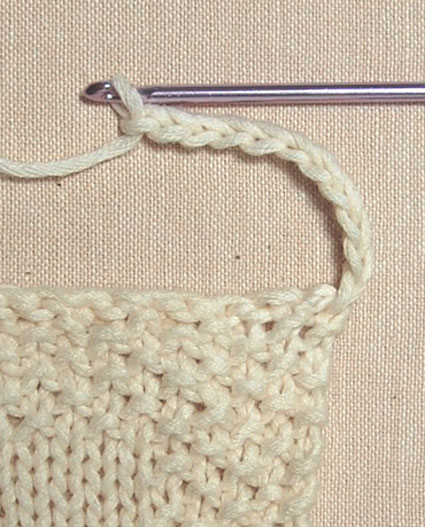 Put the crochet hook into the same place the chain originated, and pull a stitch through.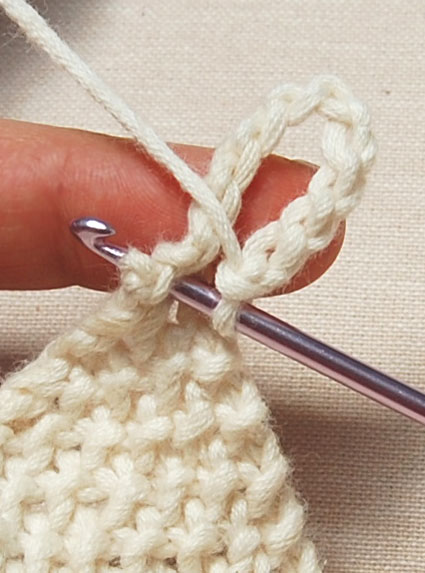 Slip stitch and finish.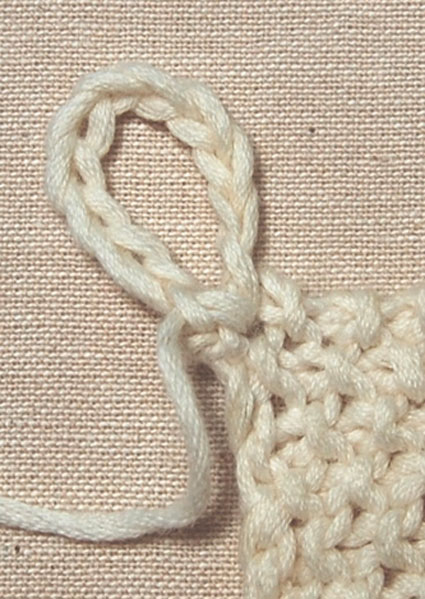 Finishing
Sew the tails along the cast on and bind off edges so that they're nicely hidden.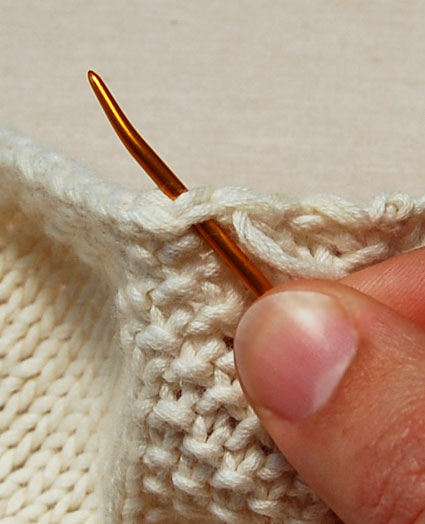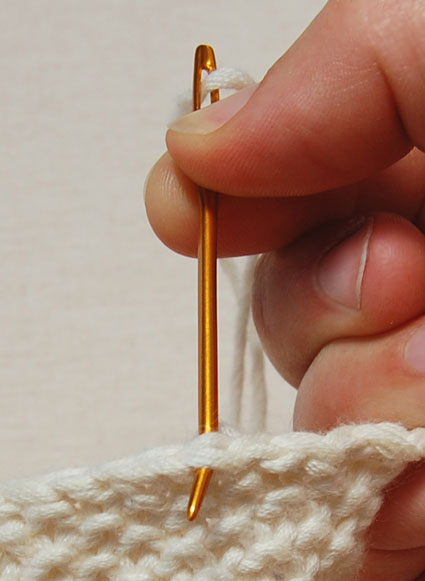 Blocking
Sometimes I don't block my finished projects, but, in this case, I think it's a pretty important step. Cotton is a bit unforgiving, so blocking will definitely help even out your stitches, and also, by blocking, you can shape really neat and even squares.
So, soak the washcloths in a sink or basin of room temperature water. You can add some mild soap to the water if you want (like Ivory dishwashing soap, baby shampoo, or I use a gentle wool wash called Soak which you don't have to rinse out).
Squeeze the excess moisture out of the washcloths (but don't wring or twist). Then roll them in a dry towel and squeeze the towel (I even kneel on the towel roll to really get the water out).
Pull the washcloths in all directions, horizontally, vertically, diagonally, shake the stitches around. Then lay each washcloth out on another dry towel and carefully shape each one into a neat square. My squares were 8 1/2 inches by 8 1/2 inches, but if your gauge is a little different that's okay, as long as they're all about the same as each other!
They'll dry exactly in that shape – (almost) perfect!