If you know how to machine sew a very basic thing, like a napkin, you are fully equipped to make a quilt, and not just a quilt that will end up tucked in some dark closet, but an actually beautiful, useful quilt that will make you so proud, you'll be wondering what quilt to make next!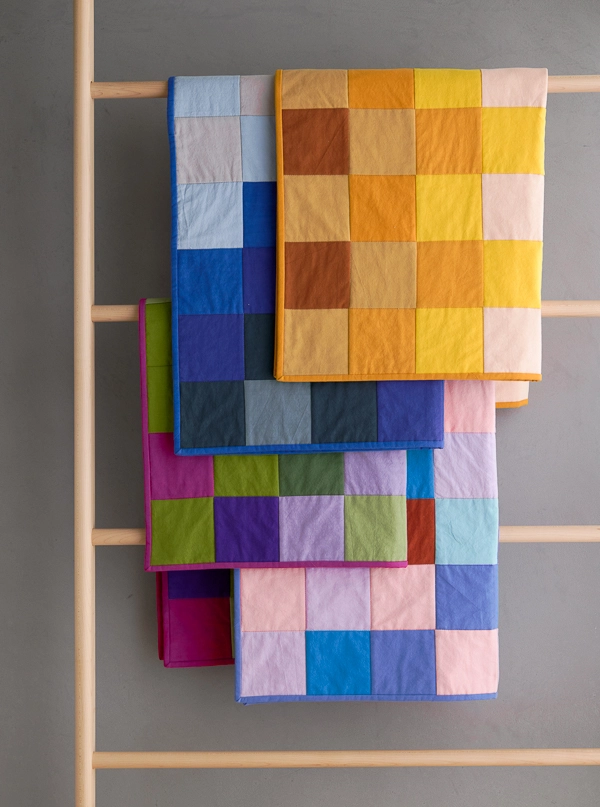 Take the plunge with our wonderfully supportive Learn To Sew A Patchwork Quilt Pattern. We walk you through every step, from safely using a rotary cutter to sewing on the binding. We think novices should be in on the tricks of the trade, like chain piecing and mitered corners, so you'll learn those techniques, too!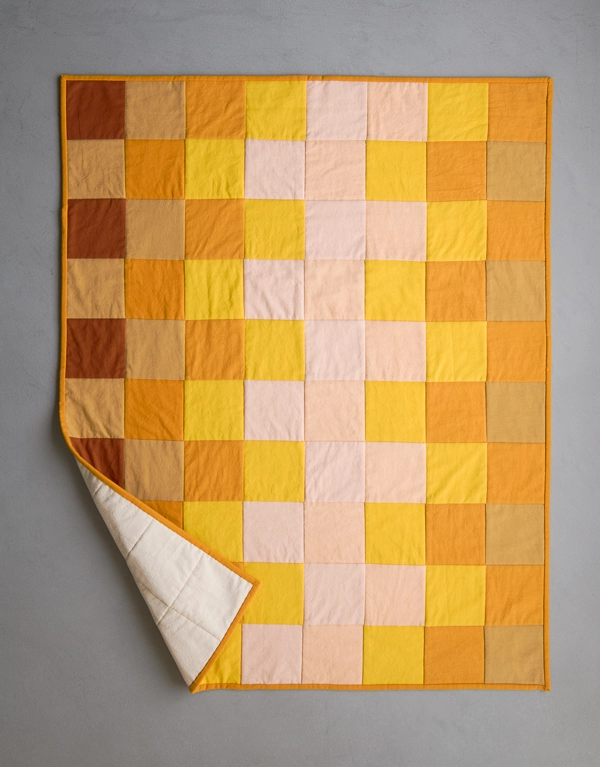 The pattern also offers four layout options for piecing your squares. Each one shown here is a different arrangement, using a different palette, which means… calculating, calculating… sixteen possible outcomes, plus the outcome where you pick whatever colors and arrangement your heart desires!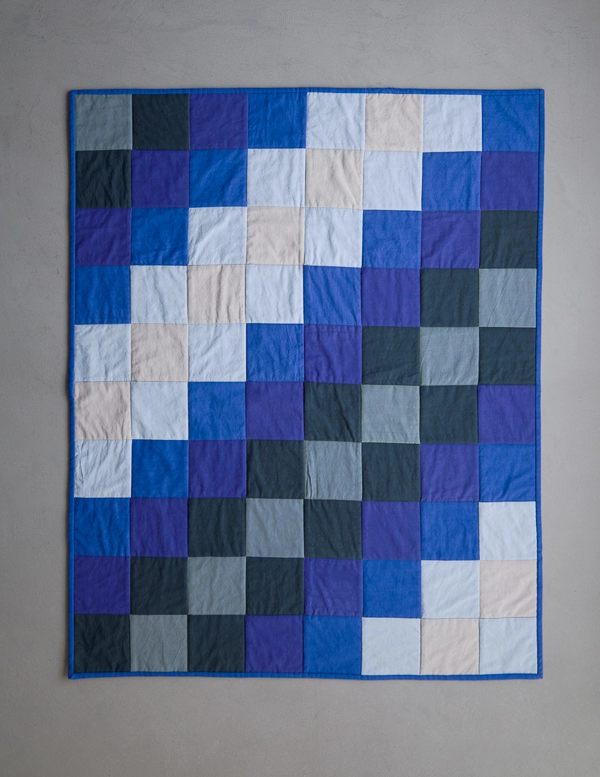 This project is actually a classic from our archive, so the big news here is that we updated it with the help of Spectrum Cotton, our super soft garment-dyed cotton that comes in a slew of gorgeous colors.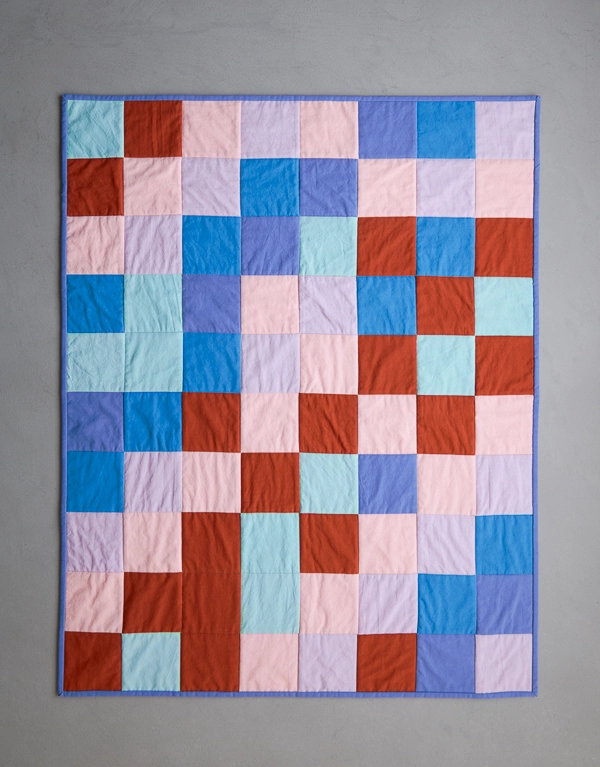 Our Learn To Sew A Patchwork Quilt Bundle includes all the Spectrum Cotton you need, plus thread and batting, and comes in four pretty palettes. Pick one up and join the wildly creative, boundlessly inspiring world of quilting!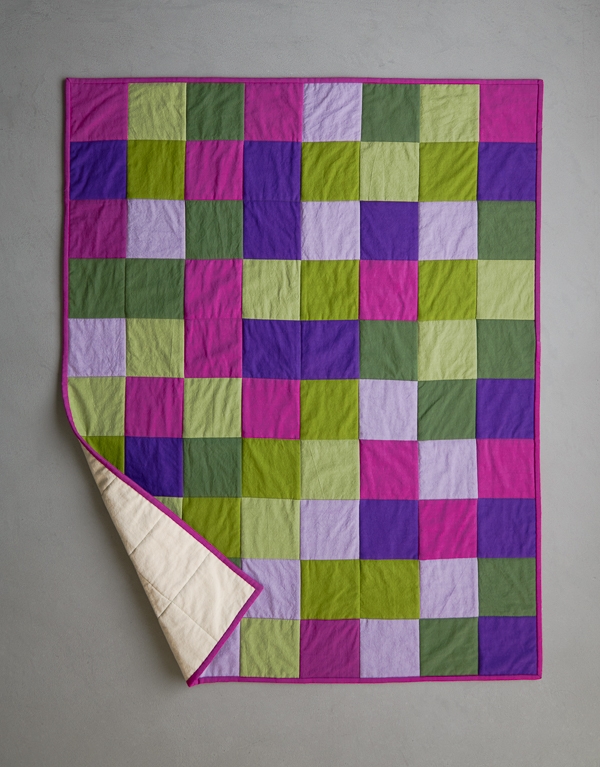 Originally designed for Purl Soho by Molly Schnick.
Materials
Our Learn to Sew a Patchwork Quilt Bundle includes…
Patchwork Squares + Binding: Six ½-yard pieces of cotton fabric in six colors. We used Purl Soho's Spectrum Cotton. (This is enough fabric to choose any of these colors as the binding.)
Backing Fabric: 1 yard of cotton fabric. We used Spectrum Cotton.
Cotton sewing thread in a coordinating color. We used one spool of Purl Soho's Organic Cotton Thread.
36 x 46-inch piece of 100% cotton batting in a thin weight. We used Quilter's Dream Cotton Batting, Request loft, Craft size.
You will also need…
A hand-sewing needle
Straight patchwork pins
Curved safety pins
A rotary cutter
A 12½-inch square rotary cutting ruler
Our Learn To Sew A Patchwork Quilt Pattern
Size
Finished Dimensions: 32 x 40 inches
Pattern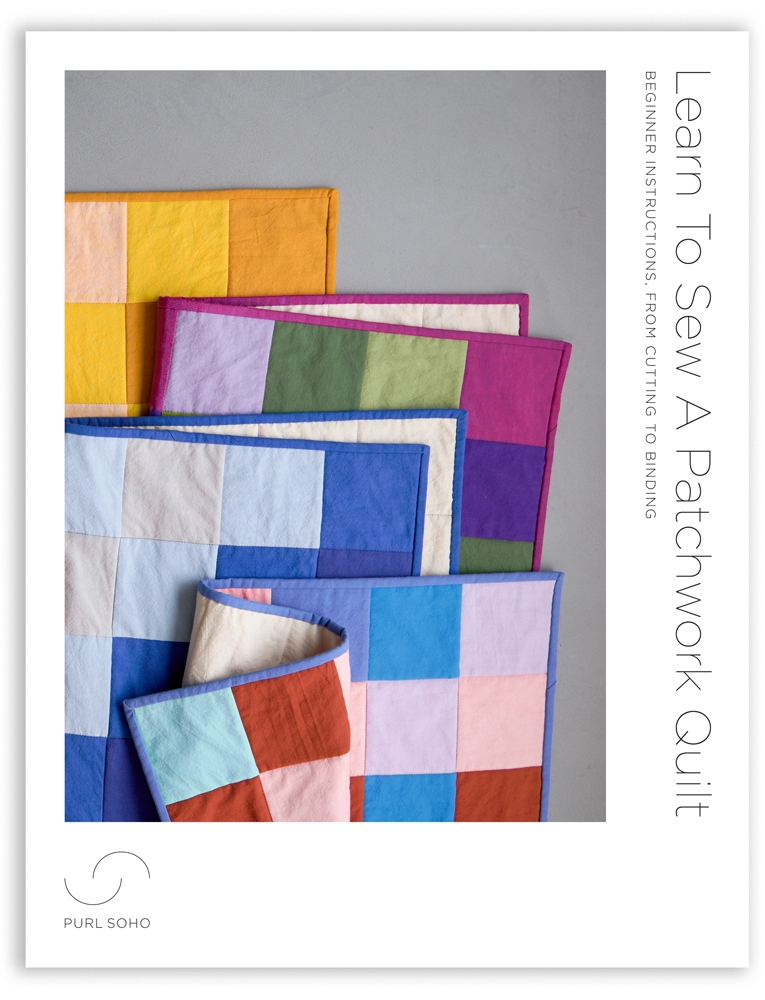 The Learn To Sew A Patchwork Quilt Pattern is available for purchase as a PDF download.