Purl Soho's Linen Grid is like an inspiring blueprint: ordered, proportional, and the perfect foundation for building beautiful things! Here we've used Linen Grid to construct a lovely version of our classic Women's Robe.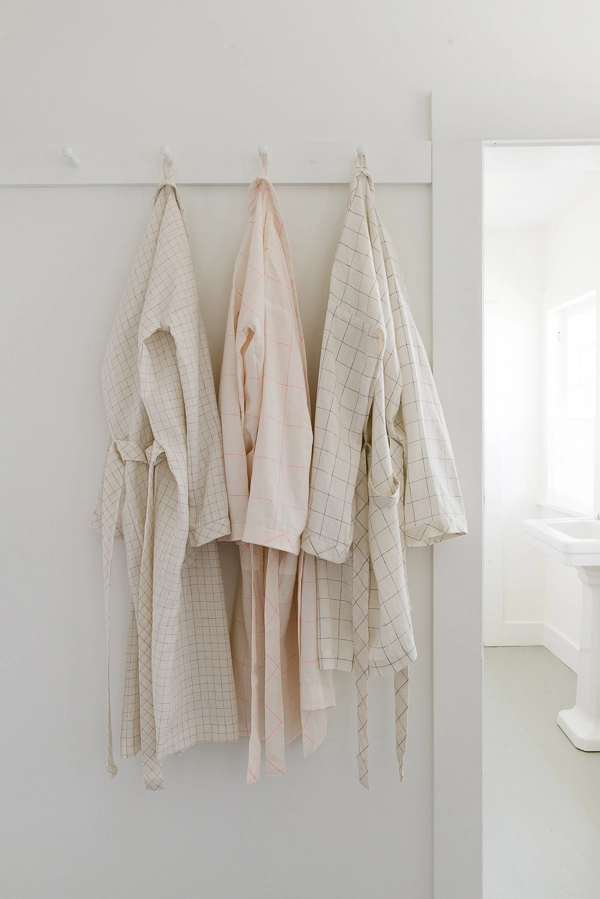 Linen Grid's intersecting lines serve as a built-in cutting guide, making the sewing of this straightforward garment even easier. The woven grid pattern also adds a new twist to the construction, with bias details at the binding, pockets, and ties. And since the grid makes bias-cutting a no-brainer, this is a great project to give sewing on the bias a try!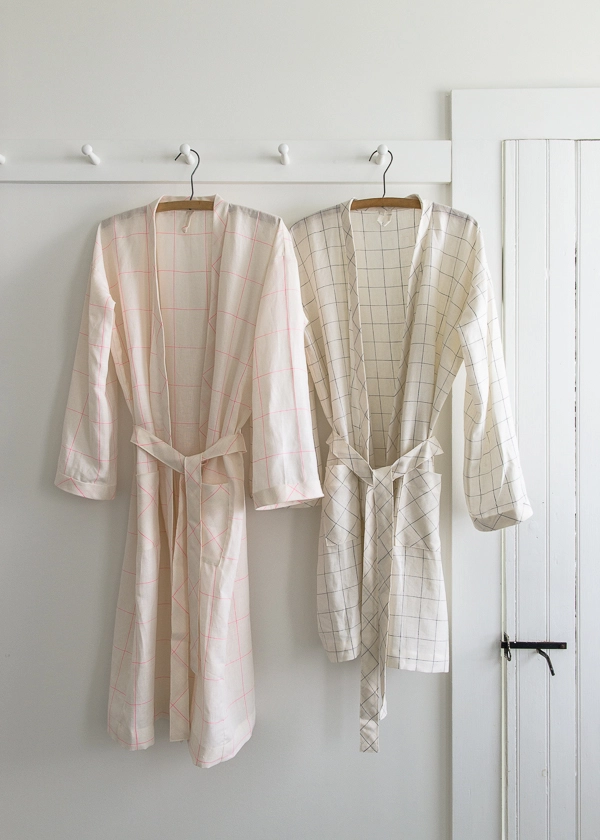 You'll still need the Women's Robe Pattern for the full instructions, but for using Linen Grid, we have a new cutting guide and some construction tips right here! – Corinne
P.S. To see our Women's Robes in Liberty of London's Tana Lawn and Robert Kaufman's Shetland Flannel, be sure to check out our original Women's Robe story and updates!
Materials
4 (4, 4 ¼, 4 ½, 4 ½) yards of fabric. We used Purl Soho's Linen Grid, from left to right, in Silver Gray, Dark Graphite, and Super Pink. NOTE: This yardage information only applies to 51-53-inch fabric, with bias accents.
Please note: We have sold every last bit of our limited-release Linen Grid. As substitutes, we encourage you try our Daily Linen, Handkerchief Linen or Watercolor Linen, all suitable in weight and in a stunning palette of colors!
One 274-yard spool of Gutermann's Cotton Sewing Thread, color 1040
The Purl Soho Women's Robe Pattern is no longer available for purchase. For assistance, please contact us at

customerservice@purlsoho.com

.
Sizes

Pattern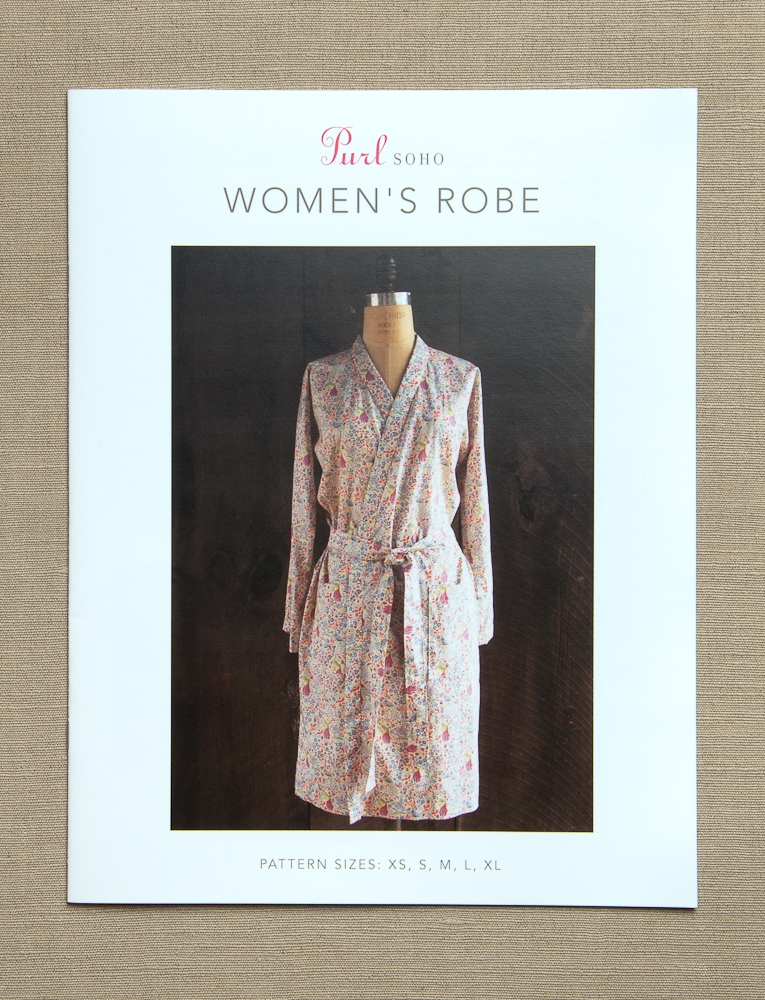 Follow the pattern as written in the Women's Robe Pattern, with the following exceptions…
Cut
Do not use the cutting guides on page 2 of the Pattern. Instead, use the guide below.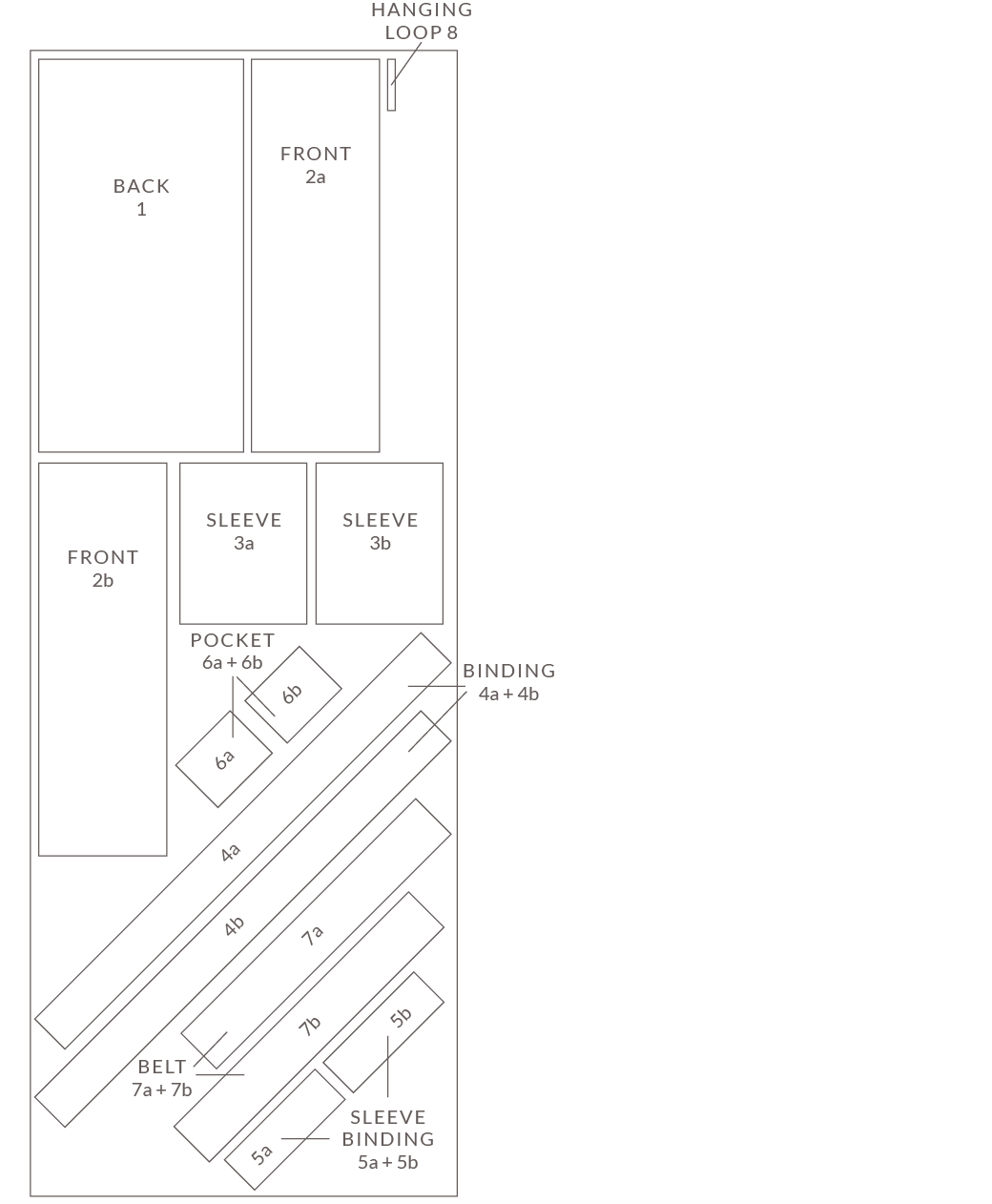 Use all the measurements given on page 3, with the following exceptions…
Binding
When cutting on the bias, you will not be able to cut the Binding as one long piece, as in the original Pattern. Here, the Binding is in two pieces: 4a and 4b. These pieces should measure 5 x 54 (58, 62, 66, 70)-inches each.
Belt
Piecing strips on the bias requires a little extra length. When cutting the Belt pieces 7a and 7b, add 3 inches of length to each piece.
Piece the Binding and the Belt
To piece both the Binding and Belt strips, please check out our Making Single Fold Bias Tape Binding Tutorial. Because it's better to piece strips with 45-degree ends, skip steps 1-3 of the Piecing the Belt section, and instead, follow the instructions given in our Making Single Fold Bias Tape Binding Tutorial.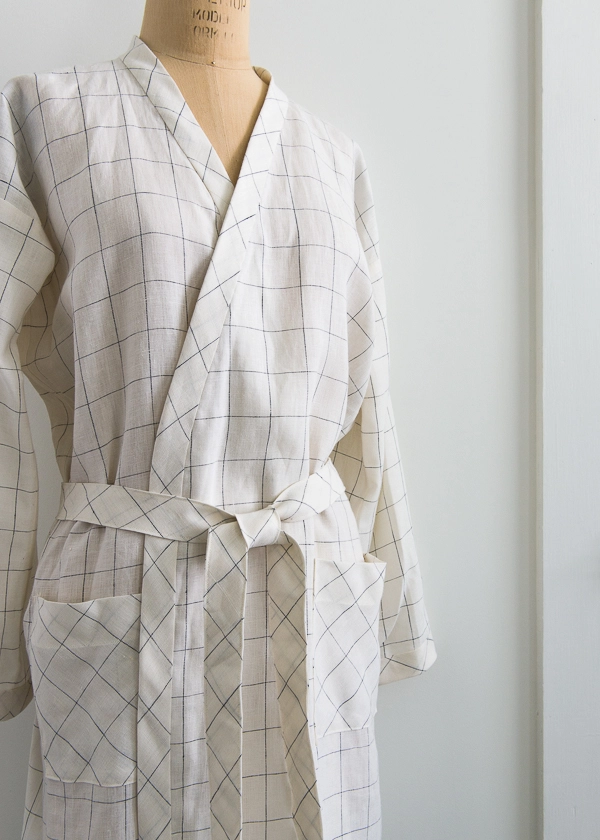 Update
Adding Room to the Sleeve and Shoulder Seam
June 30, 2016
Some of our readers (but not all!) have found that the Sleeve and Shoulder seams of this Robe can feel a little tight. If you're worried that the Sleeves might be too tight for you, please be sure to check out the Update to our
original post
!