Purl Soho's new Watercolor Linen is a truly special fabric. This crisp, cool 100% linen uses one color as the warp (the threads that run vertically down the fabric) and another as the weft (the horizontal threads that run from selvage to selvage). The result is a field of intersecting threads with a rich and unique depth of color.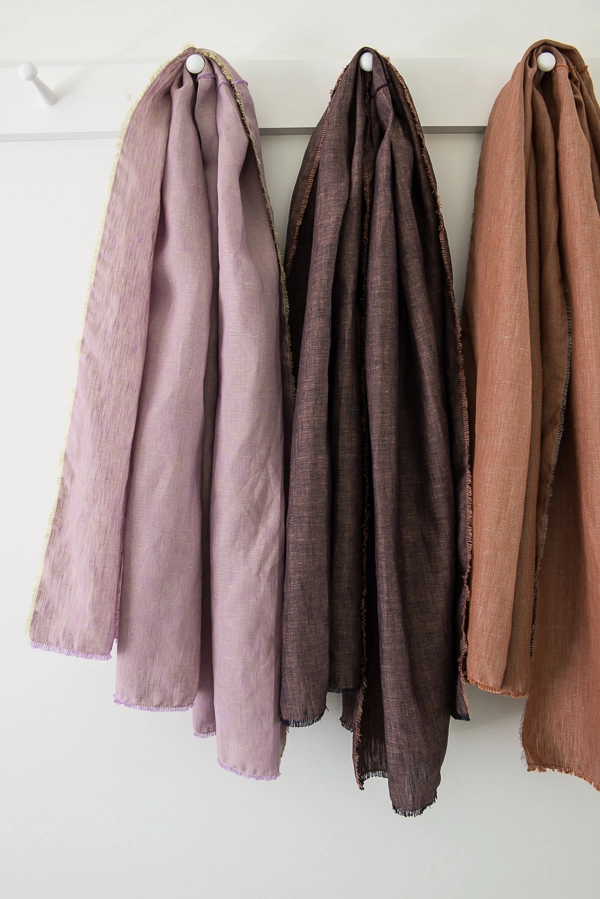 Sometimes the best thing you can do with a stunning fabric like this is let it be. These Watercolor Linen Wraps contain just the right amount of detail without getting fussy. Simply by pulling threads you create fringe on all four sides, exposing the contrasting warp and weft for what they are, pretty little surprises! Sew a quick exposed seam up the middle, and voila, your new favorite wrap is born!
Materials
1 yard of Purl Soho's Watercolor Linen. We used, from left to right, Wisteria Stem, Smoked Rose, Baked Clay, Rose Quartz, Monarch Gray and Pink Sand.
A 110-yard spool of Gutermann's Cotton Sewing Thread to match the fabric. We used colors, from left to right, 6050, 5610, 4660, 4680, 5410 and 5500.
Size
Finished Dimensions: 26 inches wide X 63 inches long
Pattern
For the free pattern, please visit our original Linen Gauze Wrap story.