Candy is powerful stuff, and we're not talking about its sugar content. We're talking about how when a Jolly Rancher clinks against your teeth or when a Necco Wafers leaves its dust on your fingers, you are instantly transported to another time and place. Craft master (and good friend!), Jodi Levine, understands this as well as anyone. Candy, for her, isn't just a sugar rush; it's the very inspiration for her amazing creations. In her new book, Candy Aisle Crafts, Jodi shares 59 projects-slash-recipes that tap right into the love we feel for… candy!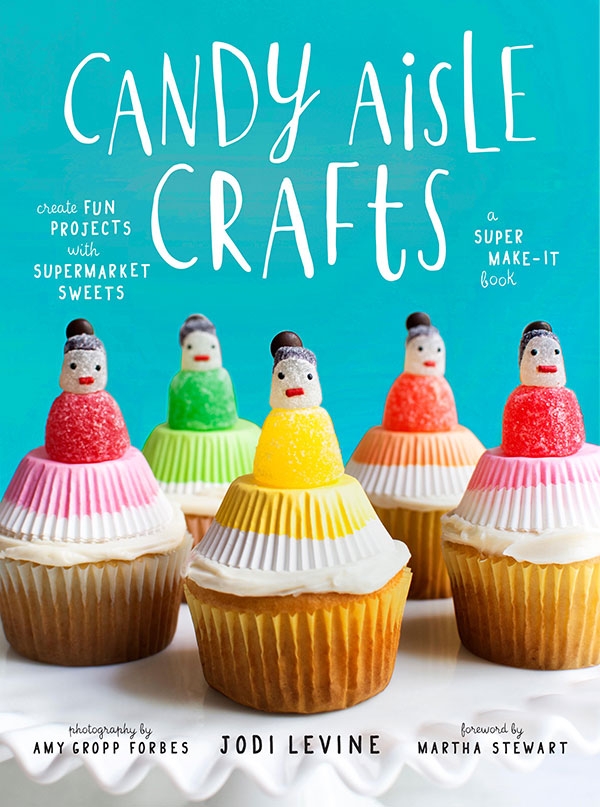 Perhaps you haven't spent your life dreaming up fanciful crafts born from foodstuffs, but Jodi has. A lifelong crafter and devotee of everyday, easy-to-find materials, Jodi has worked for nearly two decades at Martha Stewart Living as a craft guru and editorial director. She brings all of her DIY expertise to Candy Aisle Crafts with a whimsical sense of humor and a vast wealth of creativity: candy canes molded into heart-shaped necklaces, marshmallows snipped into polar bears, sandpipers, bunnies and cows, gumdrops shaped into everything from adorable frogs to bumblebees and tons more!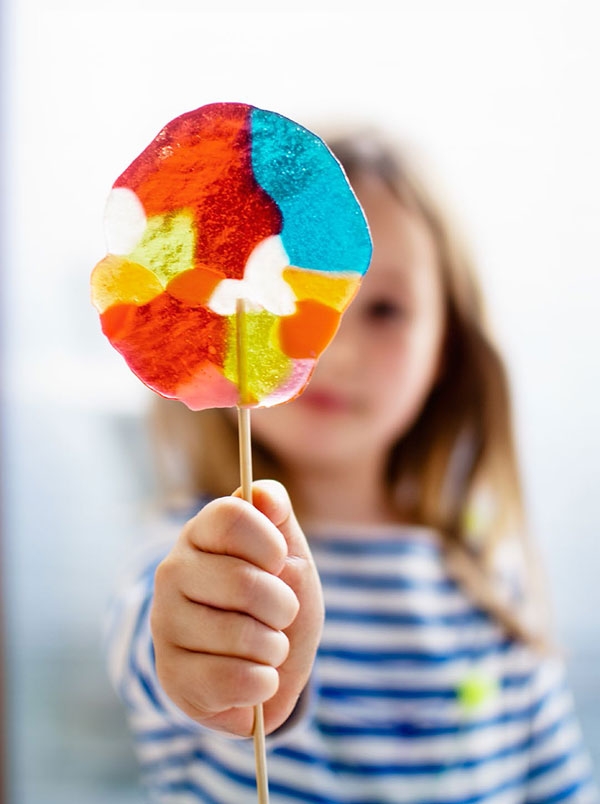 And since seeing is believing, we are very grateful to another dear friend of ours, Amy Gropp Forbes, for bringing her keen eye and beautiful photography to this project. Also a veteran Martha Stewart Living editor, plus pastry chef, plus blogger, plus wonderful photographer, Amy rounds out this crazy-talented team. Be sure to keep abreast of all their creative endeavors with their beautiful blog, Super Make It!
And there's more… Jodi and Amy want to share a sweet taste of what's inside their book with a how-to of one of our very favorite projects: Peppermint Bowls! Read on for the step-by-steps…
Peppermint Bowls
This idea was inspired by millefiori glass bowls. They are an impressive project, but easier to make than you'd think. Some brands of peppermint swirl candies work better than others. Try different types to see which ones work best for you.
Materials
Parchment paper
Heatproof bowl (I used a 6-inch metal bowl)
Vegetable oil
18 starlight mint candies
Scissors

1. Preheat the oven to 275°F. Line a baking sheet with parchment paper. Very generously grease the outside of the bowl with the oil.
2. Place 1 candy on the baking sheet.
3. Place in the oven for 2 to 2 1/5 minutes until the candy starts to look shiny and softens but doesn't melt or sag.
4. Remove and place six candies around the heated candy, touching it.
5. Return to the oven and heat for 4 to 5 minutes. Remove from the oven as soon as the candies start to soften. Don't let them melt.
6. Place eleven more candies around the circle on the baking sheet. (You can try this step with nine or ten candies for a smaller bowl.)
7. Return to the oven for 7 minutes.
8. Remove and let cool for 1 minute. Quickly trim off some of the parchment paper.

9. With the candy still on the parchment paper, and using an oven mitt, flip the candy onto the greased bowl and quickly center the middle candy on the bowl's bottom. Shape the candy around the bowl, using the oven mitt to press the candies into one another. Remove the parchment paper and gently lift the peppermint bowl off the bowl (it should slide right off, but if it sticks, let the candies cool for another minute or two and gently pull it off).
10. Place the finished candy bowls on top of small circles of parchment paper so they don't stick to surfaces.
Pretty incredible, right? Want to meet the people that dreamed up that so-simple-it's-genius idea? Come to Purl Soho's Candy Aisle Crafts book launch party! Enjoy lots of refreshments (i.e. candy), mingle with fellow crafters, get your very own signed copy of Candy Aisle Crafts and best of all, chat with Jodi and Amy!
What
Candy Aisle Crafts book launch party
When
Tuesday, September 30th, 6:30-8:30PM
Where
The Purl Soho store located at 459 Broome Street in New York City.
We hope to see you there, but if you can't make it, do the second-best thing and pick up a copy of Candy Aisle Crafts right here! It's truly yummy!