Looking for a quick sewing project that packs a colorful punch? Our new Super Easy Sewn Blanket for Beginners is it! Based on our always-popular knitted Super Easy Blanket, this sewn version captures the same modern elegance in six simple stripes.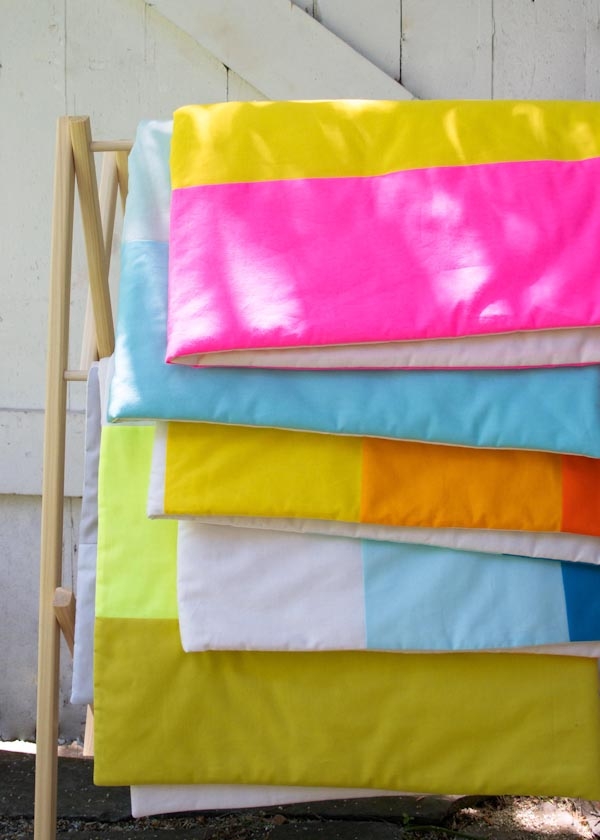 Our Super Easy Sewn Blanket for Beginners Pattern walks you through every step of the blanket-making process, from simple rotary cutting and piecing to pin basting and machine stitching. So even if you're new to sewing, this blanket stays true to its name: super easy! – Corinne
P.S. To view all of our Super Easy Blankets, just click here!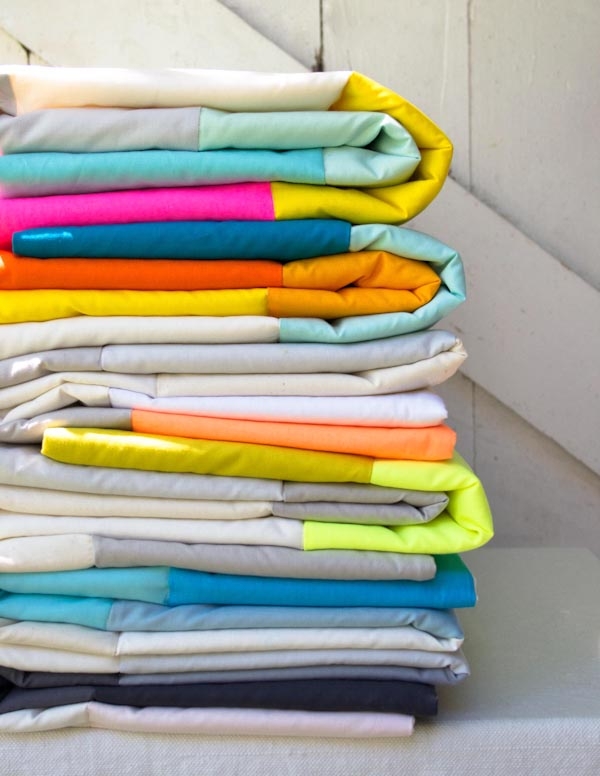 Materials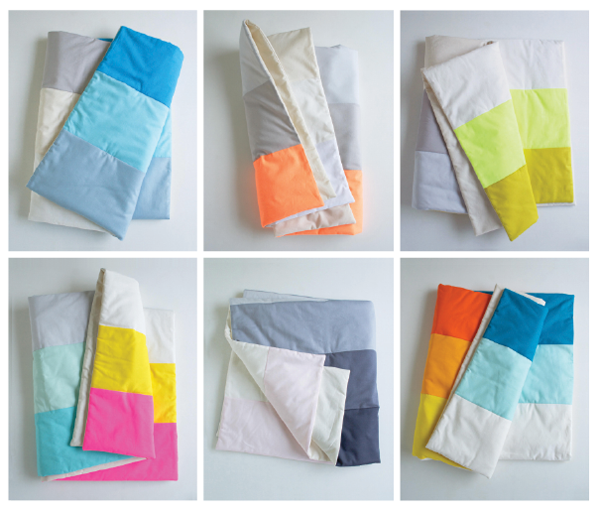 To make one Super Easy Sewn Blanket for Beginners you'll need ….
For the Blanket Top: Six 1/4-yard pieces of fabric (see below for a full list of the fabrics we used for our Blankets) (Please Note: Robert Kaufman's Kona is no longer available but we recommend using our Spectrum Cotton!
For the Backing: 1 1/2 yards of fabric. We used Robert Kaufman's Kona Cotton in Natural
Quilter's Dream's Wool Batting, Crib size
A 110-yard spool of Gutermann's Cotton Sewing Thread. We used color 1040.
A hand-sewing needle
Curved basting pins
Please Note: The Super Easy Sewn Blanket for Beginners Pattern is no longer available for purchase. For assistance, please contact us at

customerservice@purlsoho.com

.
We also recommend the following tools for precise cuts and easy seams . . .
A rotary cutter
A walking foot
Here are the fabrics that we used for the Blanket Tops of our six Blankets …
Atmosphere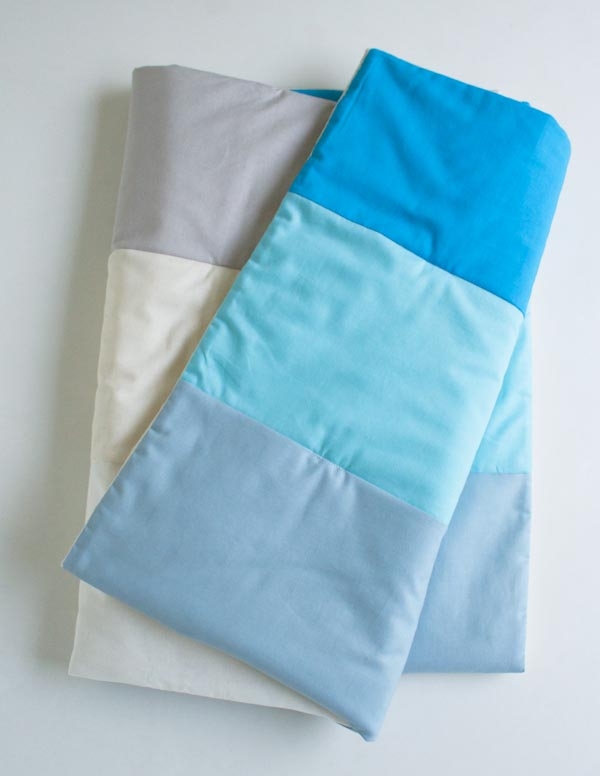 1/4 yard each of Robert Kaufman's Kona Cotton in Peacock, Robin's Egg, Fog, Snow, Natural, and Ash
Orangesicle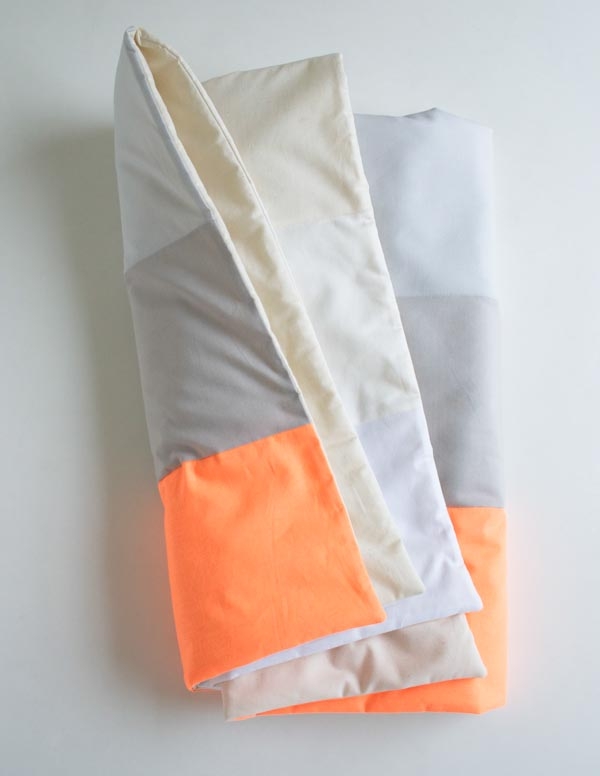 1/4 yard of Michael Miller's Neon Solids in Orange
1/4 yard each of Robert Kaufman's Kona Cotton in Ash, Silver, Natural, Snow, and White
Sprout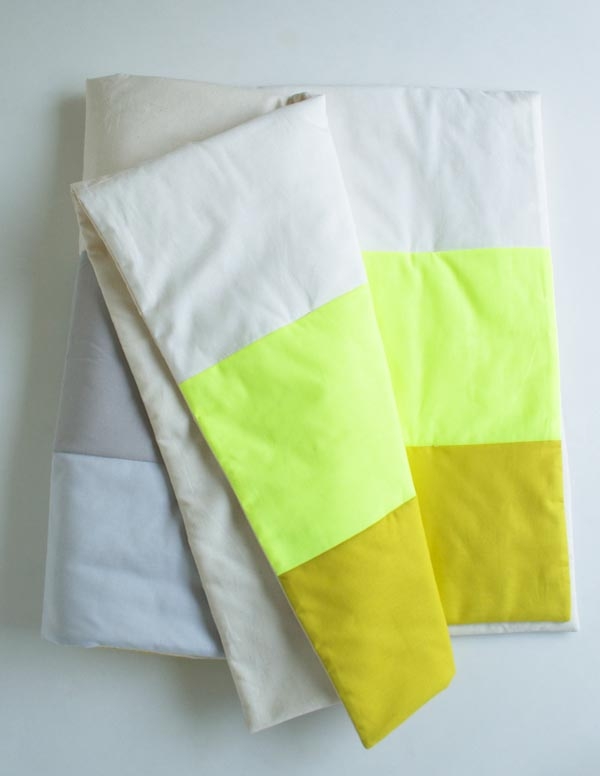 1/4 yard of Michael Miller's Neon Solids in Yellow
1/4 yard each of Robert Kaufman's Kona Cotton in Silver, Ash, Natural, Snow, and Wasabi
Macaron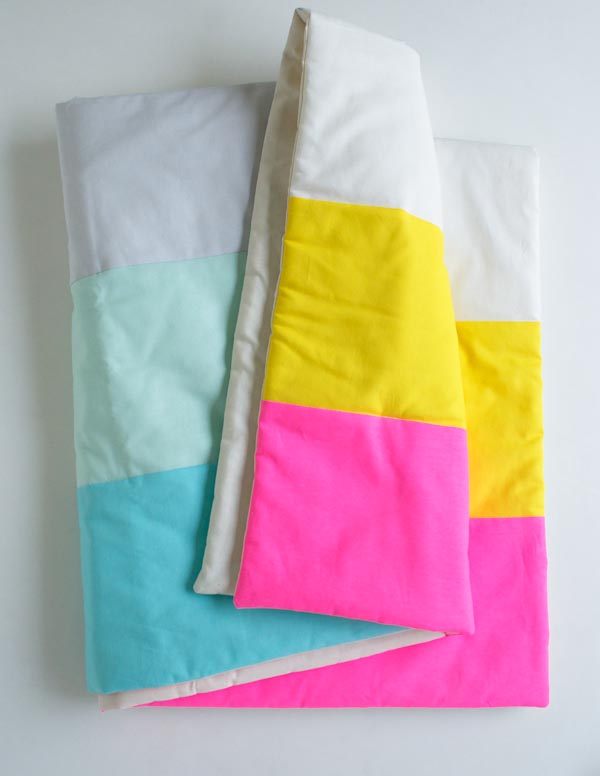 1/4 yard of Michael Miller's Neon Solids in Pink
1/4 yard each of Robert Kaufman's Kona Cotton in Azure, Ice Frappe, Silver, Snow, and Citrus
Cameo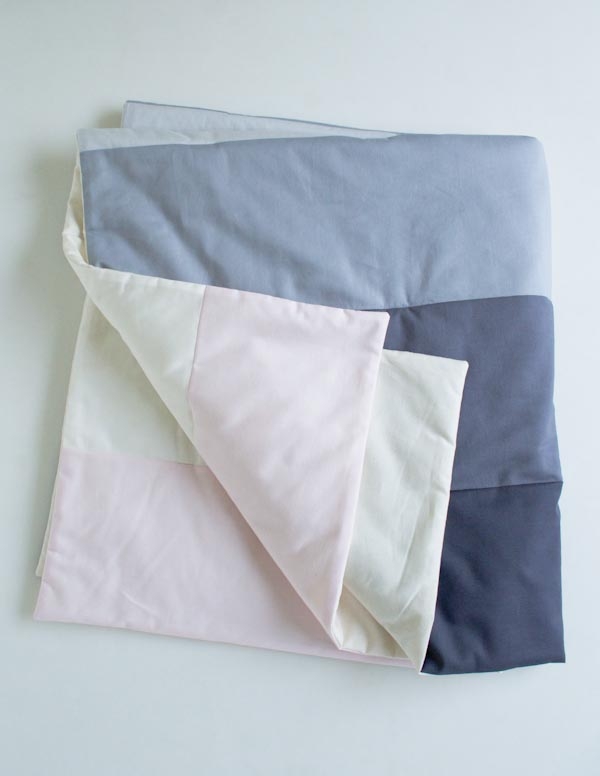 1/4 yard each of Robert Kaufman's Kona Cotton in Charcoal, Coal, Iron, Silver, Snow, and Pearl Pink
Sunny Day

1/4 yard each of Robert Kaufman's Kona Cotton in Torch, Papaya, Citrus, Snow, Aqua, and Cyan
Size
Finished Dimensions: 40 x 44 inches
Pattern