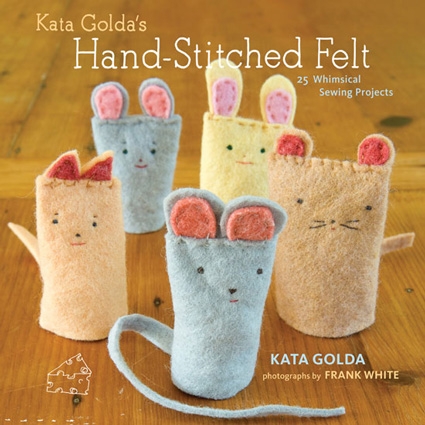 We are very happy to announce that Kata Golda will be coming to Purl Patchwork to do a book signing and workshop for her beautiful and charming new book Hand Stitched Felt on October 21st!
Workshop with Kata Golda
Kata Golda will explain her unique handstitching techniques and will walk students through making a tool pouch and finger puppet from her new book Hand Stitched Felt. No sewing experience is required! The class fee is $45.00 and students can purchase a materials kit for the class which includes everything you need for the projects including her book for an additional $35.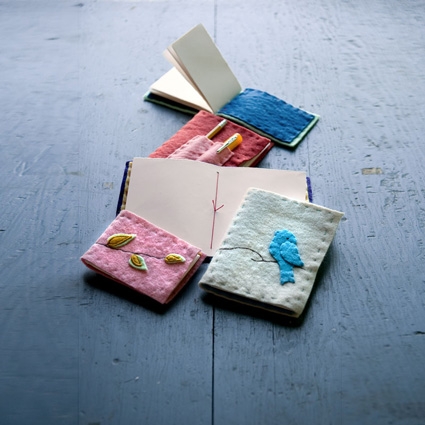 We have long been admirers of Kata Golda's beautiful work. She creates lovely cards, bags, and toys, all sewn by hand using gorgeous hand dyed felt. We love the pretty yet playful feeling she brings to whatever she approaches and are so excited to be carrying her book.

This book has so many great ideas, from the ultra cute and practical "Holds Everything Bucket" to the absolutely adorable "Stuffed Animal Family." All of the projects are well explained and include detailed templates.
These projects aren't concerned with looking ultra perfect, which is always encouraging, but rather, they radiate a kind of relaxed beauty that is very inspiring. One of the most approachable aspects of this book is that everything in it is made from felt, which doesn't have to be hemmed! It's very freeing to be able to sew such fine detail, like the little birds on the "Songbird Mug Cozy and Coaster" and not care about turning the edges under!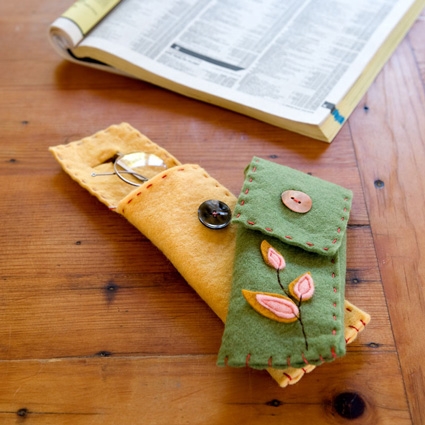 Hand-Stiched Felt would make a wonderful gift, maybe along with one of our custom wool felt bundles, for anyone who loves to sew special little things. It would also be a great book to get for yourself before the holidays if you want to make some of your own gifts this year. I can just see the "Finger Puppets" featured on the cover peaking out of a stocking!
We recently had the opportunity to ask Kata Golda a few questions about her use of color, her techniques, and the upcoming workshop at Purl Patchwork:
The Purl Bee: Can you tell us a litte about your use of color? What inspires your palette?
Kata Golda: In my studio my shelves are stocked with felt arranged by subtle gradation of color. I like to look at them when I am working on a project. If a project requires 4 dominant felt colors I pull down 3 that I like and think about how they relate to each other and then choose the last color to tie it all together in a way that does not feel too complimentary or too contrasting.
An important aspect of color in these projects is also considering the thread color. I like to see stitches so I generally choose a contrasting thread color (for example if i am stitching something with mustard yellow and brick red i might choose aqua blue thread).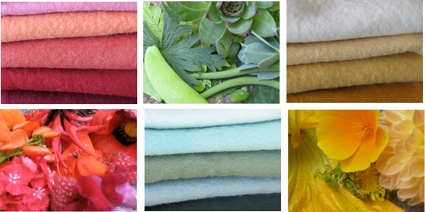 Above are some photos of some things that inspire me… I am also inspired by hikes in the mountains above the tree line where the wild flowers are abundant, fall mushrooms and my ever changing garden of fruits and vegetables.
The Purl Bee: The book says you used to be a professional quilter. How has that experience influenced the type of sewing you do now?
Kata Golda: Working as a quilter, helping people make color choices and striving for consistent, tiny stitches was greatly influential in creating my style. Knowing the rules of which colors go together helped me see that I prefer colors together that live close together on the color wheel.
The Purl Bee: Please tell us about what you'll be doing in the Purl Patchwork workshop.
Kata Golda: In the Purl Patchwork workshop we will be making a tool pocket and a finger puppet. We'll start with the tool pocket which has a specific purpose and pattern, and then we will work on the finger puppets which is a looser project where your stitches can't help but have personality.
If you'd like to try your hand at some of Kata Golda's great projects you can purchase her book Hand-Stitched Felt at this link, or sign up for the workshop at Purl Patchwork by calling 212-420-8798.
P.S. Check out this adorable video for even more cute inspiration!