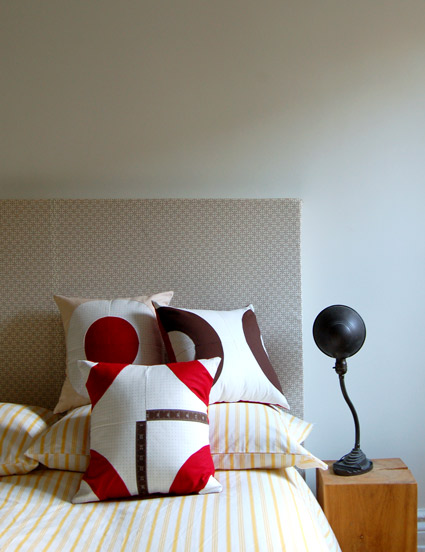 These pillows will not only teach you how to sew the dreaded curved seam but will also make a great modern addition to your living room or bedroom.  Enjoy! –Molly
Designed by Purl Soho designer, Molly Schnick. Click here to see even more of Molly's work!
Materials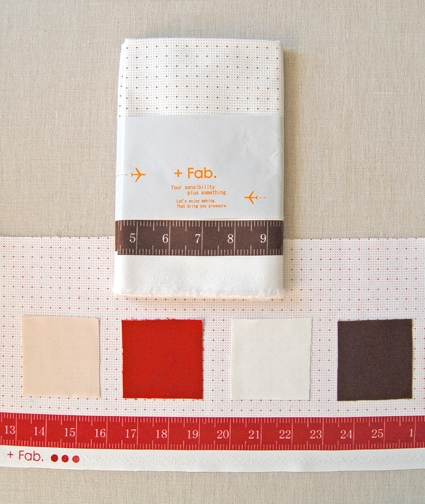 To make three 16-inch pillows:
Download and print Curved Seam Pillow template here. Please note, Piece 1 is too large to fit on one piece of paper so make sure to tape Piece 1A to Piece 1B as instructed on the template.
Cut Fabrics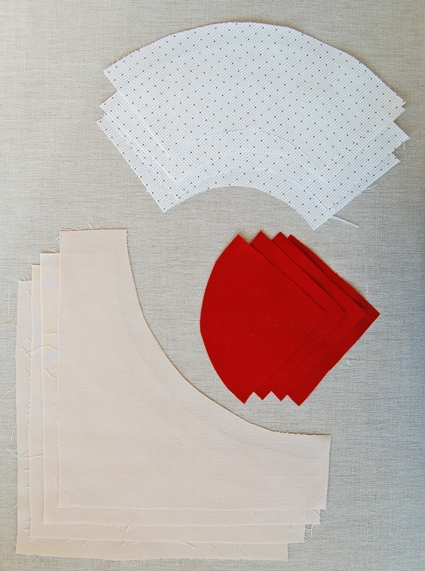 Pillow Top
Download and print the Curved Seam Pillow pattern above and cut the pieces as directed. Make sure to tape Piece 1A to Piece 1B to form a complete Piece 1 to work with before you cut your fabric.
You will have:
Four Piece 1s in fabric A (Kona Cotton Sand in the example above)
Four Piece 2s in fabric B (Fab Brown Measuring Tape in the example above)
Four Piece 3s in fabric C (Kona Cotton Tomato in the example above)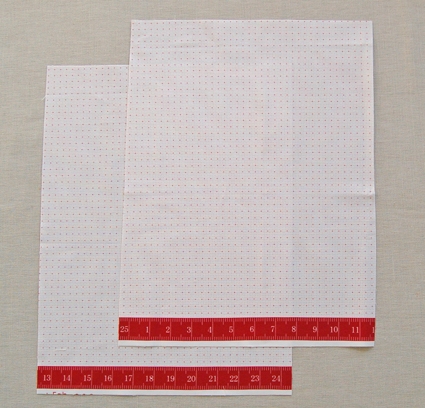 Pillow Back
Cut two pieces from your backing fabric 16-inches by 12-inches. I used the Fab Red Measuring Tape for mine. Put these pieces aside, you will use them after you complete the pillow top.
Pin Fabrics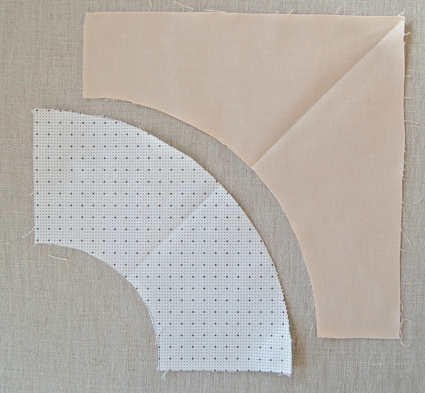 These pillow tops are composed of four identical quadrants. Each quadrant is pieced in the same way. Start with Pieces 1 and 2. Finger press  them in half so the mid-point of the curve is obvious, as shown in the picture above.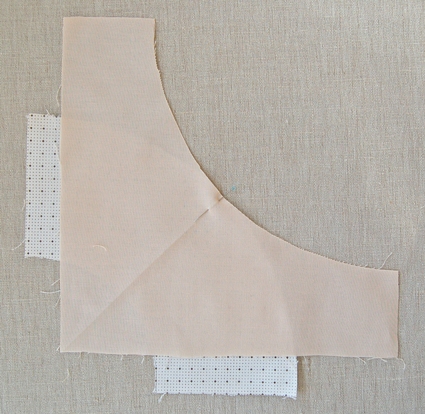 It may seem a little counter-intuitive but the next step is to pin the midpoints of the curves right sides together. Do this by keeping Piece 2 in place, right side facing up, and flipping Piece 1 over on top of Piece 2 so that it's wrong side up and the mid-point of it's curve meets the mid-point of Piece 2's outer curve. (The fabric I am using for Piece 1 is a solid so it doesn't have an obvious right side or a wrong side, but in case you want to do this with a print it's important to keep in mind that you are pinning right sides together).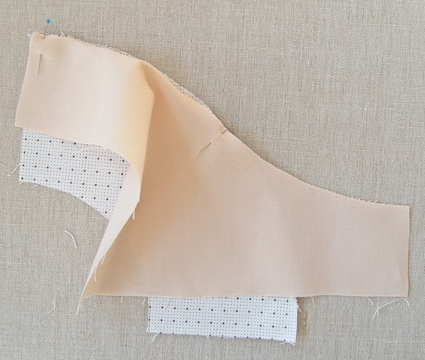 Next pin the left inside corner of Piece 1 to the left outside corner of Piece 2, being careful to match the corners up correctly as shown above. Also make sure you are still pinning the right sides together and haven't twisted the fabric.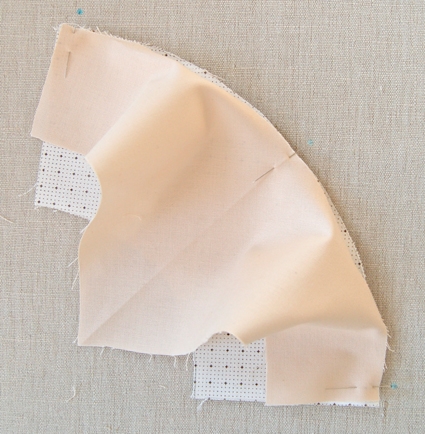 Pin the right corner the same way.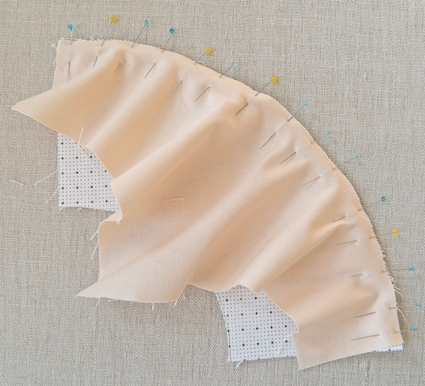 Next pin all along the curve. The curves of Piece 1 and 2 should should be lined up and wrinkle-free, right sides together.  Use a lot of pins to ensure that your seam will come out un-puckered and smooth.
Sew Seams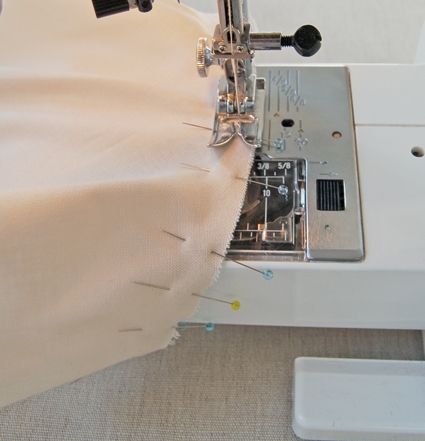 Use a 1/4-inch seam allowance to sew around the pinned curve with Piece 1 on top. Back stitch at each end.   As you're sewing it's OK to pull a tiny bit on Piece 1 to keep it flat as it goes under the needle. Go slowly and take the pins out as you come to them.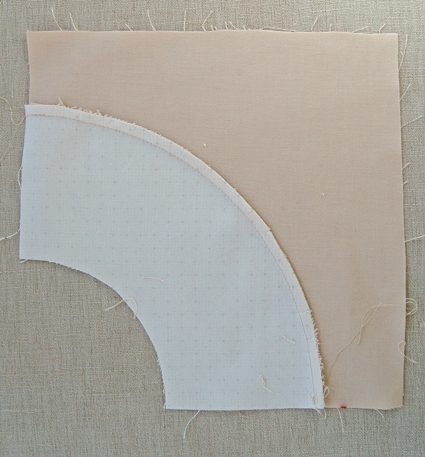 Press seam towards Piece 1 and cut little notches into the seam allowance so that it can lay flat. It's hard to see my notches in the picture above, but I cut them every 1/2-inch or so.  Just be careful not to cut through the seam itself.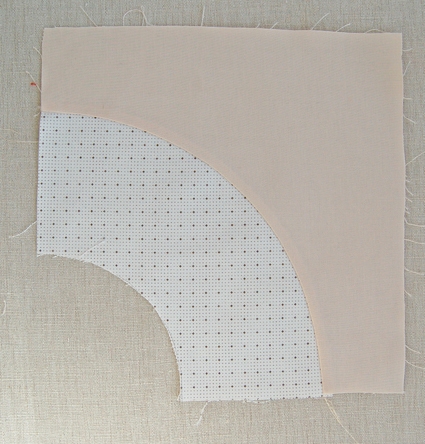 When you turn your piece over it should look like this, the seam laying flat with a smooth curve.
Pin and Sew – One More Time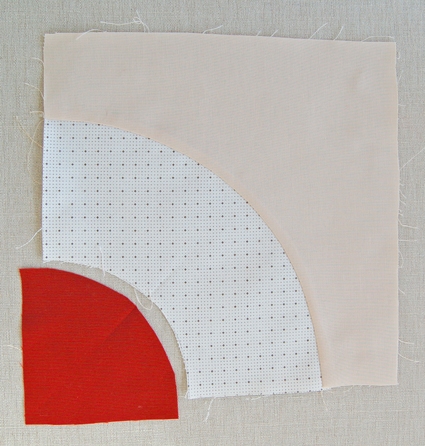 Now to add Piece C repeat the same steps.
First finger press the pieces so that you find the middle of the curves.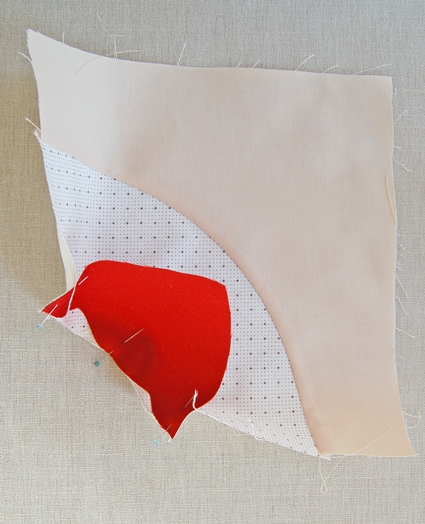 Pin the middle of the convex curve of Piece 3 to the middle of the concave side of Piece 2 and then pin the ends together. Make sure your pieces are pinned right sides together.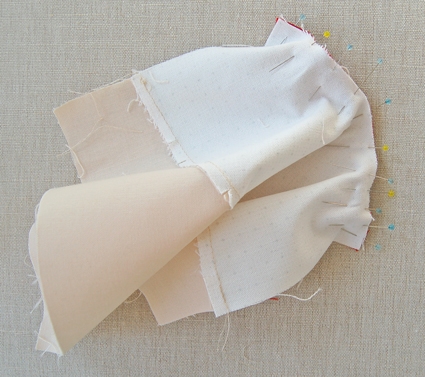 Then place pins all around the curve. Because this is a smaller curve it's important to use a lot of pins to avoid puckers.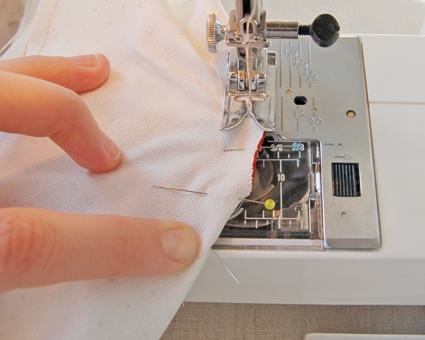 Sew around the pinned curve with a 1/4-inch seam allowance, back stitch at each end, with Piece 2 on top. Again, don't be afraid to pull a little on the top fabric to make sure that it doesn't pucker under the needle. You can see my hand pulling a bit in the above picture.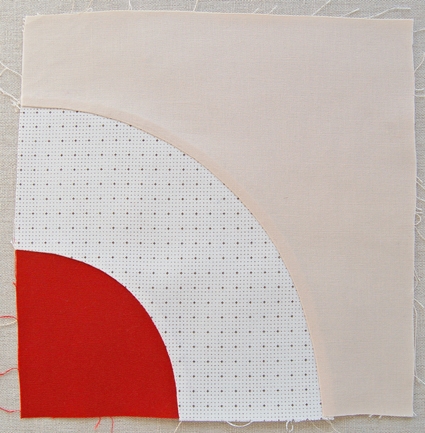 Press your piece with the seam allowance towards Piece 2 and cut notches as above so it will lay flat. If some of the edges are a little longer than the others it's OK to trim your piece at this point. For example: Piece 2's bottom edge is sticking out a little in the above picture, I trimmed it to be even with Pieces 1 and 3 before proceeding.
Piece the 3 other quadrants in the same way.
Piece the Top
One of the best things about this pattern is the many ways you can piece the top. Once you have your four quadrants arrange them in any orientation you like: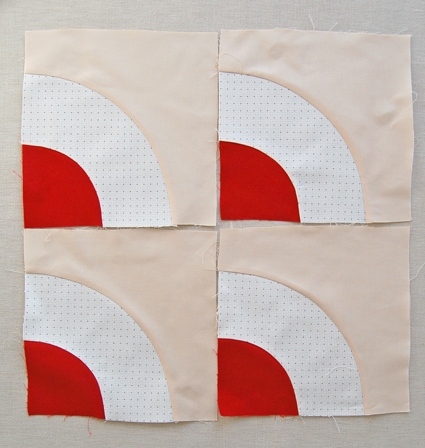 This way looks like little rainbows to me.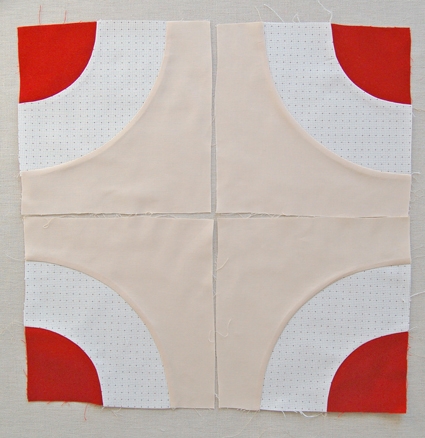 I really liked the shape this one formed in the middle. I ended up using this orientation for one of my final pillows.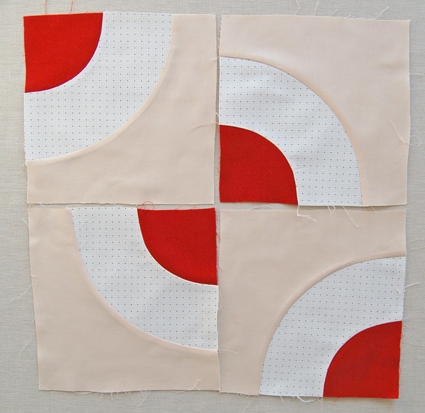 This one reminds me of fans.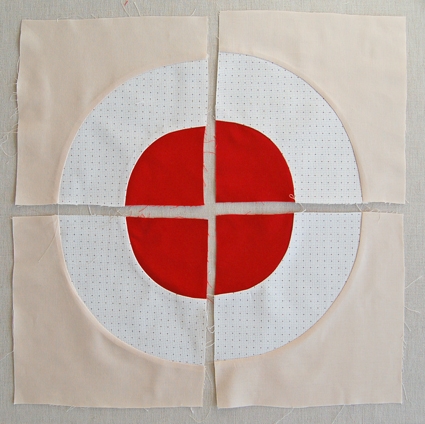 This target shape is what I decided to go with for this pillow.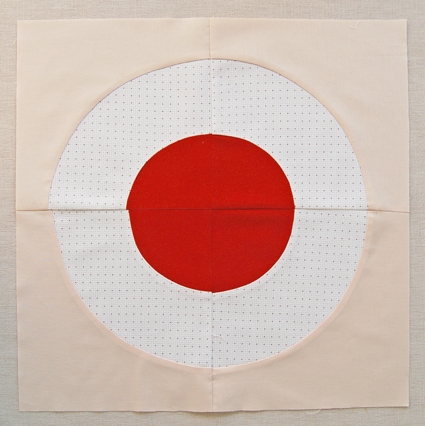 I pieced the top two pieces together and then the bottom two. Then I sewed the top half to the bottom half an voila!
Trim this pillow top down to 16-inches square.
A Note: After sewing the back to this top you will end up with a 15-inch square pillow case. That may seem like a mistake since you have 16-inch pillow forms but it's not. I like to make my pillow cases a little smaller than the form so that the pillow fills up it completely and doesn't look deflated.
Finish Pillow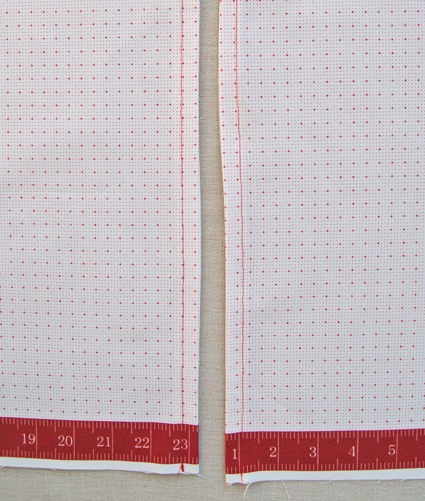 These pillows have an overlap closure which is a quick and easy way to finish a pillow without having to deal with zippers or buttons, just two pieces of fabric.
Take the back pieces that you cut in the first step. Place the pieces side by side and fold the inside long edges 1/2-inch toward the wrong side of the fabric and press. Then fold it over one more time and press again. Pin seam and sew with a 1/2-inch seam allowance.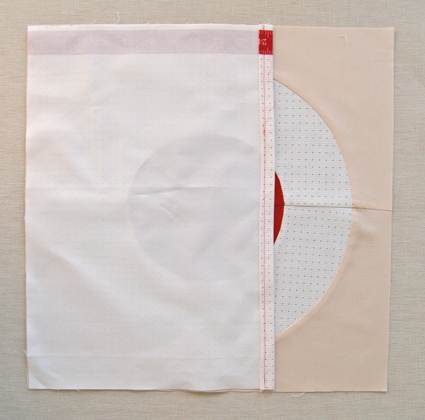 Place one hemmed back piece on top of the pillow top, right sides together. Line up the un-hemmed edges with the left side of the pillow top as shown above.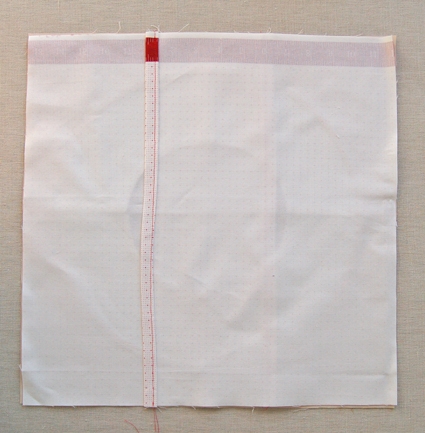 Then place the second hemmed back piece over the first, with the un-hemmed sides lined up on the right side of the pillow top.
Pin all three pieces together and sew around all four sides with a 1/2-inch seam allowance, back stitching at each end.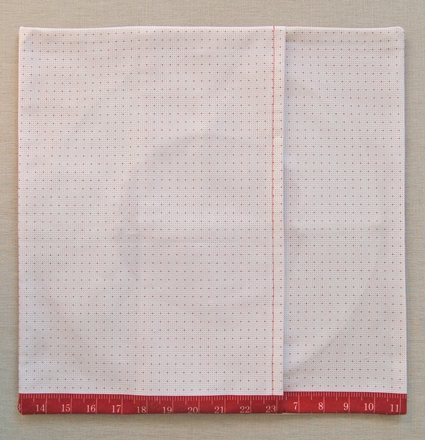 Turn the pillow case right side out through the overlap and press.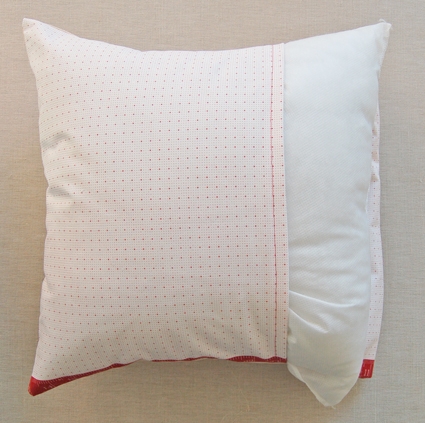 Stuff the pillow in through the top overlapping flap.
Pull the second, bottom flap over the pillow to secure it inside the pillow.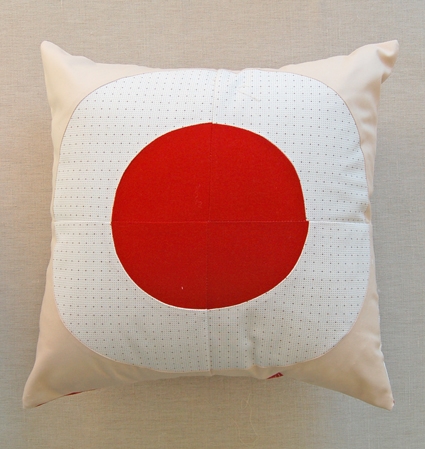 Give your pillow a good fluffing and you're all done!
You can now repeat these steps for the other two pillows.