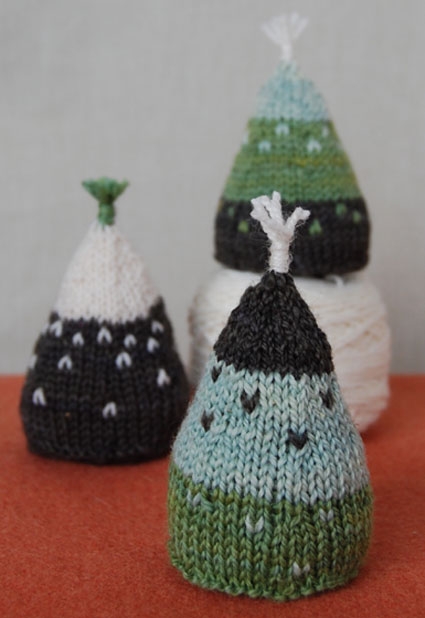 It's the bane of a knitter's existence that preparations for the holiday season can't start early enough. If, like me, you tend to get yourself into a knitting panic this time of year, or even if you're un-neurotic enough to maintain perspective, you may appreciate this quick gift idea.
These little pine tree sachets are speedy to knit but don't sacrifice the detailing that makes a knit gift special. Plus, they smell good. -Whitney
Share your progress and connect with the community by tagging your pics with #PurlSoho, #PurlSohoBusyHands, and #PurlSohoPineTreeSachets. We can't wait to see what you make!
Materials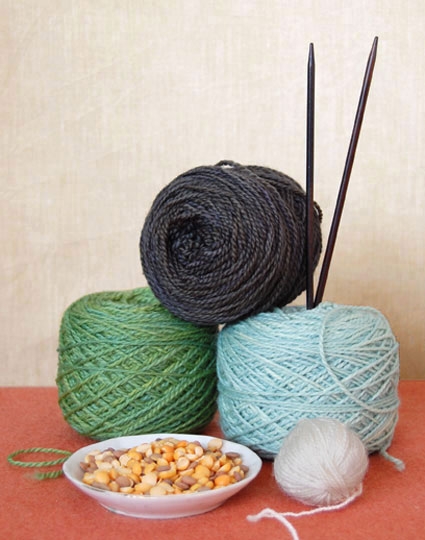 Small amounts of green and white yarn. I used Nature's Palette Fingering Weight in Light Teal, Spring Grass and Spruce and some Koigu KPM in White.
A set of 5 double pointed needles, 1 or 2 sizes smaller than the yarn's recommended size (I used US 4 (3.5 mm) Lantern Moon Ebony needles).
A couple teaspoons of lentils or beans to weigh down the bottom of the sachet.
Potpourri for stuffing. I concocted my own mixture of juniper berries, cut licorice, pine needles, dried orange peels, and essential lavender oil.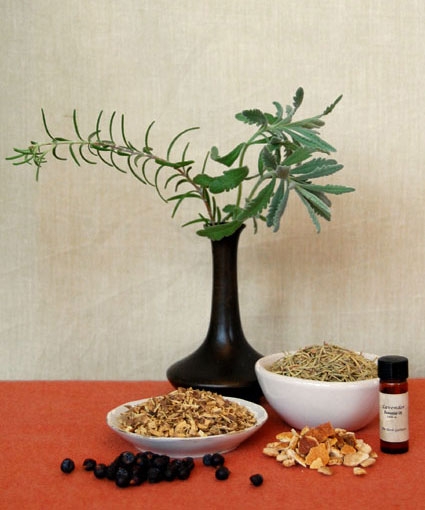 Pattern
A few little preliminary notes: This project is knit in one piece from the bottom to the top, so you'll have to weave in your tails as you go. The same is true for the lentils and potpourri – start filling half way through the project, and keep filling as you knit. Finally, just change colors whenever the feeling strikes.
Begin
Cast on 8st. We used a basic Long Tail Cast On. Distribute st evenly on 4 double pointed needles and join to work in the round.
(This and the next round are a bit tricky. Try to stay calm and just address each needle in its turn, allowing the other 3 to spin and squirm. You can straighten each needle out when you get to it.)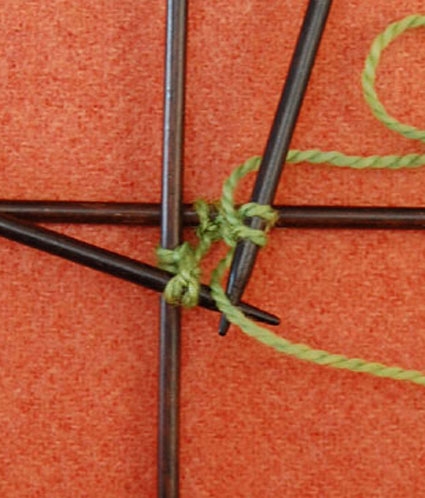 Rnd 1: Knit into the front and back (kf&b) of every st. (16st)
Rnd 2: Knit.
Rnd 3: Kf&b every stitch. (32st)
Rnds 4 and 5: Knit.
Rnd 6: *K1, kf&b, repeat from * to end of rnd. (48st)
Rnd 7: Knit.
Here's what the bottom of the sachet should look like at this point: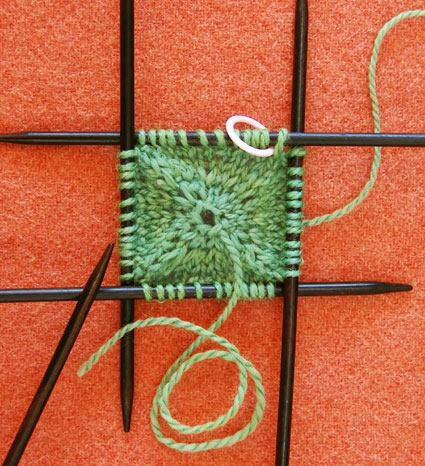 Rnd 8: Purl.
Now that you're done with the bottom, you can eliminate one of the needles. Just slip your stitches around so that there are 16st on each of three needles.
Rnd 9: *K6, knit 2 together (k2tog), repeat from * to end of rnd. (42st)
Knit 6 rnds.
Next rnd: *K5, k2tog, repeat from * to end of rnd. (36st)
Knit 5 rnds.
Next rnd: *K4, k2tog, repeat from * to end of rnd. (30st)
Knit 4 rnds.
Perfect moment for the first round of filling. Start with a good layer of lentils.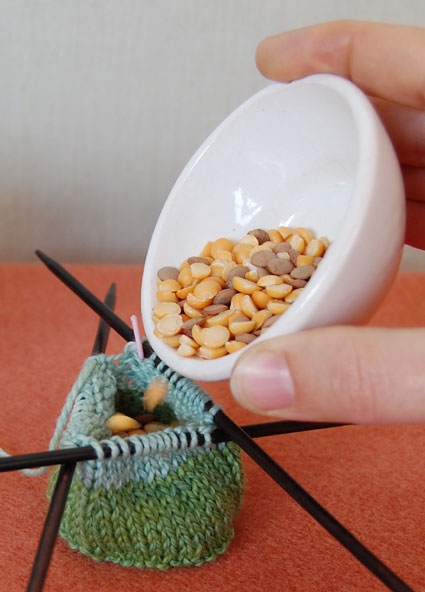 Next rnd: *K3, k2tog, repeat from * to end of rnd. (24st)
Knit 3 rnds.
If you're fortunate enough to own a funnel, now would be a good time to use it. If you haven't quite gotten around to that purchase, plan B is to roll a piece of paper into a cone. Pour some potpourri into your funnel.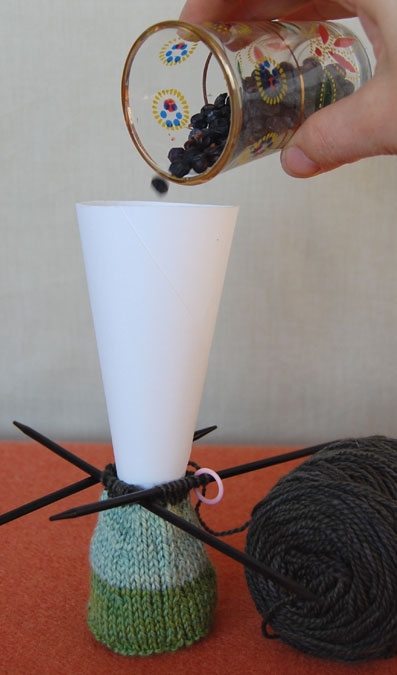 .
Next rnd: *K2, k2tog, repeat from * to end of rnd. (18st)
Knit 2 rnds.
Next rnd: *K1, k2tog, repeat from * to end of rnd. (12st)
Knit 1 rnd.
Next rnd: K2tog, 6 times. (6st)
Cut an 18″ tail and weave it through remaining stitches. Pull tight. You can use the tail for the next step.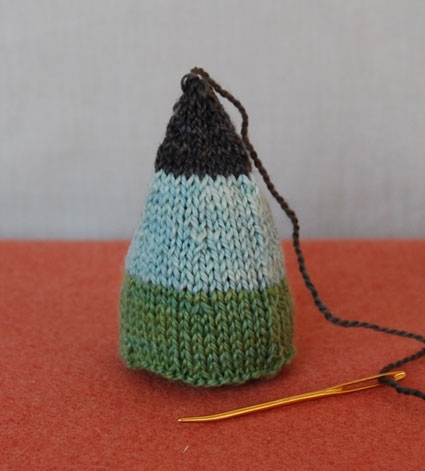 I think it looks kind of pine-y and cute to add some flecks of different color to each stripe. The Duplicate Stitch is a really easy way to do that. If you need some guidance, check out the Duplicate Stitch Tutorial.
To get from stitch to stitch, just push your needle through the sachet and out the place you want to start the next stitch.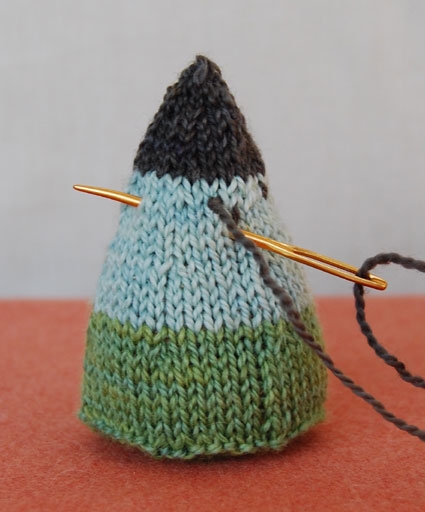 All that's left is a jaunty tassel for the top. So, cut a piece of yarn about 12″ long, and thread it down through the top of your sachet and out the side very near the top. Leave a short tail. Go back down through the top and out the side, making sure to leave a little loop.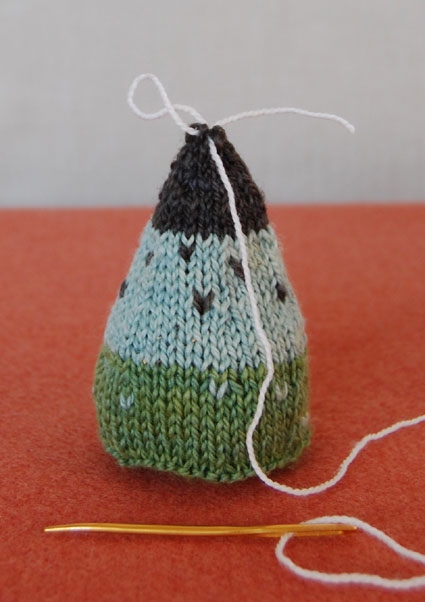 Keep making loops the same way until you have about five of them.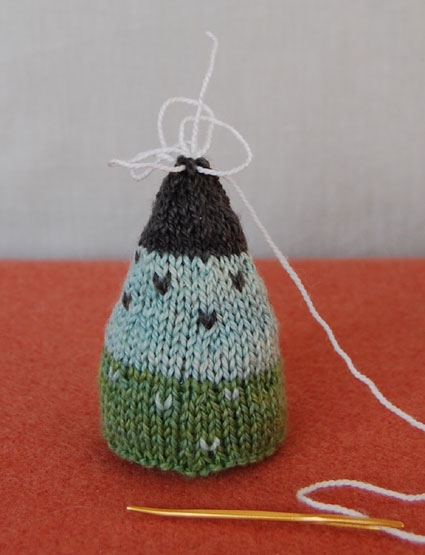 Then wrap the yarn tightly around all the loops several times. Push the needle from below the wraps, up through the center of the tassel, and out the top.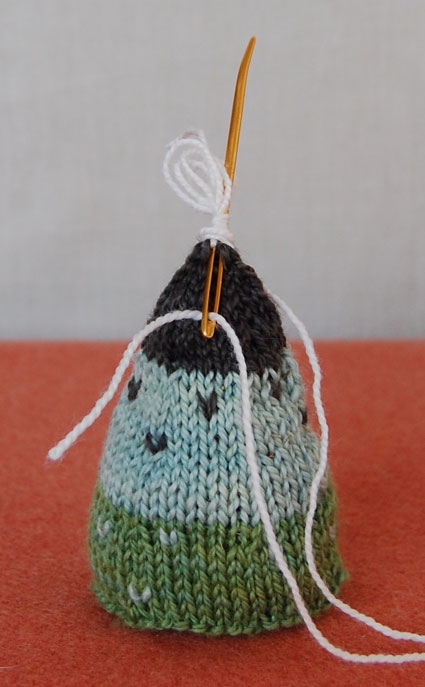 Trim the tassel and that's it!