Flower Chain Quilt + Sham Pattern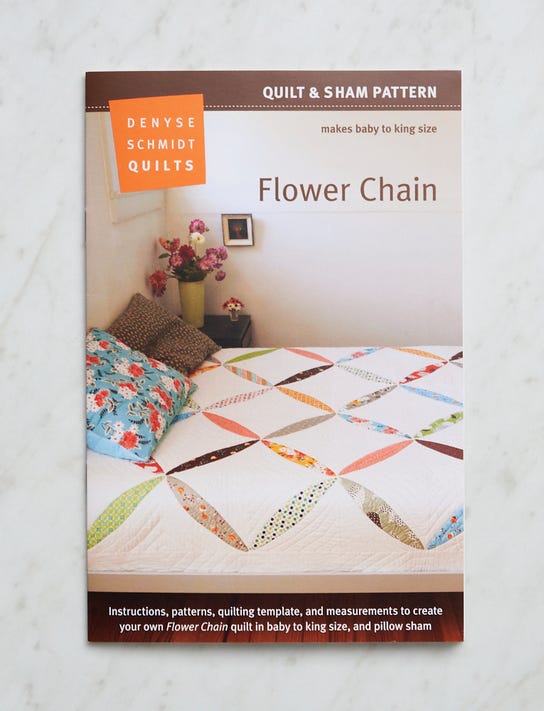 Flower Chain Quilt + Sham Pattern
Description
Denyse Schmidt's Flower Chain Quilt + Sham Pattern brightens a room like a fresh coat of paint. Easy to appliqué petals create a modern pattern that evokes sweet summer sunshine and lazing in a field of your favorite flowers. Sized from crib to king, a set of 20 fat eighths will make up the petals needed for a twin through king quilt and a sham with fabric to spare. Just one of Denyse's Patchwork Panel No.2 will do the trick! For more info, click Product Details above.
Product Details
MATERIALS
Petal Fabrics: 16 fat eighths for Baby size or 20 fat quarters for Twin, Queen, or King of light to midweight fabric, like our collections of Fat Eighth and Fat Quarter Bundles or Denyse Schmidt's Patchwork Panel No. 2
Background Fabric: 2 (4½, 4½, 7½ ) yards of light to mid-weight fabric, like our Spectrum Cotton or Watercolor Linen
Binding Fabric: ½ (¾, ¾, ¾) yard of light to midweight fabric
Backing Fabric: 2¾ (5¼, 7½, 8¼) yards of coordinating fabric, at least 45 inches wide
Coordinating cotton sewing thread
Coordinating batting

You'll also need...
 
SIZES

Baby (Twin, Queen, King)

Finished Dimensions: 48 inches square (66 by 88 inches, 88 by 93 inches, 108 by 93 inches)
You Might Also Like...
Denyse Schmidt's Patchwork Panel No. 2 is a whole new kind of fabric collection! A 3-yard length of 100% cotton, it is a collage of Denyse's favorite prints from her personal archive, and makes a great resource for this pattern. To create a quilt similar to the example shown, click Add To Basket to order!