Our Heirloom Wool Ornaments start with the iconic shapes of vintage glass ornaments, rendered in beautiful wool felt. Add hand embroidery, beads, and sequins, and the result is exquisite handmade little ornaments, true heirlooms.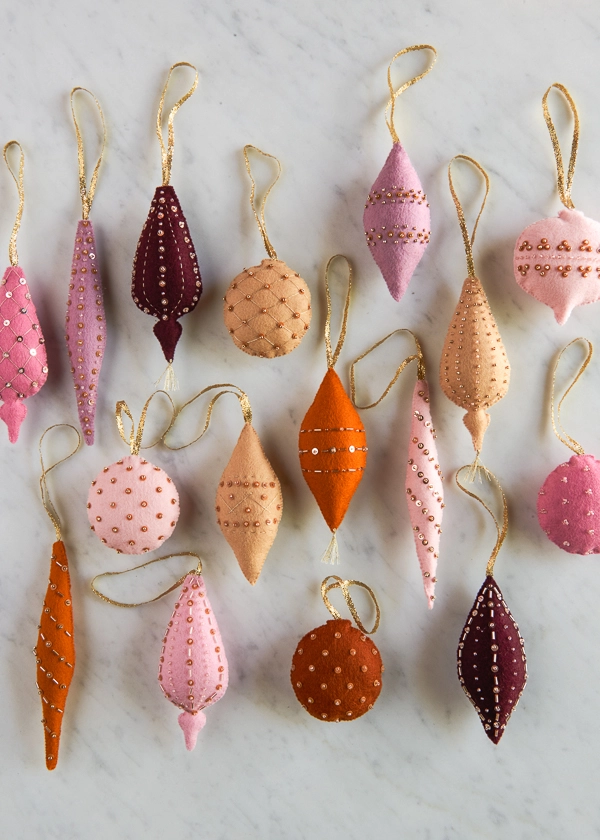 Our original Heirloom Wool Ornaments Kits come in Lusterware, a collection of pale pinks and peaches, and Milk Glass, a pure ecru palette. This year we're adding to the festivities with two new color stories: Wineberry and Mistletoe! Wineberry is rich and decadent, filled with deep warmth highlighted by lovely little high notes.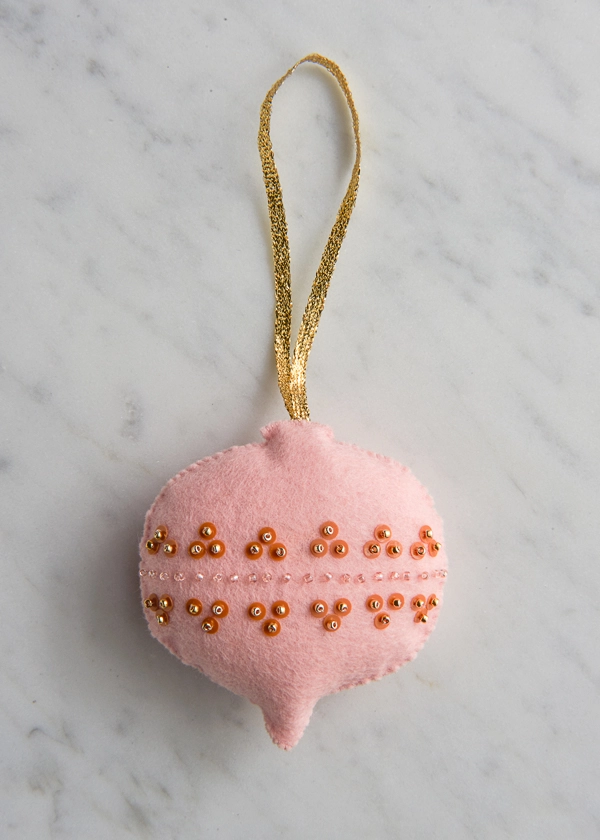 And if Wineberry is a holiday feast, Mistletoe is the moonlit walk you take afterwards. In natural shades of green with toadstool accents, it is a peaceful reflection of the season, resplendent in its cool elegance.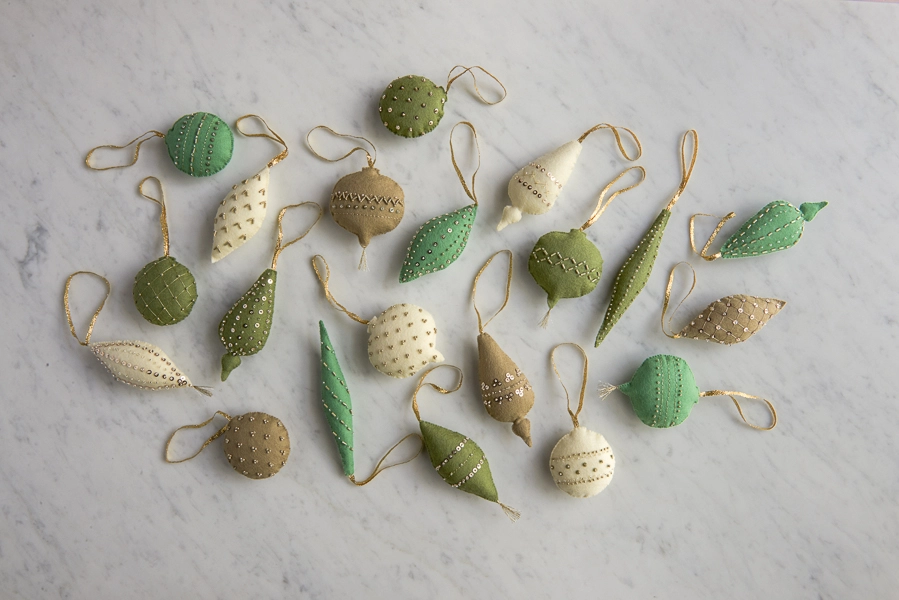 Whichever colors appeal to you, it is easy to imagine the special place these Heirloom Wool Ornaments will have in your holiday celebrations for many years to come!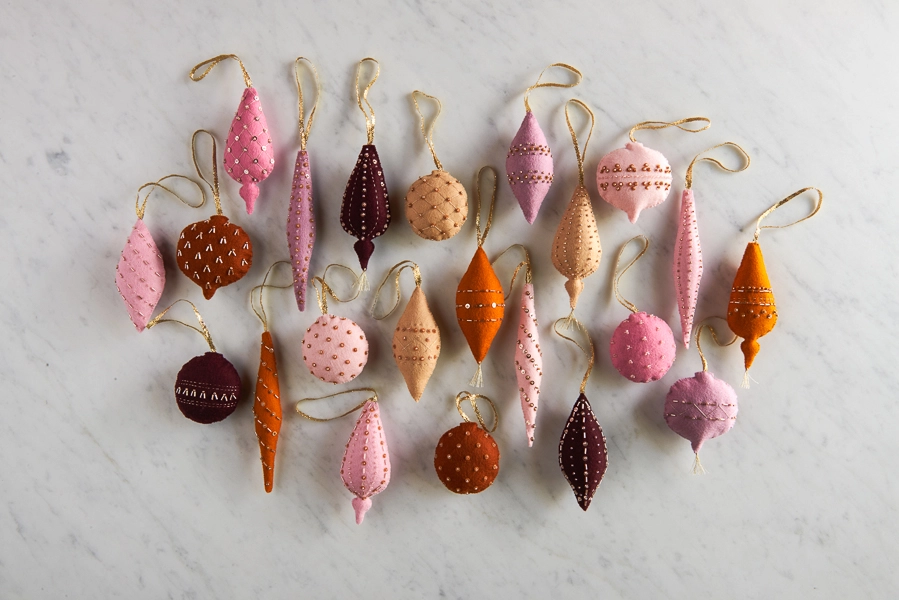 Materials
Our Heirloom Wool Ornament Kits now come in four palettes: (clockwise from top left), Wineberry, Mistletoe, Milk Glass, and Lusterware. Each Kit includes all the supplies you'll need to make twenty-four 3 x 5-inch Ornaments …
Also Available Separately
Most components of the Heirloom Wool Ornament Kit are also available separately. In particular…
The Pattern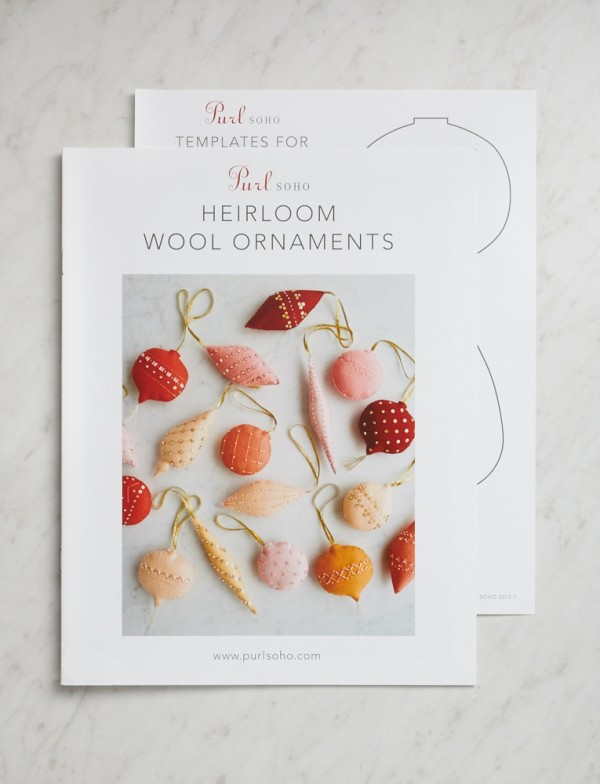 The Heirloom Wool Ornaments Pattern is available separately, as either a hard copy or PDF download.
Wool Felt Bundles
Our Wool Felt Bundles include the eight pieces of 100% wool felt you'll need to make your Heirloom Wool Ornaments.  Choose from our four Ornament palettes, as well as from dozens of other beautiful color combinations!
Beads + Sequins
The same beads and sequins we used for our Kits are also available in separate bundles. Above we show the Beads + Sequins for the Wineberry Kit (left), the Mistletoe Kit (middle), and the Lusterware and Milk Glass Kits (right).