Purl Soho, along with Company (aka esteemed knit designers Julie Hoover and Catherine Lowe!), have planned a weekend retreat that combines everything we love most: wonderful conversation, incredible food, beautiful urban spaces, and of course, knitting. It's our Knitting in the City event, and you won't want to miss it!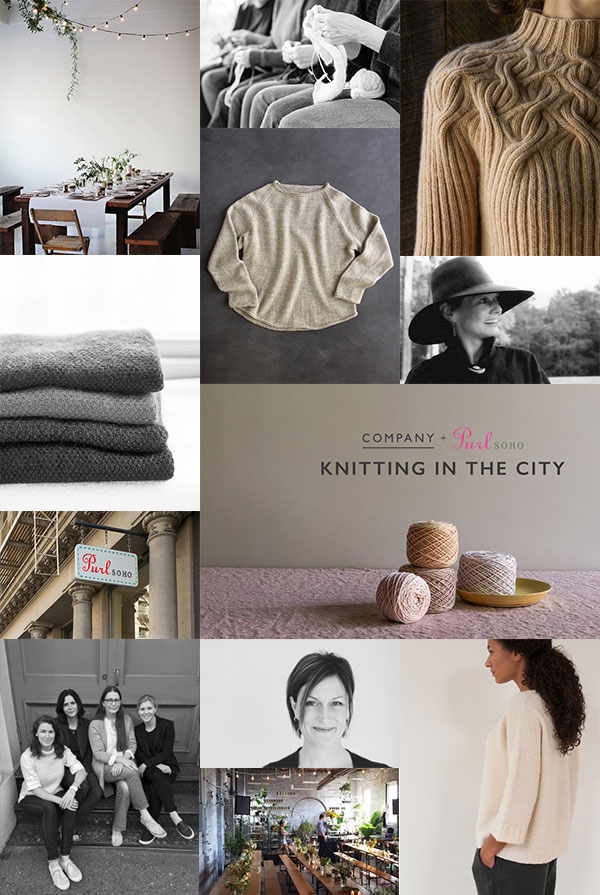 The Invitation
Company and Purl Soho invite you to join us in New York City for a weekend of enrichment and inspiration. Starting Friday evening, March 3rd and ending Sunday evening, March 5th, Knitting in the City will immerse you in the energy and creativity that make New York City crafting special.
The Experience
You will meet fellow knitters who share your passions. You will peek behind the curtains with designers Julie Hoover, Catherine Lowe, and the Purl Soho design team (including co-owners Joelle Hoverson and Page Marchese Norman, and designers Laura Ferguson and Whitney Van Nes). You will visit Purl Soho's Broome Street store for a private shopping experience. You will spend your days in two gorgeous Brooklyn creative spaces. You will eat specially catered food morning, noon, and night. And you will knit!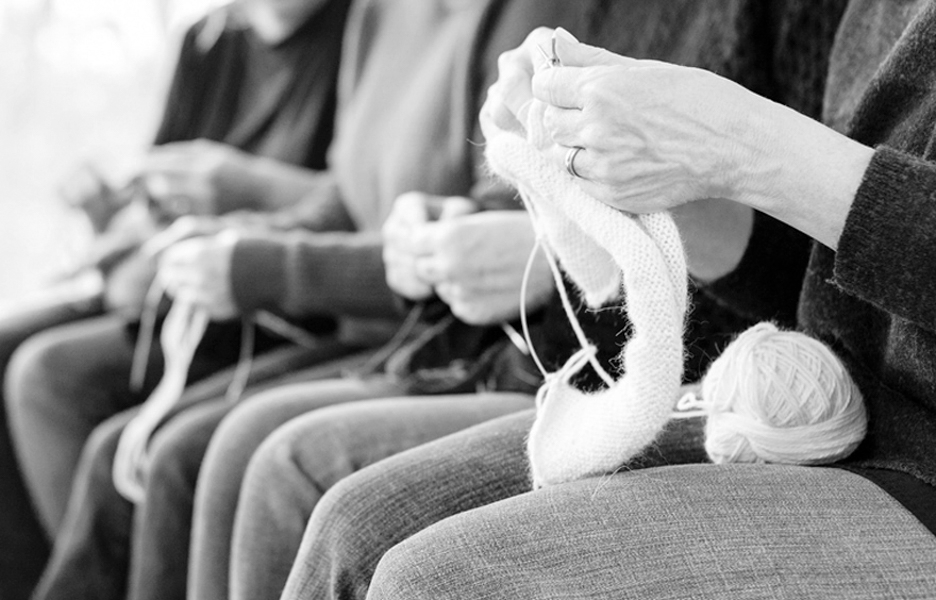 The Friday Plan
We kick the weekend off at 5pm on Friday at Purl Soho's Broome Street shop. There you will have the chance to gather and mingle with other Knitting in the City participants, including the guest designers. It's also a great opportunity to make sure you're well-stocked for the weekend ahead!
P.S. This free event is open to all of our local customers, too! Please plan to visit our shop from 5pm to 8pm, Friday, March 3rd for a really fun chance to meet Knitting in the City's guest designers: Julie Hoover, Catherine Lowe, and four members of the Purl Soho design team!

The Saturday Plan
Saturday will be all about getting to know each other! We will spend the day at Sunday Suppers, a light-filled studio space in Brooklyn's South Williamsburg neighborhood. Sunday Suppers is devoted to the art of seasonal, ingredient-driven cooking and communal eating. Together, we will share the thoughtful food Sunday Suppers is so famous for preparing, and we will also spend the day in their gorgeous space, knitting, chatting, hearing from the guest designers, and getting inspired!

The Sunday Plan
Start Sunday off with some private shopping time at Purl Soho. The store will be open only to guests of Knitting in the City, giving you the pleasure of browsing our shelves in peace and quiet!
And now that we've gotten to know each other, we'll really get into the joys of knitting together! Next stop, Saipua's beautiful studio space in the Red Hook neighborhood of Brooklyn. There you will hear from guest designers, compare notes with fellow guests, and enjoy the experience of knitting at this family owned business, known and loved for their handcrafted olive oil soap, as well as their artful floral arrangements. Lunch will be provided by Eleven36, Brooklyn-based caterers committed to ecologically and agriculturally sustainable foods and seasonal menus. Yum!

The Nuts + Bolts
When is Knitting in the City?

It begins Friday evening, March 3rd and ends Sunday evening, March 5th, 2017.

What is included in the price of the weekend?

Meals, coffee, and snacks from Saturday morning through Sunday afternoon; intimate presentations by some of knitting's most admired designers; access throughout the weekend to these designers for knitting help and design consultations; a private shopping experience at Purl Soho's Manhattan store; and of course, a fabulous swag bag!

Is the price of the hotel included in cost of the Knitting in the City weekend?

No. The price of the weekend does not include hotel accommodations.

Where do I stay?

You decide! We will send you a list of recommended hotels in a range of prices, but it is up to you where you stay.

How do I get to the places where the activities are taking place?

If we're going two places in one day, we will take you from one place to the other in hired vans. Otherwise, we will be providing you with lots of information about how to get around New York City, with tips on taxis, Uber, and car services, as well as subways and buses.

What do I do at night?

Anything you want! On Saturday night we will have a wonderful sit-down dinner, but on Friday and Sunday, you will be free to explore New York City's restaurants, theaters, and nightlife. Our welcome packet will include lots of recommendations for things to do, places to explore, and restaurants to try.

What if I use a wheelchair?

Please let us know, and we'll make sure you get everywhere you need to go!

What if I have dietary restrictions?

No problem, we will accommodate them!

What should I knit while I'm there?

Anything you want, but for some real one-on-one help, you may consider a pattern by one of the designers who will be at the retreat.

What if I sign up and have to cancel?

Let us know right away, and if we can fill your spot, you will receive a 100% refund. If we can't fill your spot, you will receive a 50% refund.

How do I sign up?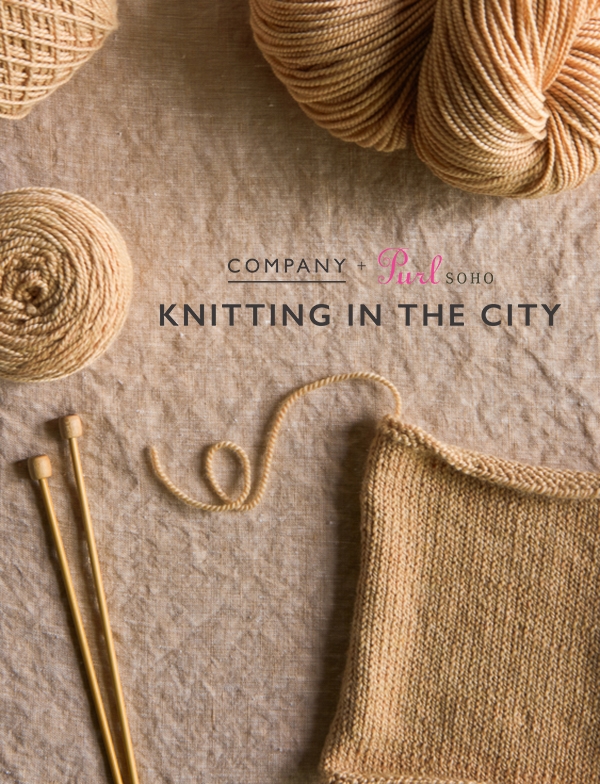 Update: Join us for Half the Cost!
We're very happy to announce that in the spirit of friendship and community we have lowered the cost per ticket by half! You can now bring your favorite knitting buddy at the original cost per ticket… Or come on your own at half price, ready to meet new friends! Sign up here!