My Christmas tree is filled with a hodge-podge of plastic bead garlands, Styrofoam balls covered in glitter, and salt-dough faces painted by little hands. I love the significance of all of these handmade ornaments, but I have to ask myself, why do my kids get all the holiday crafting fun?!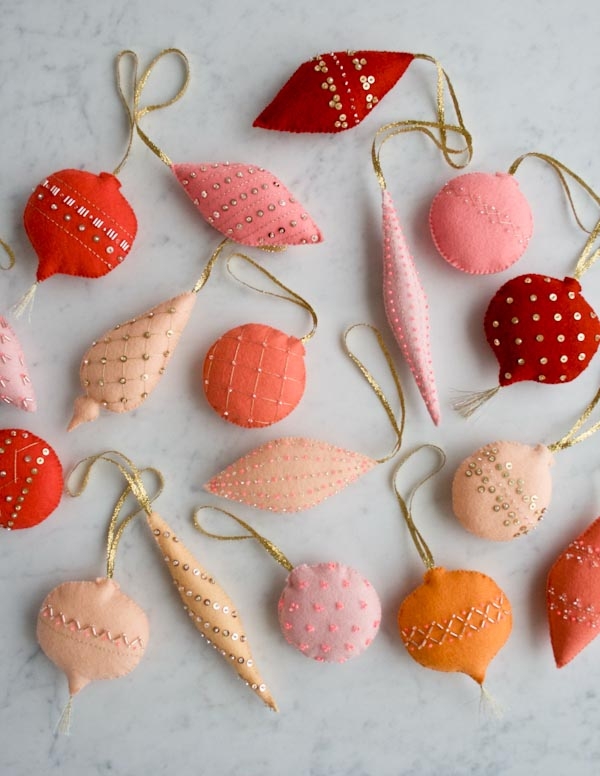 This year, I'm adding my own handiwork to the tree with this collection of beautiful Heirloom Wool Ornaments. Each one is hand sewn in soft wool felt and then decorated with embroidery stitches and sparkly sequins and beads. They are truly a joy to make, to give, and to receive!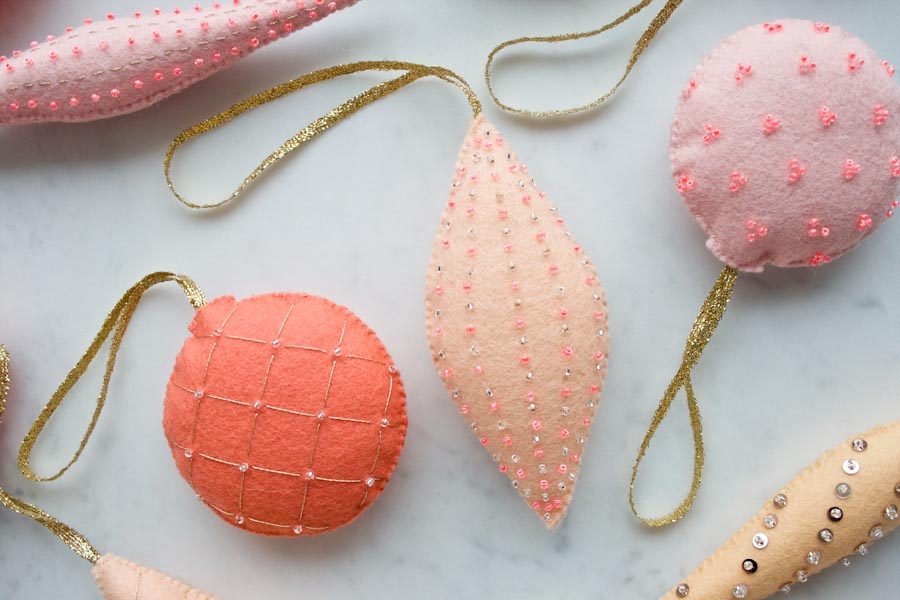 Purl Soho's Heirloom Wool Ornaments Kit includes everything you'll need to make your own set of 24 Ornaments. It is available in two palettes: Lusterware, a gorgeous combination of colors inspired by the iridescent shades of its namesake, and Milk Glass, a beautiful bundle of warm white.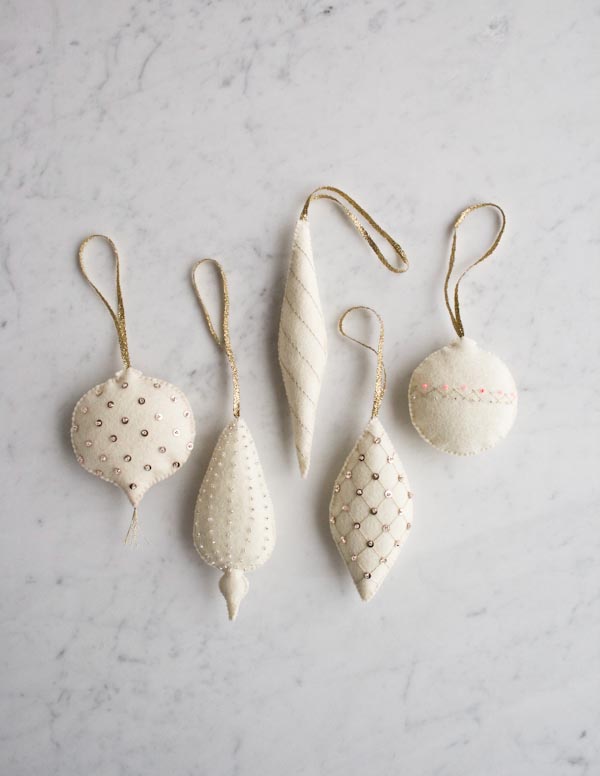 From start to finish, these Heirloom Wool Ornaments add a playful, festive, and very special flair to the season. And that's how you make a happy holiday! -Corinne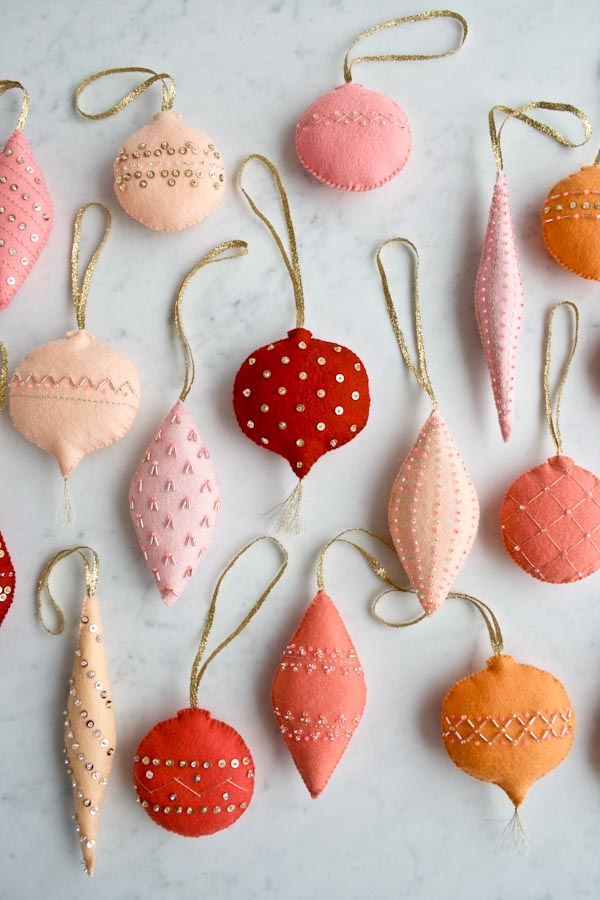 Materials
Our Heirloom Wool Ornaments Kit comes in two palettes and includes all the supplies you'll need to make 24 Ornaments … (NOTE: the Heirloom Wool Ornaments Kit is no longer available.)
Eight 8 x 12–inch pieces of 100% Wool Felt, 1mm thick

Lusterware: One piece each of Salmon, Coral, Brick, Baby Pink, Pink, Melon, Peach, and Apricot
Milk Glass: 8 pieces of Ecru

Cotton sewing thread to coordinate with the Felt
1 skein of embroidery floss
¼ ounce of Purl Soho's 4mm Sequins in Gold and Rose Gold
½ ounce of Purl Soho's Seed Beads, size 12 in Silver and Neon Pink
½ ounce of Purl Soho's Bugle Beads, size 2 in Rose Gold
An embroidery needle
A beading needle
A needle threader
Stuffing
An air-erasable fabric marker
One 1 x 6- inch clear ruler
Metallic ribbon for hanging
A full-color Pattern and cutting templates
Size
Each Ornament measures approximately 3 x 5 inches
Pattern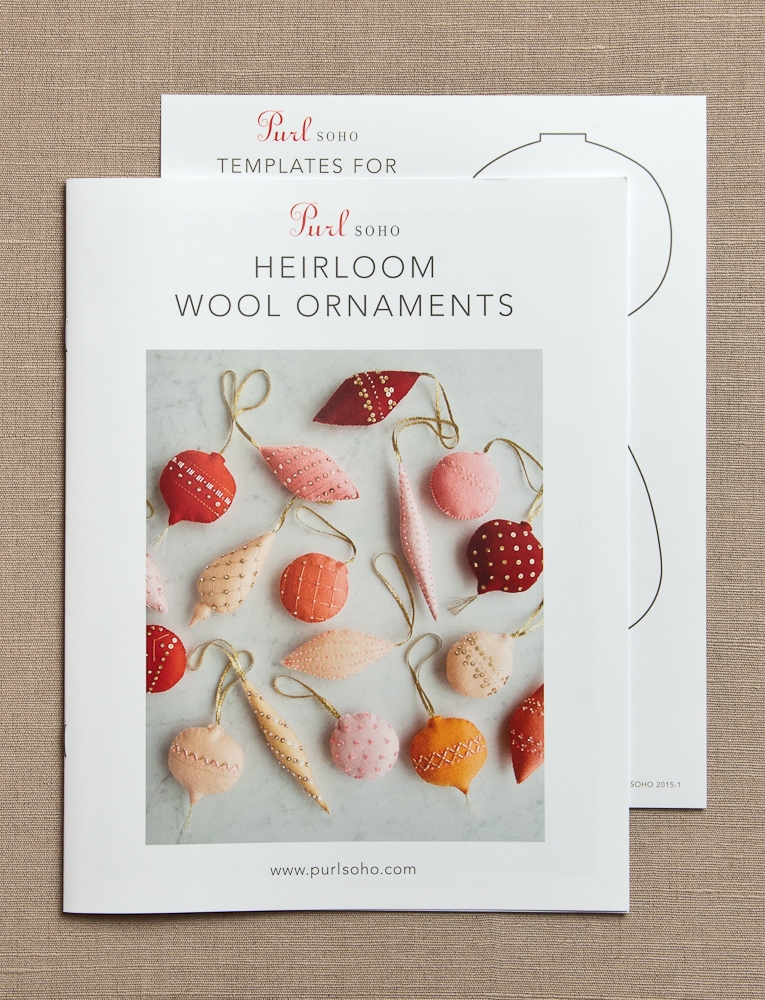 The Heirloom Wool Ornaments Pattern is also available separately, as either a hard copy or download.