It seems that as soon as we blow out the jack o'lantern's candle, we're on to Thanksgiving! But as we plan our seating chart, order the Turkey and research the best recipe for pumpkin pie, it's also nice to enjoy the warm and cozy feeling of the holiday with some festive crafting projects. Here's a list of our favorites from years past. We hope it gets you in a Thanksgiving kind of mood!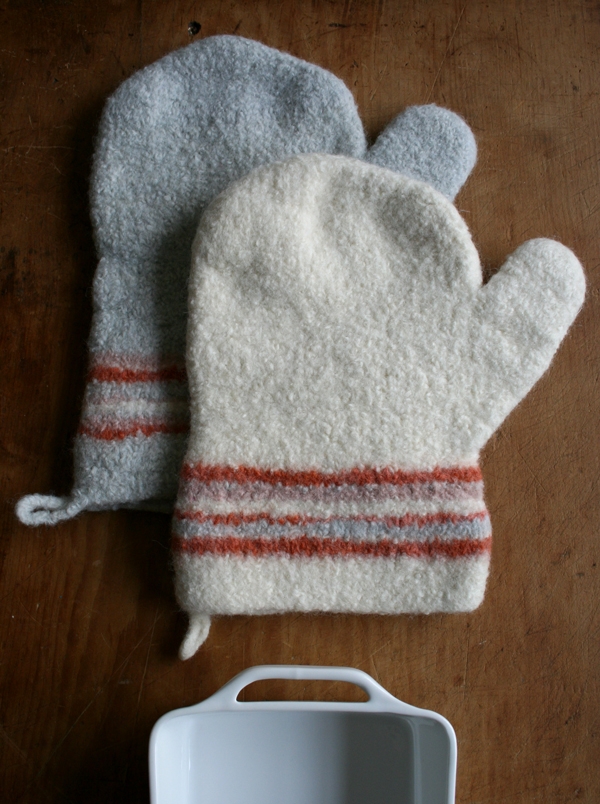 Felted Thanksgiving Oven Mitts
Thanksgiving at Whitney's mother's house is a bustling flurry of activity. From peeling potatoes to pureeing parsnips, these lovely Felted Thanksgiving Oven Mitts add to the pleasure of preparing the big feast!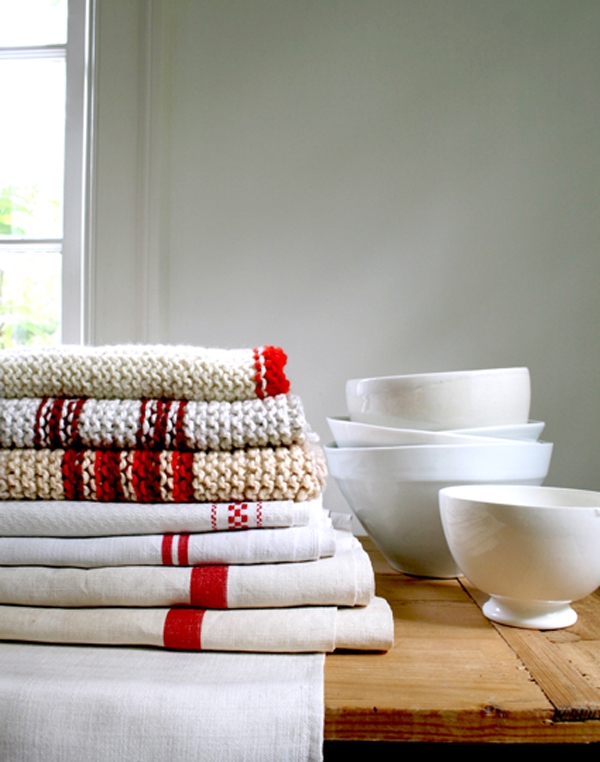 Soft Cotton Dishtowels
With Page's Soft Cotton Dishtowels on hand you may actually look forward to drying all those gravy boats and serving platters! Inspired by vintage red and white linens, this project is simple enough for beginners and uses one of our very favorite yarns. Blue Sky's Worsted Cotton is plush, absorbent and machine washable!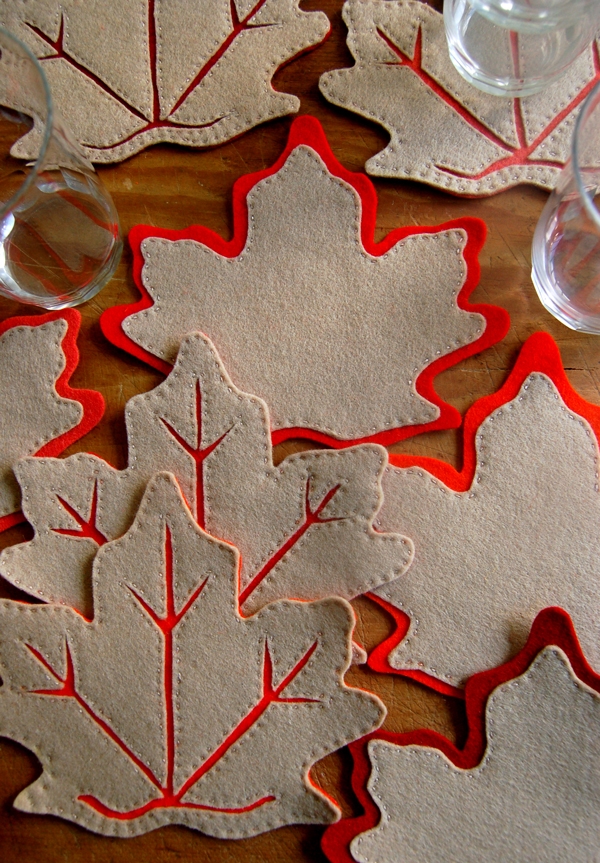 Fall Leaves Coasters
Because beautiful fall foliage is so fleeting Molly designed this set of Fall Leaves Coasters to last all year round! Hand sewn with our lovely Fall Leaves Wool Felt Bundle, this simple, pretty project will surely make an elegant addition to your Thanksgiving festivities!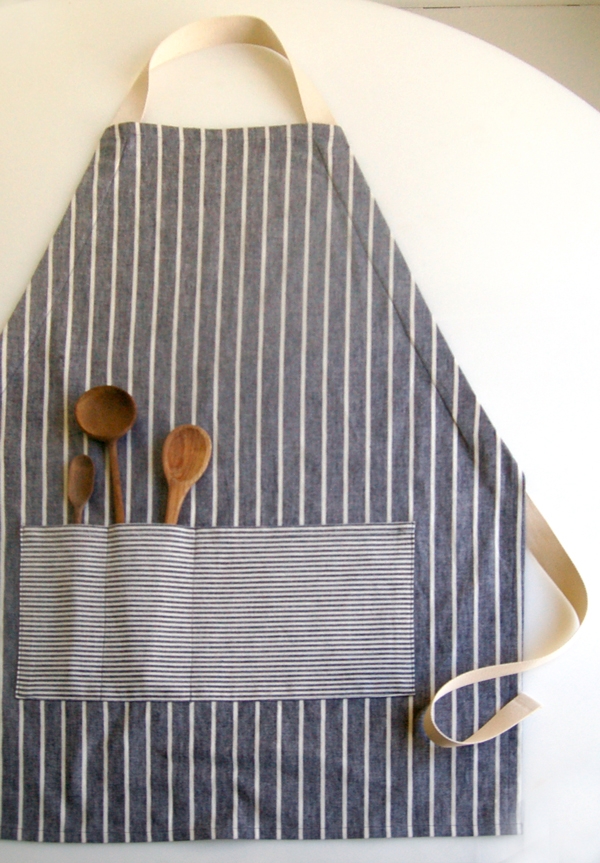 Adjustable Unisex Apron
Molly designed the sturdy Adjustable Unisex Apron to fit any cook in the kitchen! This is the perfect apron to have around, ready for anyone who wants to taste the gravy or sample the stuffing. We've already made it in two great fabric options, and this year we suggest using Robert Kaufman's very handsome Oxford!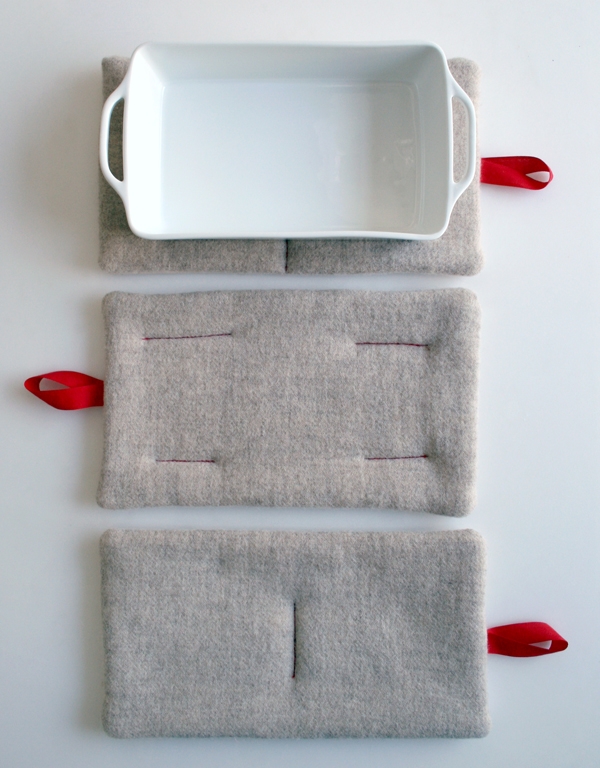 Felt Hot Pads
These easy-to-make Felt Hot Pads do double duty as trivets and add a casual elegance to the Thanksgiving table. They are made with ultra lofty Mary Flanagan Felted Wool and sturdy Cotton Duck, a perfect juxtaposition of soft and rugged. And since they are so quick to sew they also make a great last minute host or hostess gift!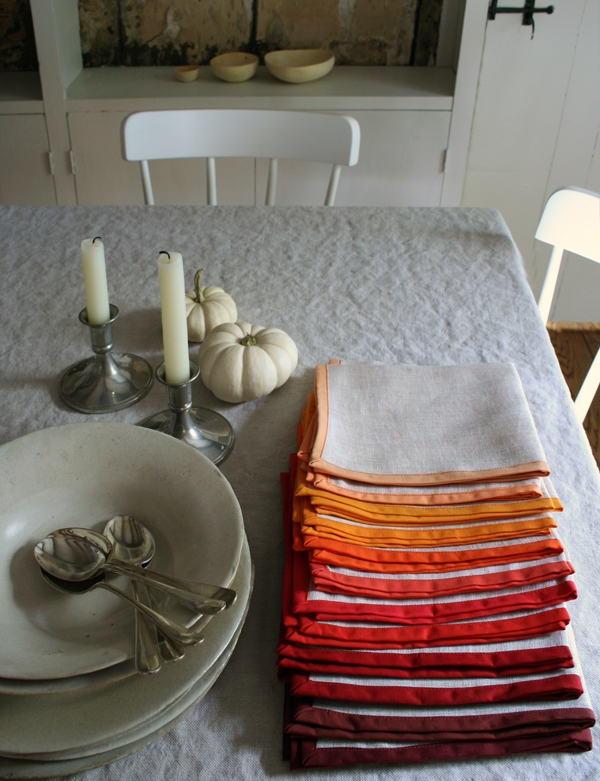 Linen Thanksgiving Napkins
These vibrant Linen Thanksgiving Napkins are table-topping classics! Made with elegant sheer linen, they are backed with a rich rainbow of colors from one of our spectrum bundles. (The colors "red" or "citrus" would work beautifully.) We love festive napkins so much that Molly has made a different set for Thanksgiving every year since 2006! To check them all out you can browse our archive here!
Happy Thanksgiving!