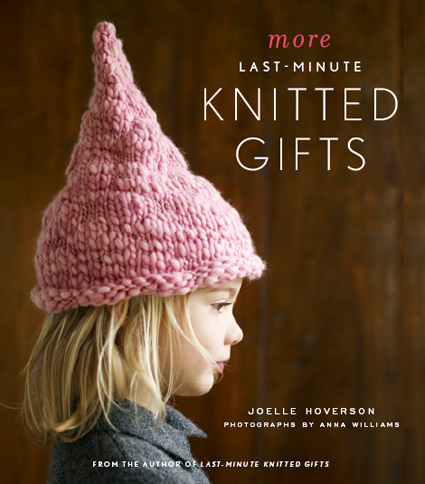 If you'd like to pre-order a copy of More Last-Minute Knitted Gifts you can do that right here.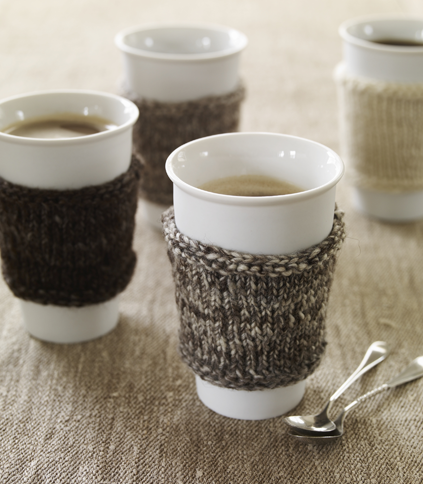 Like the original Last-Minute Knitted Gifts, More Last-Minute Knitted Gifts includes a wide range of projects, from Less-Than-Two-Hour quickies such as this Reusable Hot Coffee-Cup Sleeve and the Pointy Elf Hat (both pictured above) to more involved More-Than-Eight-Hour projects like Leah's Lovely Cardigan (pictured below).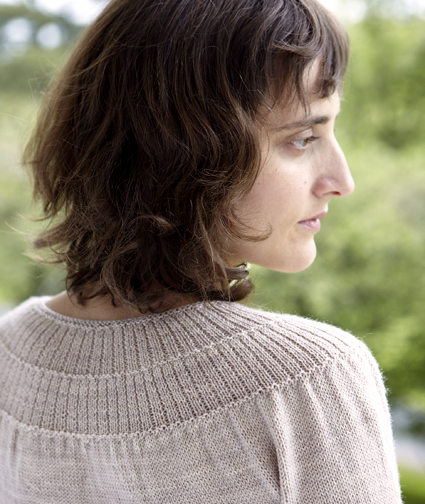 More Last-Minute Knitted Gifts is a perfectly orchestrated mix of projects for babies, kids, women and men; projects for feet, hands, head, body, and home; projects for beginners and projects for more experienced knitters. It's the kind of book that answers every need: booties for babies, hats for fathers, blankets for grandmas.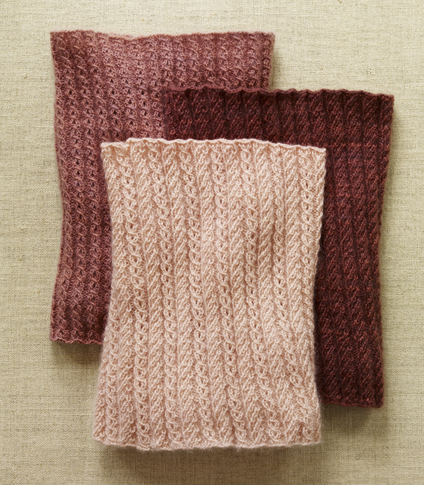 Last-Minute Knitted Gifts started out with an in-depth discussion about color. While color continues to be a huge part of Joelle's outlook, More Last-Minute Knitted Gifts focuses on how to personalize your hand knits. From creative embellishments to detailed stitch patterns, the first chapter delves into ways to create gifts that are unique to both the giver and the receiver. Several patterns offer different takes on a theme. For example, these Soft As A Cloud Cowls are each made using variations of the mock cable stitch, resulting in beautifully subtle differences. Most importantly, you get to choose!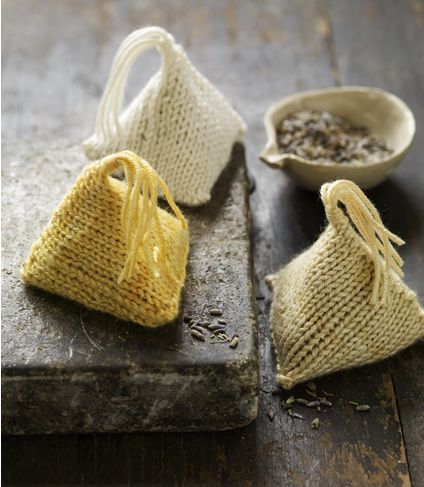 More Last-Minute Knitted Gifts has a richer, more introspective quality that feels like a weekend with old and loved friends. This photo of the Pyramid Sachets is a great example. There is a mysterious and opulent beauty that is so inspiring to take in.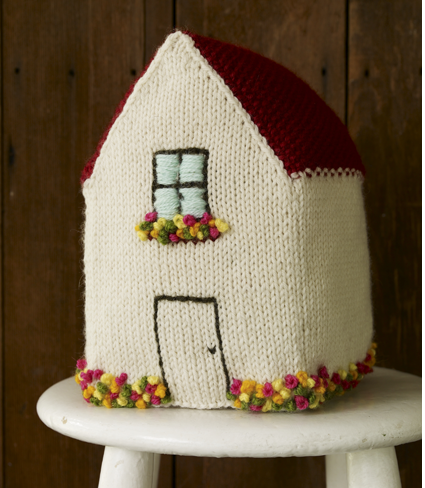 It's difficult to choose favorites, but one of mine would have to be this wonderfully quirky Huggable House. I love the originality of the idea and also the charm of the execution: the flowers, the little window, the textured roof. I can imagine exactly the lady and cat who live in this little cottage! This is a project where imaginations can run wild. I can't wait to see what everyone comes up with: shutters, door knockers, trellises…make it a barn, a schoolhouse, your house!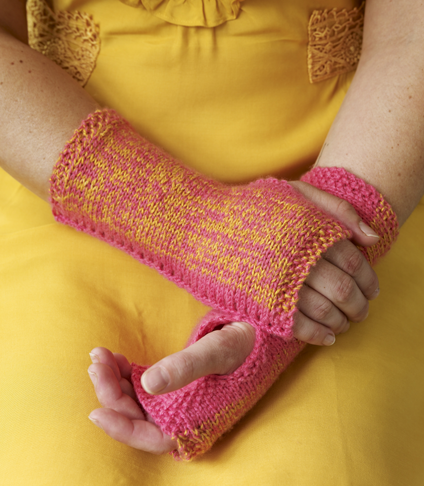 Joelle combined her trademark color wizardry with beautiful stitch details to make these Sideways Fingerless Gloves truly unique. The mixture of edgy fashion and classic simplicity make them perfect for your teenage niece and yourself.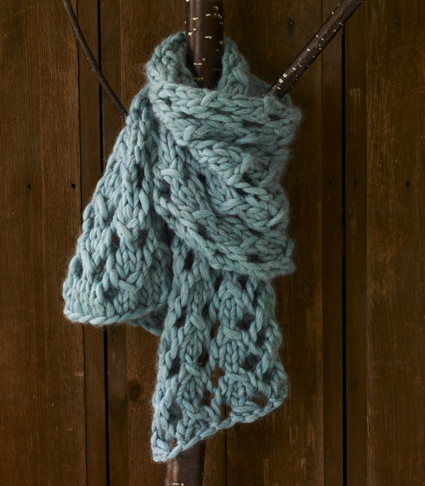 A scarf that falls into the 2-to-4 Hour Gifts chapter! And it's beautiful! This Big Lace Scarf turns lace knitting on its head by bringing out the big needles and bulky yarn. The result is totally funky, but still somehow wonderfully elegant.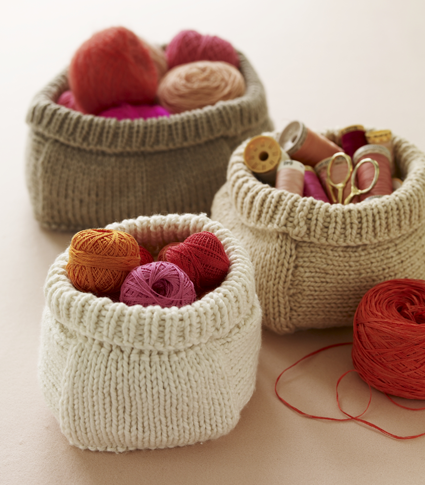 Aren't these Soft Baskets better than anything you can find at the Container Store? Joelle shows them storing notions, but also what great packages for gift giving, baskets for your baby's socks, or bowls for pistachios. I'm sure we'll hear all sorts of uses that people will find for these. I'm thinking that my mother could really use one for all her drugstore bifocals that she's always looking for!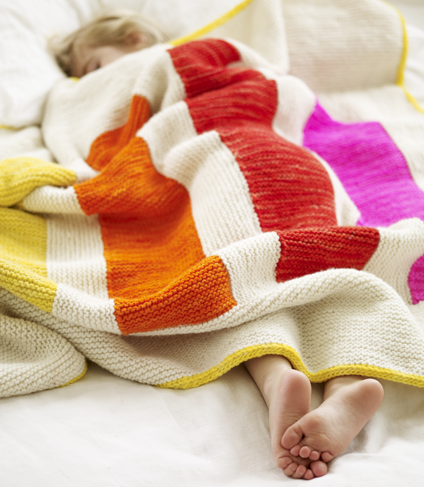 I can't wait to make this Bright Stripes Blanket. The graphic quality is so gorgeous and the opportunity to combine beautiful hand dyed colors is just irresistible to me. The pattern itself is fascinatingly clever, most especially because there is no sewing. Love it!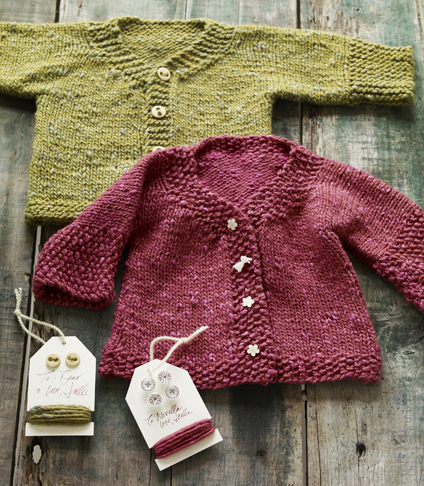 Move over Placket-Neck Pullover! Every day for six years at least one customer has come into Purl Soho to buy supplies for that by-now classic baby sweater from Last-Minute Knitted Gifts. I think these Easy Baby Cardigans will be at least as popular. I love their rusticity and practicality, but also their sweet details. They are amazingly simple to knit and too adorable to resist.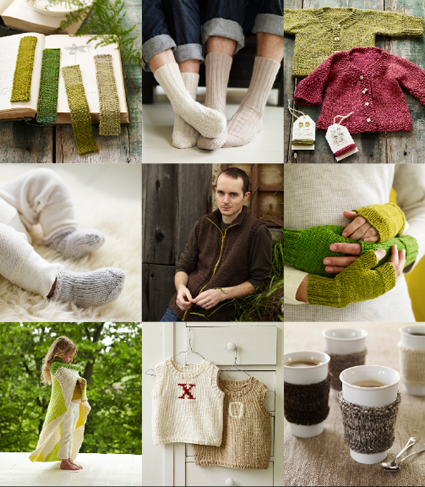 These are just some of my favorites. I have more: royal alpaca Toe-Up Socks, super quick cashmere Baby Socks, Ribbed Hats for the whole family. When I finished going through the advance copy of More Last-Minute Knitted Gifts I remember turning to Joelle and saying, "I actually want to make all of these projects!" This book could be dangerous, which is, of course, the best kind! –Whitney
More Last-Minute Knitted Gifts should be arriving at our warehouse by Friday, August 13th, you can preorder a copy right here!