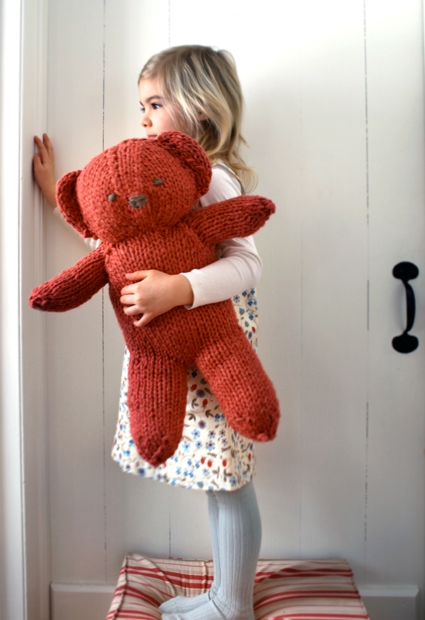 If you're a faithful reader of The Purl Bee, you may remember that a few weeks ago we mentioned that we're having a baby boom at Purl Soho.  I'm very excited to say that I happen to be one of the very happy Purl Soho-Mother's-To-Be! When I started thinking about knitting for my baby, I didn't have to think very hard about what my first project for my little one would be. I have always loved the Bobbi Bear (and the Baby Bobbi Bear) pattern from Blue Sky Alpacas because it's so big (almost 2 feet tall!) which makes it great to cuddle with, plus the pattern is very well written, very quick and it doesn't involve a lot of sewing up.  I've made my share of Bobbi Bears for friend's babies over the years with Blue Sky's Bulky and their Cotton as well.  I recently made Whitney's Bulky Baby Blanket for a friend's baby with Spud & Chloe Outer and I loved how soft it is (plus it's machine washable!) so I decided to use it for my Bobbi Bear.  I chose Sequoia, a red color, because it's not gender specific and because it has a vintage quality that I love.
If you'd like to make your own Bobbi Bear in Spud & Chloe Outer here is what you'll need:
Bobbi Bear Pattern
4 skeins Spud & Chloe Outer main color (I used Sequoia), plus 1 skein for the eyes and nose (I used Flannel)
1 bag of stuffing
US size 13, 16-inch circular needles
US size 13 double pointed needles
Tapestry needle for finishing
Please keep in mind that Blue Sky's Bobbi Bear pattern is written specifically for Blue Sky Alpacas Bulky which is thicker than the Spud & Chloe Outer, so the pattern recommends US size 17, 24-inch circular needles, plus US size 17 double points (the pattern gauge is 7 stitches to 4 inches).  Since the Spud & Chloe Outer is a thinner yarn, I used US size 13 needles and my gauge was 8 stitches to 4 inches, but in every other way I followed the pattern to the letter.
Enjoy! –Jen