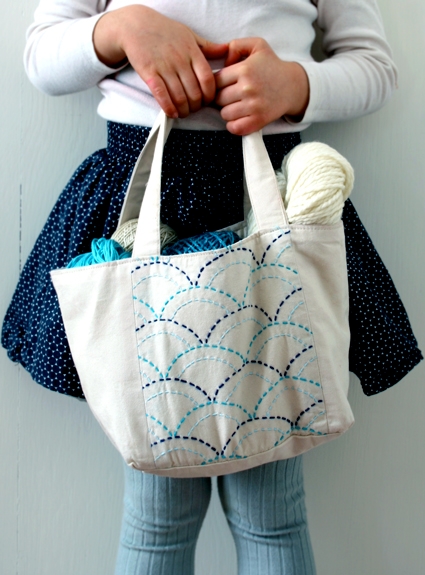 Sashiko is a Japanese embroidery technique that is simple to learn and beautiful to look at. Even though it's a craft that's been around for a very long time, the traditional designs are very clean and graphic, and I love how modern they seem.  Sashiko combines the quick, hands-on creativity of embroidery with a calming, meditative quality as well. I learned about Sashiko and how to do it last year by reading Mari's helpful Sashiko Tutorial on The Purl Bee and I've been wanting to do more ever since!
This Sashiko Mini Tote Kit is a great place to practice your Sashiko skills or to learn them for the very first time.  It comes with almost everything you'll need; the fabric (which has the Sashiko design printed right on it), navy Sashiko thread, and an ultra easy to follow pattern.  I also used two additional colors of Sashiko Thread for the bag above, aqua and sky blue, so that the design would be more playful.  I love how the different blues look so clean and cheerful on the natural canvas background!
This exact same kit can also be made into a cute, simple apron.  I chose to make mine into the tote because I thought it would be perfect as a small project bag.  After it was done I also realized it would be a great lunch bag or child's purse.
Happy Stitching!- Molly
Note: Unfortunately we no longer carry the kit but that we have lots of Sashiko Samplers available here.