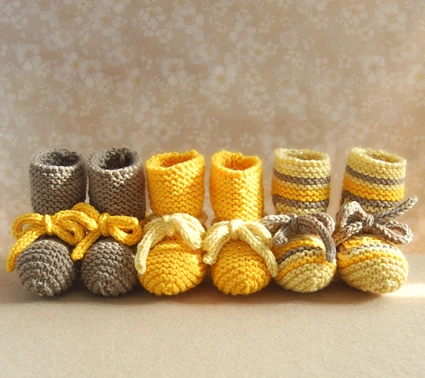 I have long loved these Elizabeth Zimmermann booties. Last year I made them with fingering weight yarn to fit my newborn baby, and they got him through his first cold winter. Recently my family received wonderful news that made me want to knit some bigger booties.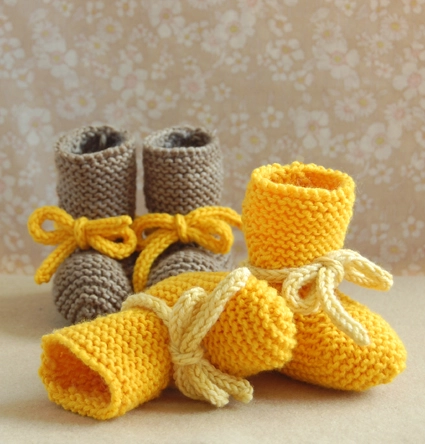 My sister-in-law has been trying to adopt a baby for a long time, and this month she was finally told that there is a beautiful baby boy who needs her. He gets to come home in January and, by then, will be ten months old. His name is James, and his smile would melt an ice cube.
From waiting in line to waiting for a baby to arrive, knitting is how I get through all the episodes in my life that challenge my patience. I'm pretty sure that the next three months are going to yield a whole pile of hand knits for little James!
Materials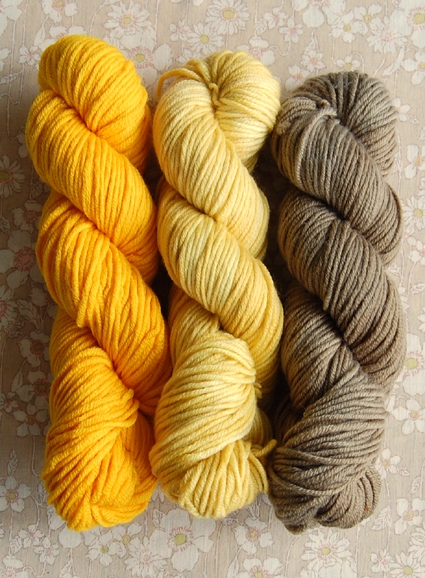 Three skeins (one skein makes one pair of booties) of Alchemy's Temple yarn, 100% superwash, superfine merino. These colors are Michelle's Marigold, Champagne and Mica.
Two US #7 double pointed needles
Elizabeth Zimmermann's The Opinionated Knitter. (The bootie pattern is on page 108. On the same page is an adorable matching bonnet.)
Whenever I knit something for a baby my first thought is, "Can I use Temple?" The hand dyed colors are so sumptuous and unusual, from perfectly warm pinks to strangely glowing greens to mysterious deep charcoals. If Elizabeth Zimmermann's insistence that itchy wool is good for a baby seems a liitle sadistic to you, you'll be happy to know that this superfine merino is also super soft. And, another concession to modernity, it's machine washable!
The original pattern uses yarn that gets 6 stitches to the inch for about a newborn to six month size. To make booties that will fit a ten month old I decided to use a sportweight yarn at 5 stitches to the inch. Knit a little bit loose, they have a lot of stretch and will fit most feet well past the one year mark.
Pattern
Even in designing a humble bootie, Elizabeth Zimmermann engaged her fascinating mind to create a highly original object. My mind just marvels at hers! Here is what the bootie looks like right before you sew it together, kind of like origami!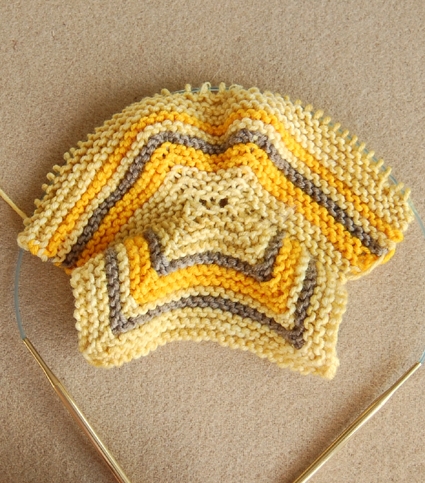 Besides being a beautiful example of engineering simplicity, these booties fulfill all the practical concerns of moms and dads. Warm,yes; stretchy, yes; cushiony and cozy, yes. But let's face it, the most important thing in baby footwear is, Does it stay on?! Yes! Besides a good high cuff, the booties are held securely in place by I cord laces. I cast on three stitches to knit mine…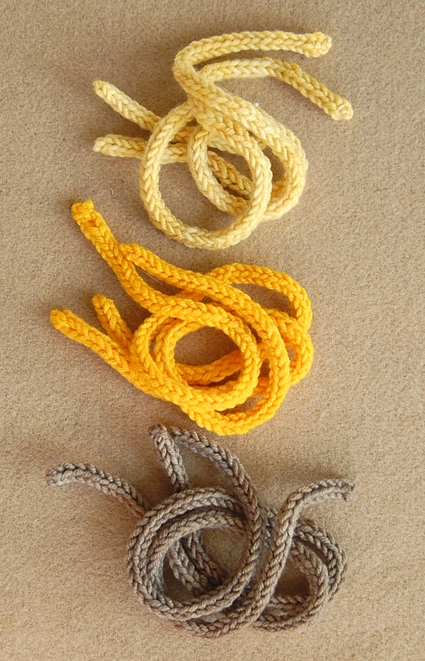 I am so excited to welcome my new nephew into our family with these gorgeous booties for his precious little feet. Thank you, Elizabeth Zimmermann! -Whitney