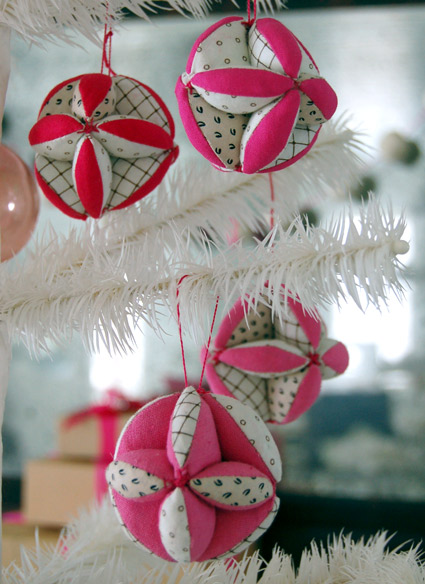 This project is based on a vintage piece that I picked up in Lancaster County, Pennsylvania, several years ago. With a little research, I found out that it is called a puzzle ball. I smiled when I heard the name because my first attempt at copying the original turned out square! Eventually it dawned on me that the shape could be created entirely out of circles and the pattern was born. Although it might look a bit complicated, creating the shapes and putting it together is actually very straightforward.
You can find the pattern for the puzzle ball ornaments in my book, Last-Minute Patchwork + Quilted Gifts. The pattern in the book will give you a 5-inch diameter puzzle ball, but for these Christmas tree ornaments I thought it would be nice to make a smaller version. Instead of using a 5.5-inch diameter circular template as recommended in the pattern, I used a teacup with a diameter of 2.5-inches, which gave me finished ornaments that measure 2-inches across. I also added a loop of embroidery thread to hang them from the tree.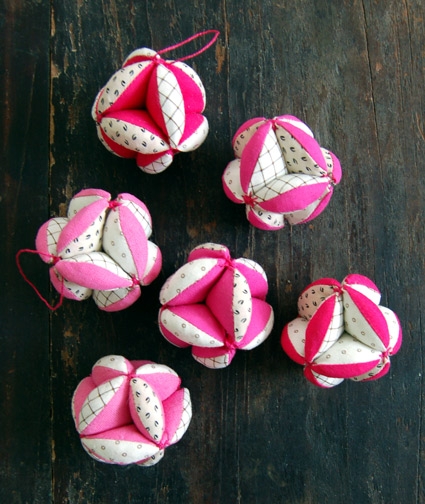 For our week of pink and white Christmas projects I used solid pink fabrics from the P+B Color Spectrum, Kona Cotton and Essex Linen and Cotton Blend collections and prints from Cake Rock Beach and Windham 19th Century Reproductions but this shape lends itself to playing with just about any combination of colors and prints!
Materials
If you'd like to make your own puzzle ball ornaments, here is what you'll need:
Puzzle Ball Pattern in Last-Minute Patchwork + Quilted Gifts
1/4-yards of fabrics of your choice (for one 2-inch puzzle ball you will need at least 6-inches x 9-inches total of fabric for the background or inside pieces and at least 3-inches x 6-inches total for the foreground or outside pieces)
Cotton thread to match the background or inside fabrics
Embroidery thread for connecting the segments and to create a hanging loop (I used Magenta #50)
2.5-inch (or thereabouts!) circular template (or something that will serve as, such as a teacup, soup can etc)
Pencil
Sewing machine
No matter how many puzzle balls I make I am always equally amazed by and satisfied with the transformation of the fabric from something so flat into something with so much dimension! Whether you make these for gifts or choose to hang them on your own tree, I think you'll be amazed too! Merry Christmas -Joelle