Like light shining through a canopy of trees, the colors of our Speckled Wrap shift and play on the textured surface of the fabric.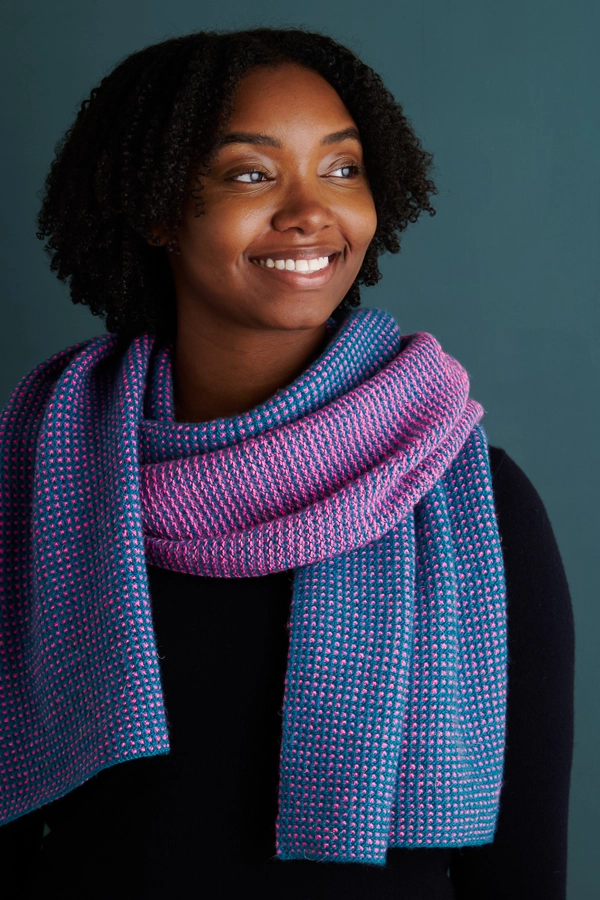 You knit this slip stitch design with two yarns, but you only carry one strand of yarn at a time. Easy and rhythmic, you'll want to relax into this absorbing knit!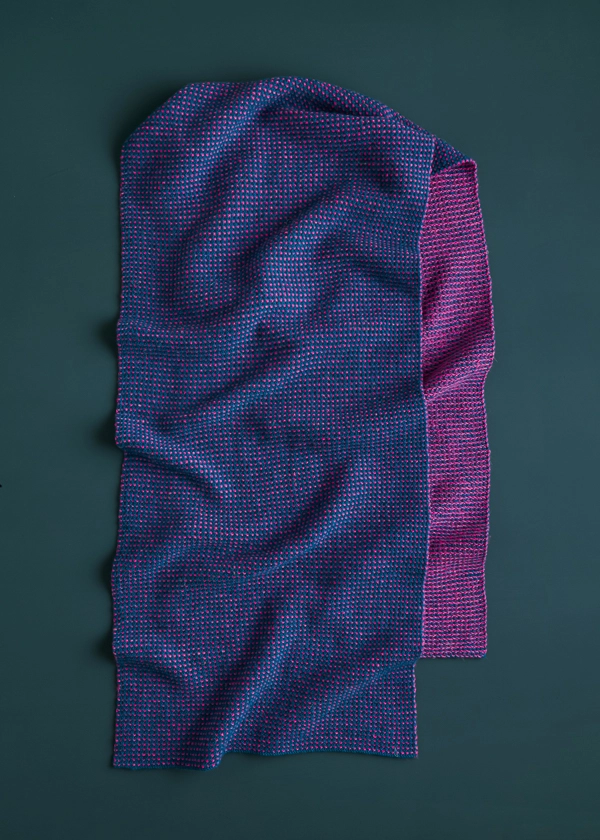 Simple knits and slip stitches add up to a gorgeous dimpled fabric, smart and striking with a pretty color contrast on the other side.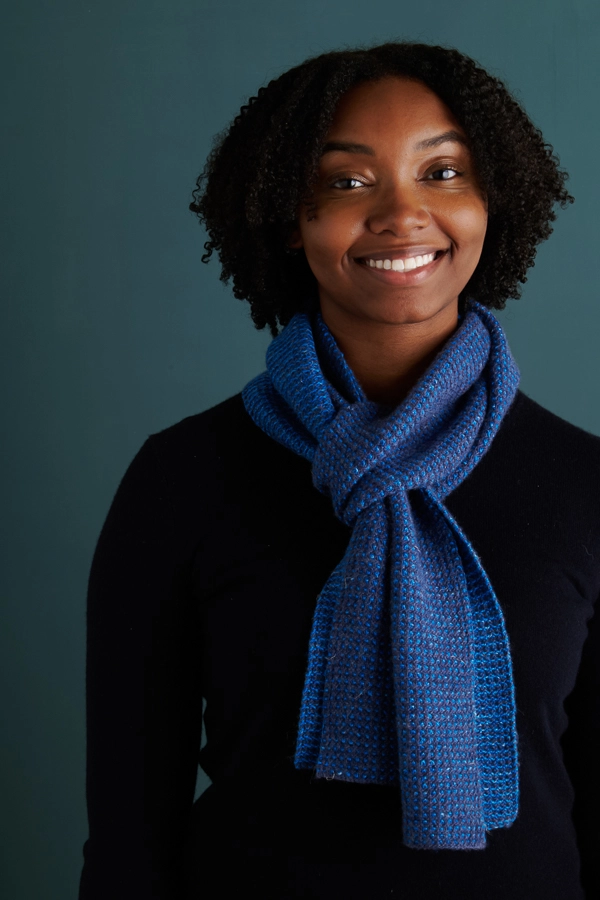 For even more depth and fascination, we knit this wrap using two of our fingering-weight beauties: Linen Quill and Line Weight.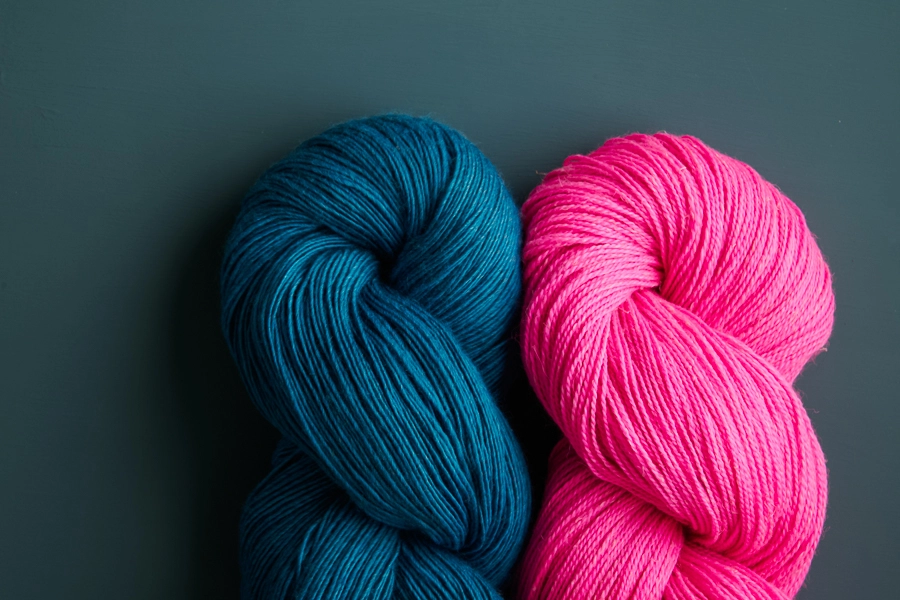 Hearty Linen Quill, with its magnificent mix of wool, alpaca, and linen, lends an earthy look and feel in an incredible palette of over fifty colors, while Line Weight is a lithe single ply of 100% merino wool, graceful, delicate, and irresistibly soft.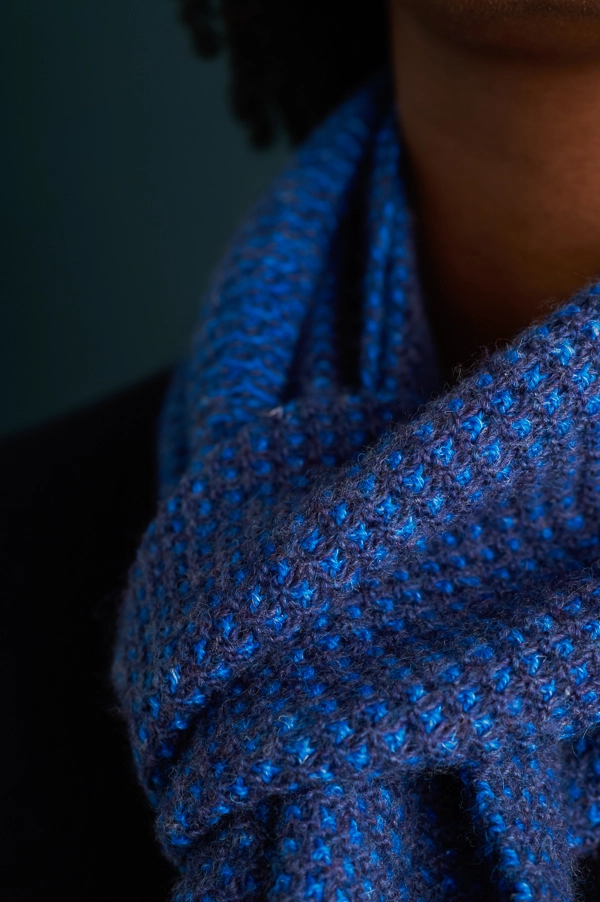 Together, they are light and warm, textured and soft. So inspiring that we've put together seventeen bundles to choose from, in both scarf and wrap sizes!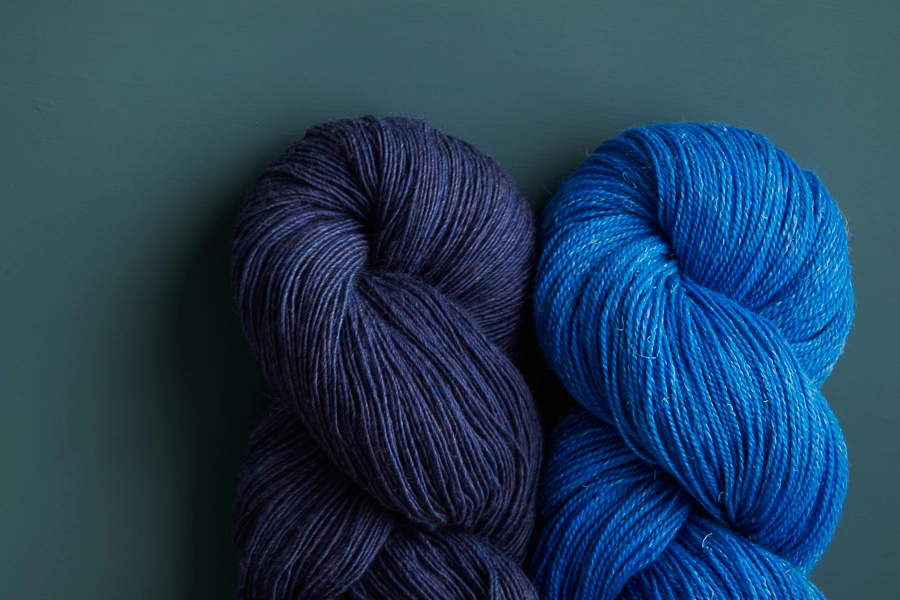 For the scarf, you'll need just one skein each of Line Weight and Linen Quill and for the wrap, three and two. High contrast or low, bright or subdued, pick your favorite to knit your own swath of speckly beauty!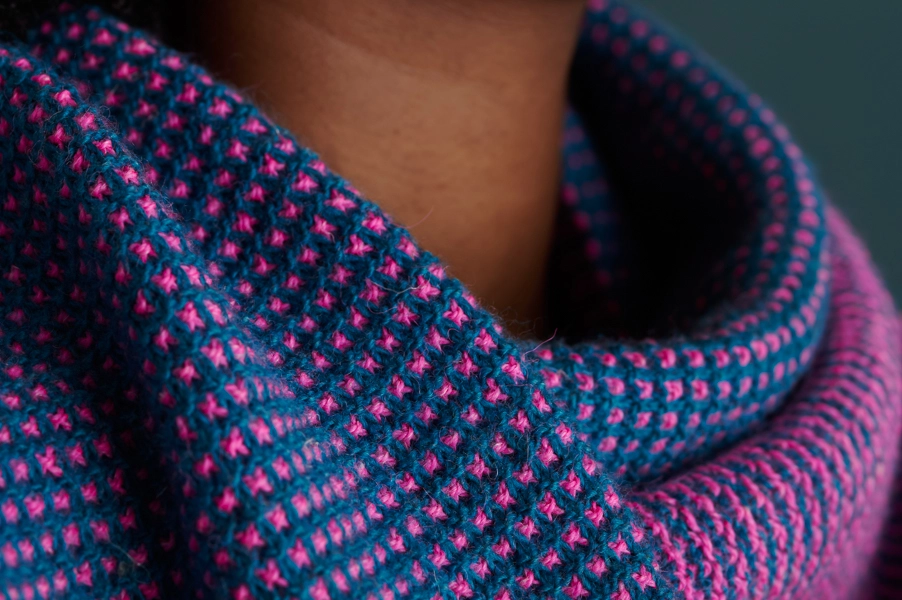 Originally designed by Purl Soho designer, Kristina McGowan. Click here to see even more of Kristina's designs!
Share your progress and connect with the community by tagging your pics with #PurlSoho, #PurlSohoBusyHands, #PurlSohoSpeckledWrap, #PurlSohoLineWeight, and #PurlSohoLinenQuill. We can't wait to see what you make!
MATERIALS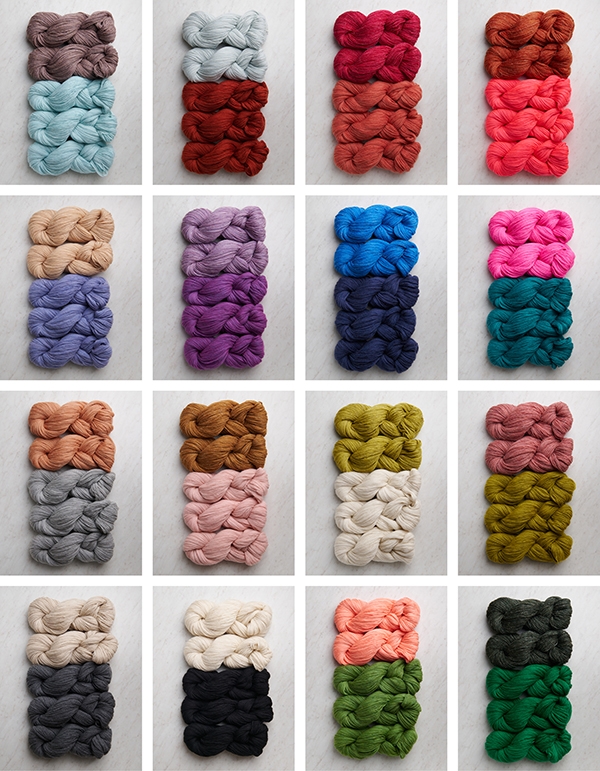 Our Speckled Wrap Bundle comes in Scarf (Wrap) sizes (Wrap size shown above). They include…
Yarn A: 1 (3) skein(s) of Purl Soho's Line Weight, 100% merino wool. Each skein is 494 yards/ 100 grams; approximately 494 (1240) yards required.
Yarn B: 1 (2) skein(s) of Purl Soho's Linen Quill, 50% fine highland wool, 35% alpaca, and 15% linen. Each skein is 439 yards/ 100 grams; approximately 305 (665) yards required.
You'll also need…
US 3 (3.25mm) straight or 24-inch circular needles
Choose from 17 colorful palettes, shown above!
First Row: Clear Sky + Peach Stone, Kiln Red + Bird's Egg Blue, Weathered Barn + Rhubarb Pink, Bright Flamingo + Kiln Red
Second Row: Hydrangea Blossom + Honey Pink, Lotus Flower + Crocus Bud, Blue Jeans + Cobalt Blue, True Turquoise + Pink Pop
Third Row: Dove Gray + Baked Earth, Peony Pink + Raw Sienna, Heirloom White + Golden Green, Golden Green + Lychee Pink
Fourth Row: Fieldstone Gray + Wheat Flour, Soft Black + Pale Oats, Matcha Green + Peachy Pink, Clover Green + Juniper Green
Not Pictured: Cobalt Turquoise + High Tide
SAMPLES: We used Blue Jeans + Cobalt Blue for our Scarf and True Turquoise + Pink Pop for our Wrap.
GAUGE
30 stitches and 56 rows = 4 inches in stitch pattern
NOTE: We used nearly every yard of Yarn A for our Scarf. To avoid running short, please re-use your swatch yarn, double check your gauge, and be conservative with tails!
SIZES
Scarf (Wrap)
Finished Dimensions: Approximately 8 (18) inches wide x 70 inches long
NOTES
STITCH MULTIPLE
This pattern works over any odd number of stitches.
SLIP STITCHES
Slip all slipped stitches purlwise.
PATTERN
With Yarn A, cast on 59 (135) stitches. We used a basic Long Tail Cast On.
Set-Up Row (wrong side): Knit to end of row.
Row 1 (right side): With Yarn B, k1, *slip 1 with yarn in back (see Notes), k1, repeat from * to end of row.
Row 2: With Yarn B, k1, *slip 1 with yarn in front, k1, repeat from * to end of row.
Rows 3 and 4: With Yarn A, knit to end of row.
Repeat Rows 1–4 until piece measures approximately 70 inches from cast-on edge, ending with Row 3.
Cut Yarn B.
With Yarn A, bind off all stitches knitwise.
Weave in ends and gently wet block.