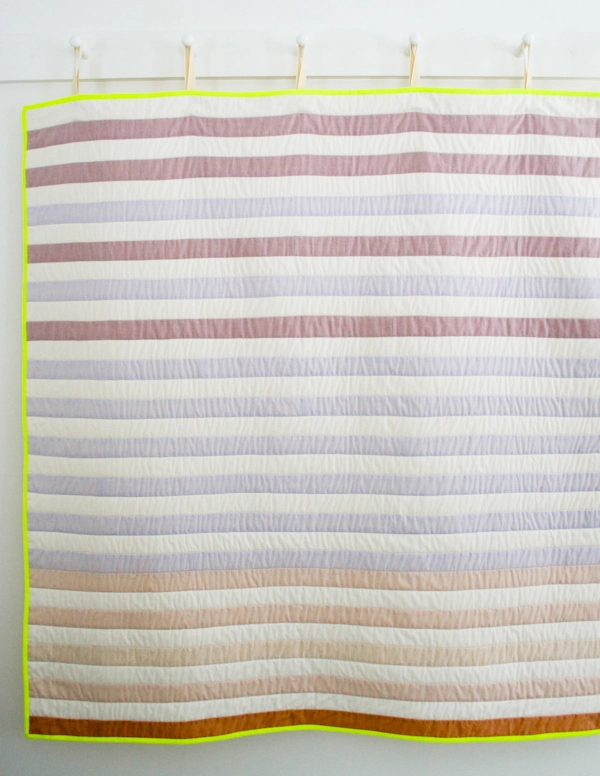 Several years ago I visited the Dia Beacon, a sprawling modern art museum just outside of New York City. It was a gray winter day, and my friend and I were practically the only people there. As we wandered around, I was stopped in my tracks by two spare, grid-like drawings. They were tentative and minimal but somehow conveyed so much power. I couldn't stop looking at them. I learned that they were by the artist Agnes Martin, and since that time I've come to love her work, much of which uses hand-drawn, repetitive lines and soft, tonal washes of color.  (If you'd like to see more of her work you can click here.)

Since Martin's drawings and paintings use so many straight lines, they make for perfect quilt inspiration, and this Watercolor Quilt is my humble homage. I chose subdued lilac gray and peach to closely match some of my favorite Agnes Martin paintings. And to make the project more my own, I widened the color range a bit and finished the quilt off with a luminescent (premade!) bias tape. The neon might seem weird at first, but it kind of makes the whole quilt glow!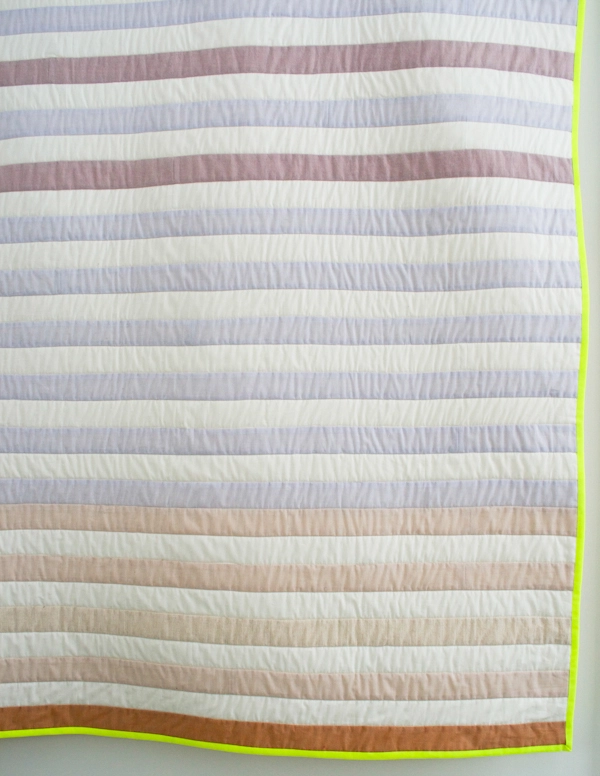 Despite its highbrow origins, this project couldn't be simpler or more fun to sew. You cut a bunch of strips and then sew them together. That's it, no corners to match up or tricky angles! And all of these cotton fabrics are soft and lovely to work with, bringing their own intrinsic beauty to the picture. This utter simplicity somehow leads to an engaging and sophisticated piece of work, much like the simplicity of Agnes Martin's paintings belies so much more.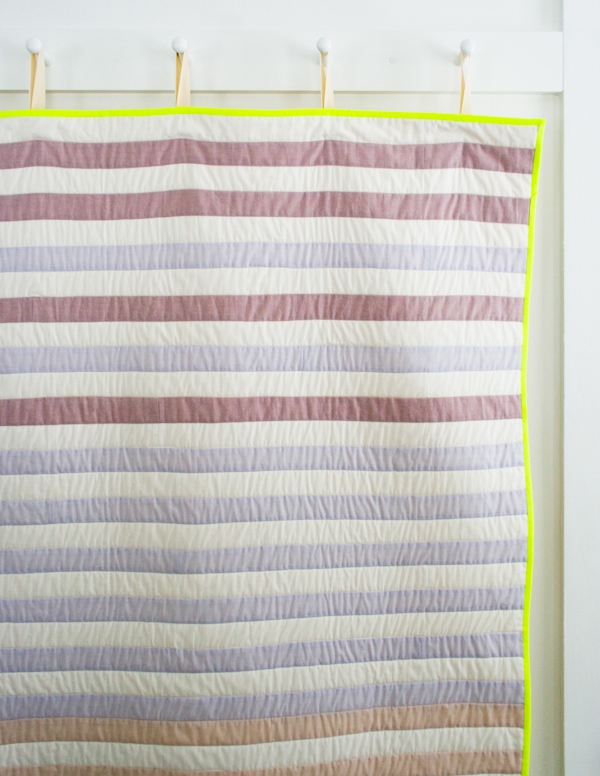 Get ready to make some art! –Molly
Materials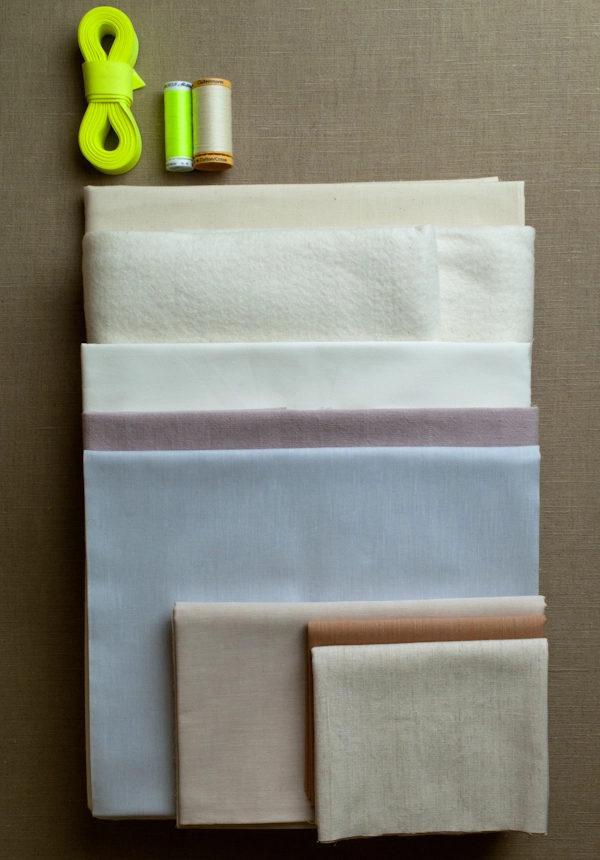 Backing Fabric: 1 3/4 yards Moda Muslin, 90 inch 60 X 60 count, Natural
Fabric A: 1 1/4 yards Moda Muslin, 45 inch 200 count, White
Fabric B: 3/4 yard Kiyohara's Fine Solids, Grey
Fabric C: 1/2 yard Kiyohara's Fine Solids, Beige
Fabric D: 1/2 yard Kiyohara Upholstery Weight Solids, Pink
Fabric E: 1/4 yard Shot Cotton, Pumpkin
Fabric F: 1/4 yard Kiyohara Linen Blend Solids, Light Beige
(Please Note: The original fabrics used in this quilt are no longer available. For substitutions, we recommend using our Spectrum Cotton, Daily Linen, and Watercolor Linen as well as Robert Kaufman's Essex in your favorite color combinations!)
1 Throw Size Natural Request Dream, 100% pure cotton batting
6 yards Bias Tape, Neon Yellow
A large spool of Gutermann's 100% Cotton Thread, color 1040
A spool of Mettler's Neon Thread, Sour Apple
You will also need…
Size
Finished Measurements: 50 inches square
Pattern
Cut
Note: if you have limited experience using a rotary cutter you might want to download the PDF of this very old Purl Bee story about rotary cutting. We are planning on doing an updated version soon with better photos but the information is still very good!
You will piece the quilt top from lots of long 2-inch strips. Here's how to cut the strips…
Cut a 2-inch wide strip from selvage to selvage and then trim off the selvages so that each piece is approximately 2 inches by 42 inches. The exact length of each strip will vary slightly from fabric to fabric.
From Fabric A, cut 20 strips.
From Fabric B, cut 10 strips.
From Fabric C, cut 4 strips.
From Fabric D, cut 5 strips.
From Fabric E, cut 2 strips.
From Fabric F, cut 2 strips.
Piece
Note: You will piece the entire quilt top using the color 1040 cotton thread with right sides together and a precise ¼-inch seam allowance. Use your machine's ¼-inch foot if you have one.
Sew one Fabric A strip to a second Fabric A strip, seaming across one of the 2-inch sides so that you have one very long strip. Cut one side of this strip down so that the whole thing is 50 inches long and press the seam allowances open. Put the leftover portion of the second strip aside; you'll be using it again soon.
Now do the same thing to create a 50-inch strip of Fabric D: Piece one Fabric D strip to another across one of the 2-inch sides so that you have a very long strip. Cut this strip down to 50 inches, press the seam allowances open, and put the leftover portion of the strip aside.
Pin and piece the long sides of  the 50-inch Fabric A strip to the 50-inch Fabric D strip. Press the seam allowances towards the colored strip (Fabric D). This is the beginning of the Quilt Top.
Now, using the leftover portion of the Fabric A strip, piece it to another Fabric A strip along a 2-inch side. Cut the resulting strip to 50 inches (and put the leftover portion of the strip aside). Press the seam allowances open, and then piece this strip to the bottom long edge of the Quilt Top. Press the seam allowances towards the colored strip.
You will be constructing the entire quilt top in this manner:  Piece the strips together to make a long strip; cut it to 50 inches; piece it to the bottom long edge of the Quilt Top; and press the seam allowance towards the colored strip.
To make the piecing manageable, sew the Quilt Top together in three sections of 11 strips each in the following fabric order…. (Note that there is always a white Fabric A strip in between each colored strip except for the second and third strips of Section 3. Press the seam between these two strips in the opposite direction of the previous seam.)
Section 1: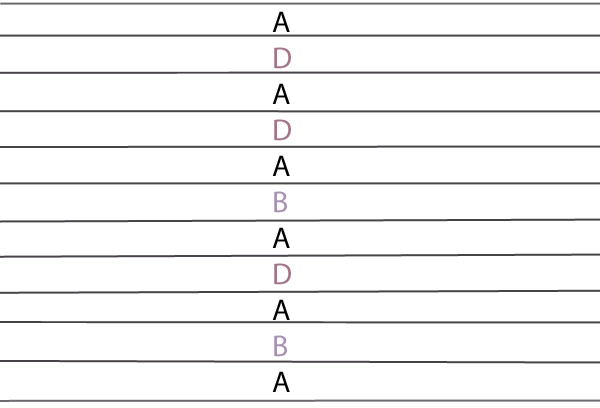 Section 2: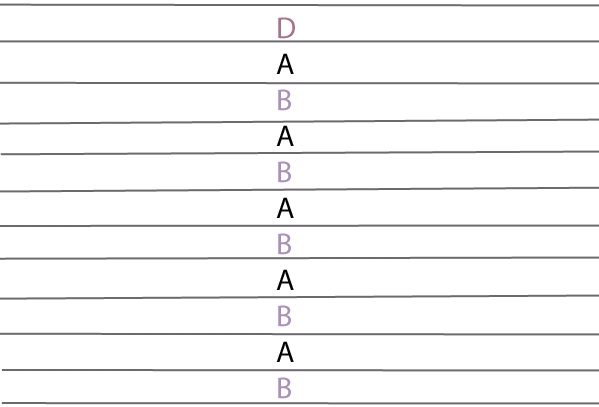 Section 3: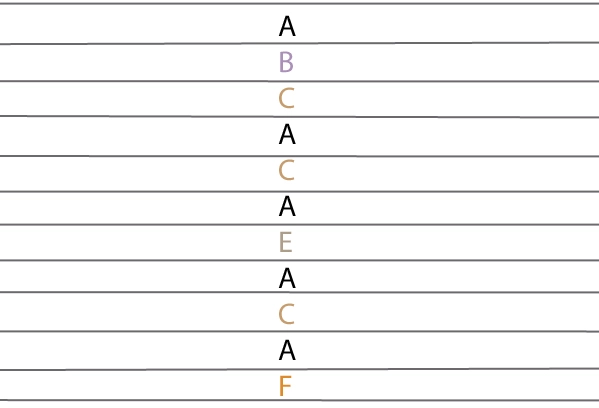 Now piece the bottom of Section 1 to the top of Section 2 and the bottom of Section 2 to the top of Section 3.
Press the entire Quilt Top flat, making sure all of the long seams are neatly pressed towards the colored strips.
Quilt and Bind
Cut the Backing Fabric into a 60-inch square and press it flat. Tape this piece onto a smooth surface (like a clean floor) so that it is taut.
Lay the Batting on top of the Backing. Then center the Quilt Top, right side facing up, on top of the previous two layers. These three layers together are now the Quilt Sandwich.
To baste the Quilt Sandwich use bent arm safety pins to pin the three layers together every few inches across its entire area. Once the Quilt Sandwich is entirely basted, un-tape the backing from the floor and you are ready for quilting!
Using your machine's walking foot and the 100% cotton thread, stitch the three layers together "in the ditch," meaning right next to every horizontal seam on the side without the seam allowance. In this case, that means you will be sewing on the white side of the seam for all, but one, seam.
When you are done with quilting, trim the batting and backing to match the outer edges of the Quilt Top.
Sew the Neon Binding around all four edges using the Neon Thread.
For a much more in-depth explanation of quilting and binding, with lots of photos, please check out Corinne's Denim Pinwheel Quilt project here and scroll down to the "Finishing the Pieced Top" section.