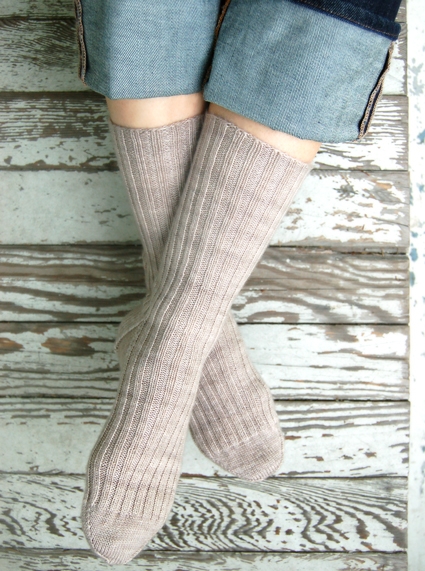 The morning air is cool and crisp, and my hands are begging to knit. Although I have thoroughly enjoyed working with the cool cottons, rustic linens and lustrous bamboos of summer, I'm ready for the warm, lofty wooly yarns of fall. There is nothing like a project that keeps your hands busy and your lap warm at the same time! (Pictured above are Whitney's Perfect Fit Socks.)
To get your fall knitting started off with a bang, we've combed our archives for our most inspirational cool weather projects, perfect for right now!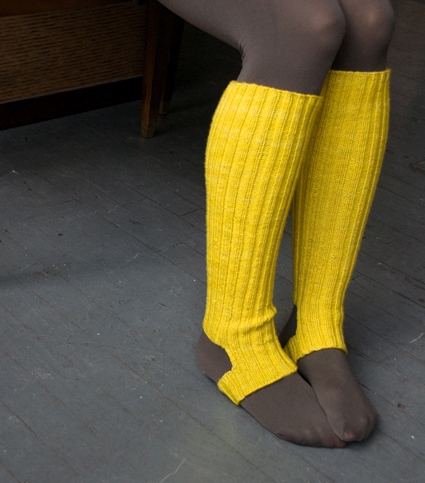 Rain Boot Stirrup Socks, perfect for brightening up a soggy day!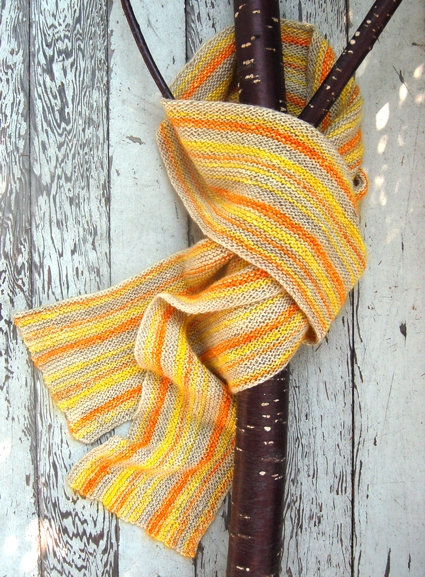 Just a few weeks ago Whitney knit up the beautiful Sunshine Scarf to usher out summer and to bring in fall. Alchemy's Kozmos shines and glows, especially when it's paired with Madeline Tosh's Tosh Merino Light. This scarf will keep your disposition sunny whatever the weather, wherever you go!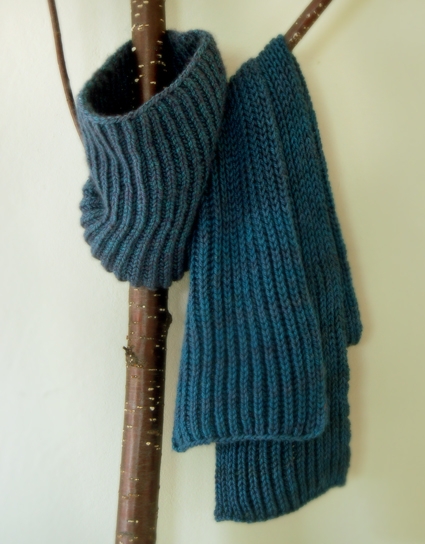 The Fisherman's Ribbed Scarf and Cowl will protect you from the coming chill of fall and on into the bitter cold of winter. Named for rugged seafaring men, the lofty Fisherman's Rib is as comfy and cozy as it is handsome. These pieces are knit in Fiber Company's Road to China Worsted, a remarkably lustrous hand-dyed blend.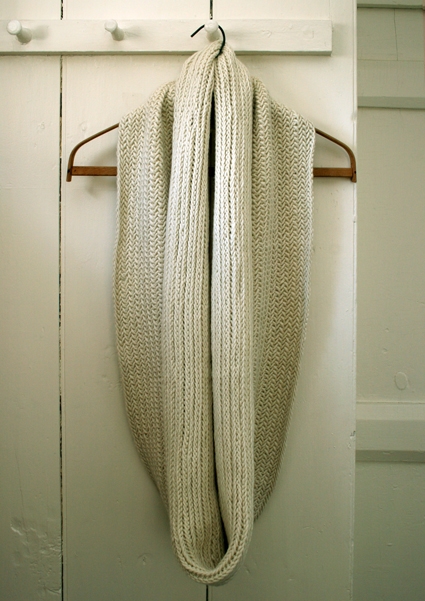 The Big Herringbone Cowl might just be my very favorite! These draping folds of fiber are where practicality meets elegance! This long loop that you can twist and double around your neck is sure to be your go-to accessory this season. Knit up in Blue Sky's super soft Worsted, its clean spin shows off the details of the herringbone stitch better than any other.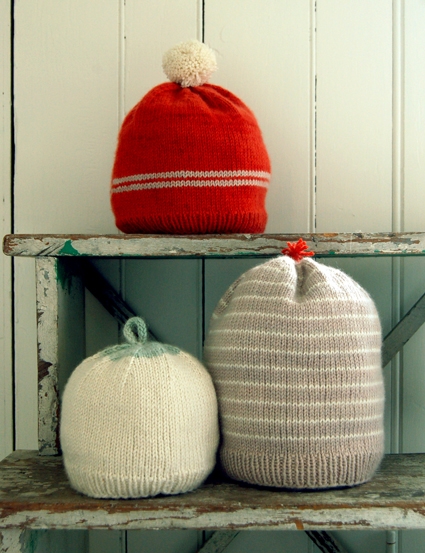 Get a head start on the cold weather with the Winter Hats for Everybody pattern (pictured above). Knit up a sumptuously soft Jade Sapphire cashmere hat for yourself and your loved ones using this classic pattern. It includes three different topping details and multiple sizes.
Another favorite hat pattern is the no-fuss Simple Pleasures Hat. Once again Whitney turns to Jade Sapphire's yarn, this time combining their 2-Ply Cashmere-Silk blend with Alchemy's lustrous silk-mohair blend, Haiku. The result is an elegant fabric and a wonderfully cozy hat!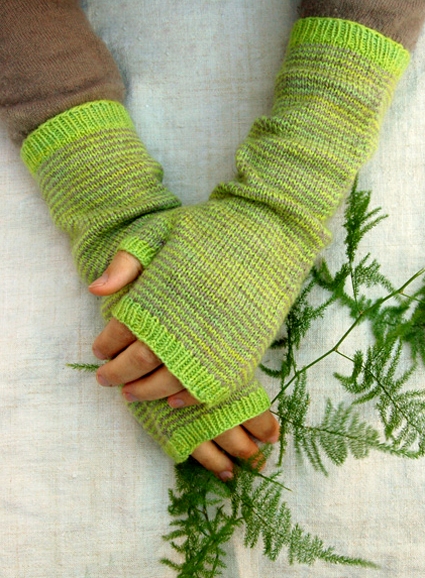 Not quite cold enough for gloves, but too cool to be caught with bare arms, check out the Long Striped Hand Warmers (pictured above). Knit with Swan's Island's hand dyed, organic fingering weight yarn, these warmers strike a delicate balance that fits every mood, from no-I-haven't-had-a-cup-of-coffee-yet to yes-I-am-fabulous.
Another popular pair of Whitney's hand warmers is made out of the irresistibly beautiful Squishy by Anzula. The Ribbed Hand Warmers make a perfect gift. They're flattering on everyone and without the fuss of knitting fingers, you'll finish them in a jiff!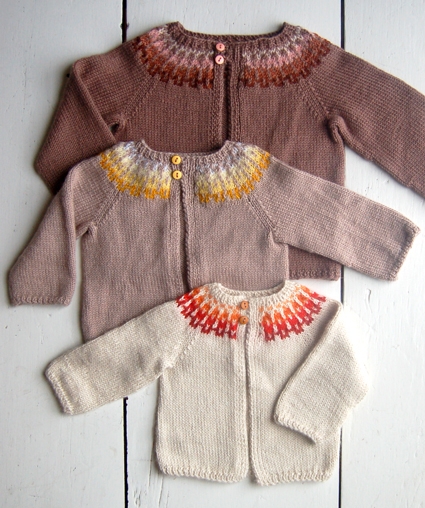 Speaking of gifts, do you know a little one who is about to experience her first fall? Bundle her up in a beautiful Fair Isle Cardigan. This precious sweater, sized from newborns to 12 months, is made with Blue Sky's incomparably soft Royal Alpaca and the fair isle yoke is worked in a pretty spectrum of Gumnut's Blossom.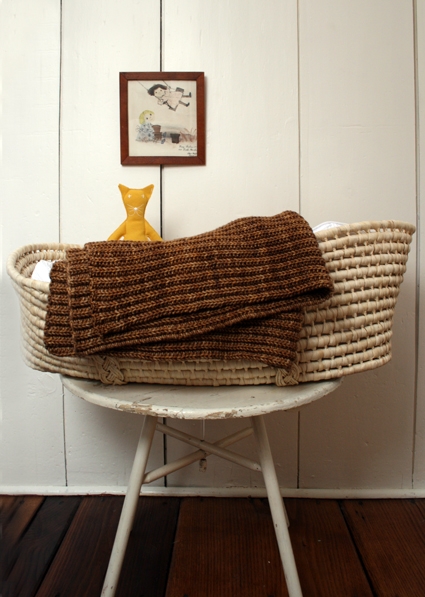 Another brilliant fall baby gift is the Forever Baby Blanket. Never to be forgotten, never to be left behind, never to be thrown out, this hand-knit heirloom is forever: classic and timeless. Knit with a machine washable yarn, Anzula's For Better or Worsted, this blanket will last through the ages.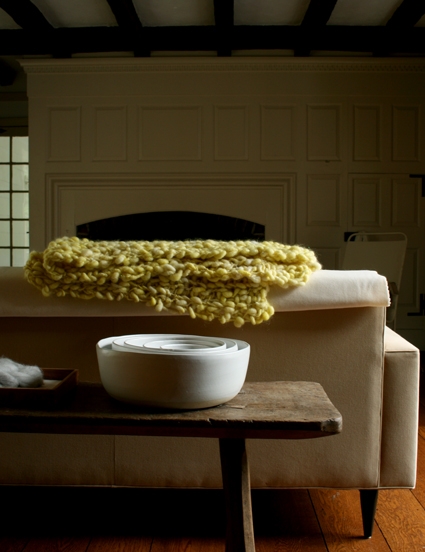 The Pixie Dust Lap Blanket is a where-did-you-get-this?! kind of blanket. Big, loopy stitches; hand dyed, extraordinary color; and smatterings of sparkly "pixie dust" all conspire to make this no ordinary throw. Knit Collage's Pixie Dust turns a quick, simple pattern into a truly magical object!
For more fabulous fall knits be sure to check out our Knitting Project Galleries! Hope this has you as excited forfall as we are! And as always… stay tuned for more incredible knits. –Laura