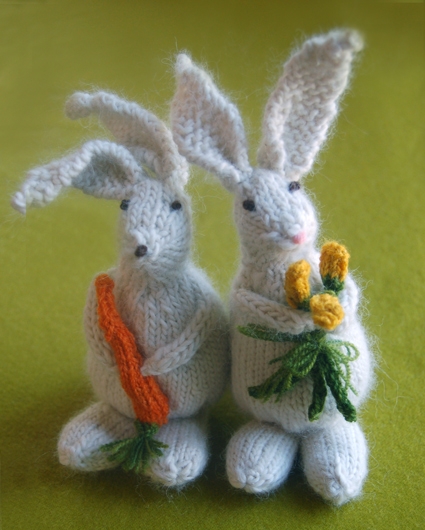 When I saw these adorable bunnies from Knitting at KNoon's Bunny Hop Pattern in January I knew I would be soon be making them for Easter on The Purl Bee.  Like the Knitting at KNoon SnoBuddy family I made 2 winters ago, I think these bunnies are among the cutest knit toys I've ever seen!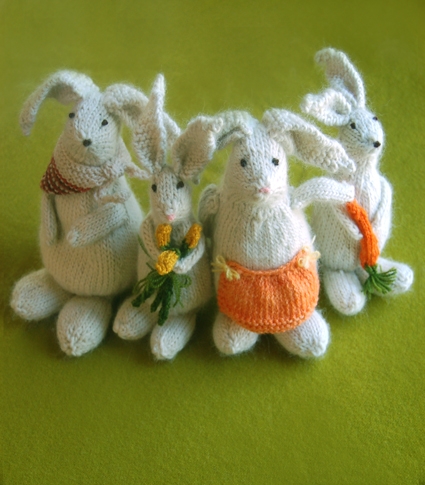 The bunnies have lots of parts: bodies, ears, arms, feet and charming accessories, but still I managed to make the four of them pictured here over just three evenings after my daughter's bedtime.
Like the snowmen, it was the accessories for each bunny that made them come to life.  I especially loved knitting the sweet tiny carrot that the little boy bunny is holding.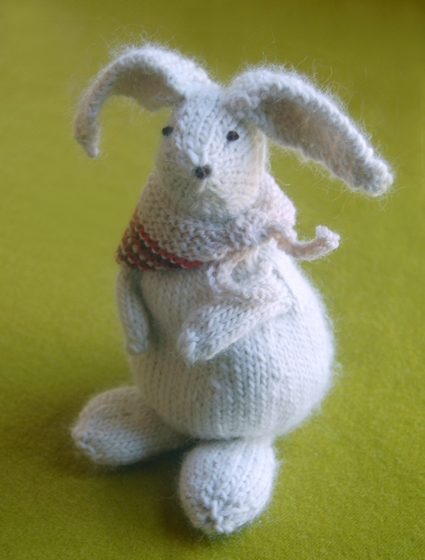 If you'd like to make your own Bunny Hop Family to look like mine, here is what you'll need:
Bunny Hop Pattern from Knitting at KNoon
For the bodies, feet, arms, ears and pom pom tail:
For the accessories, eyes and noses, 1 skein each Gumnuts Blossoms Needlepoint Yarn as follows:
Flower stems and carrot top:  color 608
Flowers: color 709
Carrot: color 787
Apron: color 843 for the apron, plus small bits of 785 and 706 for the bows
Kerchief: colors 909, 961 and 859
For the accessories I used US size 4 double pointed needles
Happy Easter! — Jen