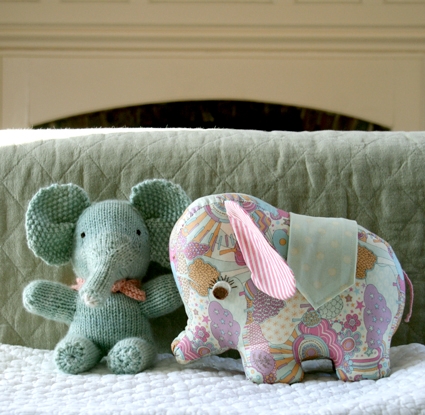 Elephants are wonderful creatures. They are intelligent, have great memories, and live in fascinating structured social groups. Perhaps because they are such symbols of peace and wisdom they have often been the subject of children's literature. We can't think of any other animal that has as spawned as many memorable characters as the mighty elephant. There's Dumbo, Ella, Horton, Elmer and of course, Babar just to name a few.
Happily, we at Purl Soho are experiencing a mini-baby boom, so we wanted to make some baby gifts for the new arrivals that would be soft, cuddly and spark their imaginations. These two handmade elephants, one knitted and one sewn, will make great companions for the little ones! Both elephant patterns come from books written by our very own Joelle Hoverson and both are quick and easy to make!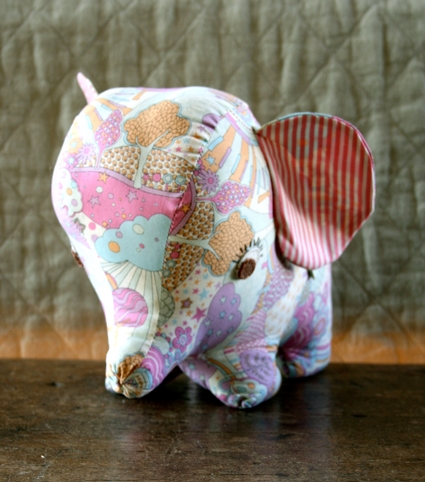 Peanut the Wee Elephant is a much beloved pattern from Joelle's book Last Minute Patchwork and Quilted Gifts and was designed by the very talented Hilary Lang. Hilary is the creative force behind the adorable Wee Wonderfuls blog and online store. For our elephant above we used a fun print from Liberty of London Tana Lawn called Pastel Over the Rainbow and also embroidered some eyelashes on her. Molly named her Sunshine the Groovy Pachyderm and we think she's the perfect gift for a baby girl.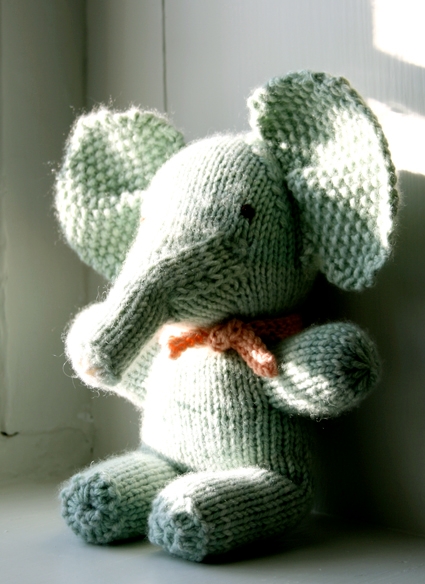 This knitted elephant is from Last Minute Knitted Gifts which is also written by Joelle and it only takes 4-6 hours to make. This is the kind of stuffed animal that a child will drag with them everywhere because it's so soft and cuddly and has such a sweet personality knit right in. For this elephant we used Jade Sapphires 8-ply 100% cashmere in color Creme de Menthe, which we think will be perfect for a new baby boy!
If you'd like to make your own stuffed elephants please check out Joelle's great books, Last Minute Knitted Gifts and Last Minute Patchwork and Quilted Gifts. They have wonderful, quick gift ideas for everyone from new babies to us older folks!