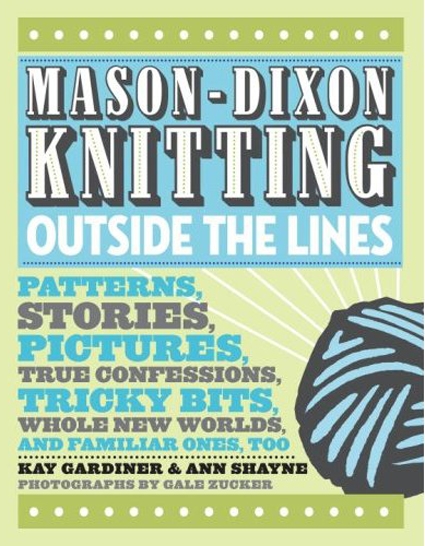 If you're a knitter you have probably already seen or heard about the release of Kay Gardiner and Ann Shayne's newest book, Mason-Dixon Knitting: Outside The Lines. If you live in New York City or are planning a visit on Friday, October 17, be sure to head over to Sullivan Street because we're hosting a book signing with these two knitting superstars! From 5:30 to 7:00 pm you'll have the opportunity to meet and talk with Kay and Ann, view samples, and get a signed copy of this awesome new book, the long-awaited sequel to 2006's Mason-Dixon: The Curious Knitter's Guide. You can find us at 137 Sullivan Street in NYC, click here for a map to our store.
The Mason-Dixon story started with the creation of a blog, masondixonknitting.com. Heralded as "The Nation's Leading Bi-Regional Knitting Blog" by Ann's husband, Mason-Dixon Knitting began as a correspondence between these two friends who live miles apart (Kay in our Manhattan; Ann in Nashville) dedicated to their respective knitting endeavors. Then came the first book, which became an instant favorite of ours and everyone else's too! Now they're back with a whole new collection of patterns, stories, confessions, and of course laughs; their specialty.
Kay and Ann have a knitting pattern for just about anything (even cozies for paper lanterns and mop heads covers), so much that when a customer at Purl comes in and says, "I need a pattern for a fill in the blank," we pull their book off the shelf saying,"Oh, Mason-Dixon has a really nice one of those!" So be sure to come by this week and check it out for yourselves. It's going to be a really good time!