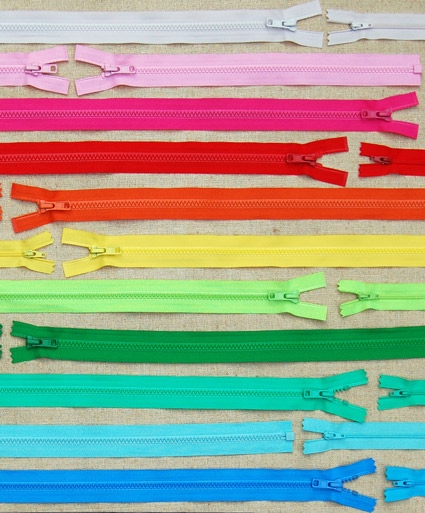 You probably already know how hard it is to find just the right zipper to finish off your handmade projects.  It's so frustrating when you come to the end of a piece and discover that you can't find the perfect color to match, or the right length, or it's too big; or you do find a good one but you've had to run all over town and back again to find it.  We're right there with you so we were thrilled when we found a source for zippers in amazing colors and styles, and now after much waiting, they're finally here!   Being true to our love for all things colorful, we hand picked our zippers in a beautiful spectrum from bold bright neons to soft subtle neutrals.  Whether you're finishing up a petite baby sweater, an extra-large man's cardigan or an oversized weekend tote you'll find a zipper that meets your needs!  The chunky molded plastic zippers are our favorites, but you'll also find invisible zippers and regular everyday nylon zippers in all different lengths and colors to suit your highly refined zipper tastes.
We're so thrilled by these new arrivals that we decided to dedicate an entire week at The Purl Bee to all things zipper, so stay tuned for more free zipper-centric projects and tutorials.  Welcome to Zipper Week!
Here are some quick links to all of our zippers:
Molded plastic zippers
Regular Nylon zippers
Invisible zippers
Or you can find all of our zippers here:
NOTE: We no longer carry zippers.