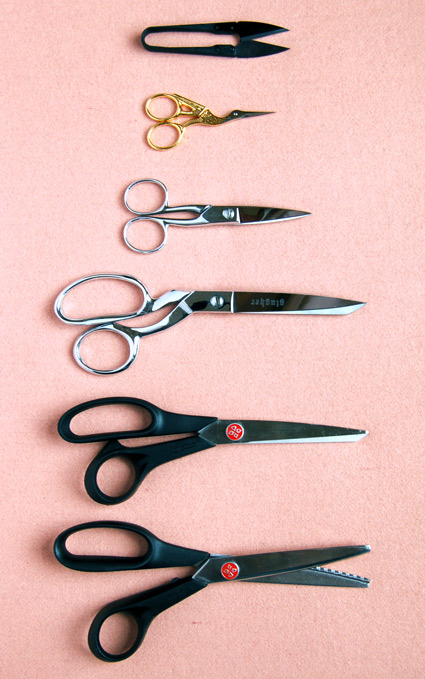 When I first started sewing I had one pair of scissors that I used for everything, from clipping threads to cutting out patterns, from ripping out seams to trimming my bangs. My poor scissors! It took me a while to realize that there were better and more specific tools for all of these jobs. Some sewing jobs don't require scissors at all, such as seam ripping, and I now do most of my cutting for quilts with a rotary cutter, but this still leaves a lot of scissor work to be done! Here is what I've learned about the wonderful world of scissors.
Pinking Shears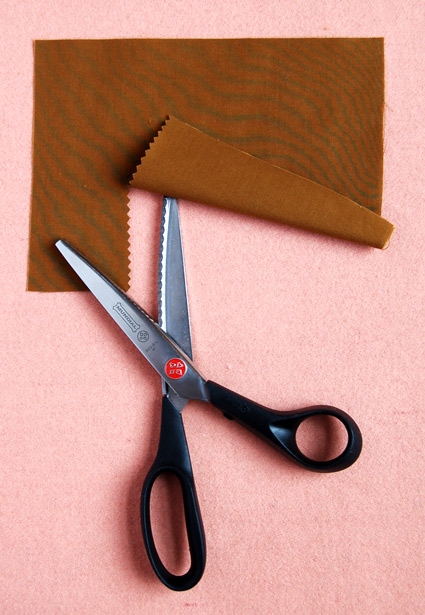 Pinking shears are scissors with saw toothed blades that create a zig zagged edge when you cut with them. This edge is both pretty and functional. Cutting a woven fabric with pinking shears prevents the fabric from fraying beyond this zig zag edge. Because of this a "pinked" edge can be a quick way to finish a seam on a woven fabric. They can also be useful when dealing with knits in reducing the bulk of your seams. Additionally they can add a pretty decorative edge to fabrics that don't fray, like felt.
The pinking shears we carry are sharp and substantial. I love how easily they cut though fabric. They will last for a long time if you use them only to cut fabric (no paper!) and don't cut though too many layers at at time. The trick I've found to getting a straight edge is to go slowly and cut one layer at a time. When you're done with one cut pick up the scissors and carefully place them in the grooves of that previous cut and then cut again.
Gingher 8-inch Knife Edge Dressmaker's Shears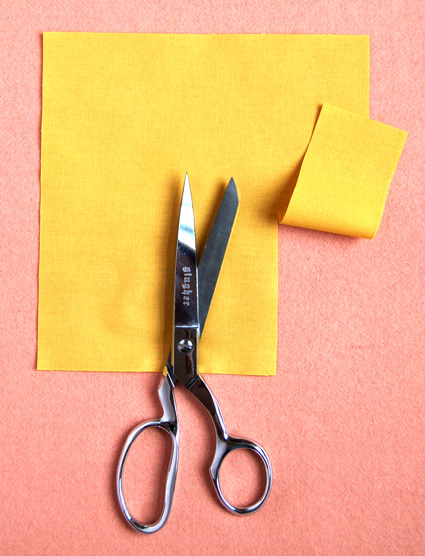 Dressmaker's shears have a long blade which makes them ideal for cutting out clothing patterns. The term "knife edge" refers to the angle of the blades. Instead of the upper and lower blades being sharpened at a 90 degree angle to one another, the top blade is at a more acute angle. This allows them to cut through the fabric easier than regular scissors. Their slightly bent angle allows for a more comfortable hand position.
These particular Gingher Dressmaker's Shears are some of the most wonderful scissors out there. They are very well made (in Greensboro North Carolina) and cut beautifully. They can last a lifetime if you get them sharpened occasionally, use them only to cut fabric, and don't drop them (they are heavy so they can get out of alignment in a fall). If you live in the New York City area you can get them sharpened at Henry Westpfal and Co, 115 West 25th St New York, NY 10001 212-563-5990
Mundial Dressmaker's Scissors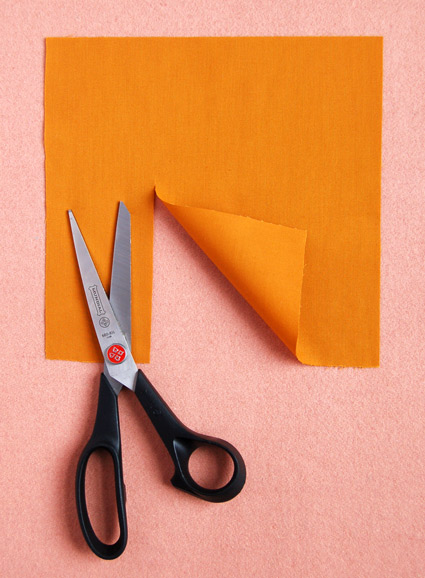 Other Dressmaker's Scissors are inexpensive and work well. They are also "knife edge" and they have a comfortable bent angle. I like these scissors a lot because they cut well and I don't feel that I have to be as precious with them as with my beloved Gingher's. I have a couple pairs of these, one with my sewing machine that I use for fabric and one on my desk that I use to cut out patterns, template plastic and whatever else comes my way. These are a great basic pair of scissors to get if you're new to sewing.
Gingher 5-inch Tailor Knife Edge Scissors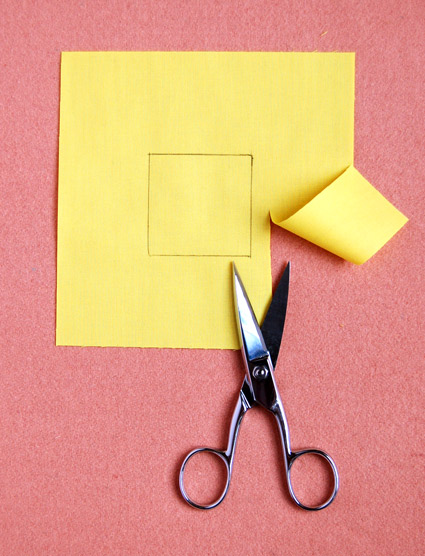 Gingher Knife Edge Tailor Scissors are great for hand sewing. They are portable and work well for cutting out pieces for hand piecing. They are smaller but no less well made or sharp than the Gingher Dressmaker's Shears. Like the dressmaker's shears they also have a "knife edge" so they cut like a dream. They come in handy for applique projects and are small enough to use as embroidery scissors in a pinch. These scissors are made to work for both right and left handed people.
Clover Kuroha Thread Clipper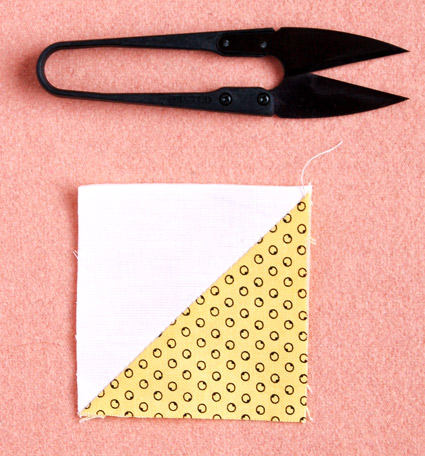 Ah the Kuroha Thread Clipper… I love this little tool! Maybe it doesn't really count as "scissors" but I had to mention it anyway. The Clipper's primary use is to snip away the annoying little pieces of thread that poke out after a big machine project. After I'm done with any quilt, bag or garment I always get my clipper out and cut off the offending little ends. I used to try to do this with regular scissors but I could never cut close enough to the fabric so it was a revelation when I finally worked with these. I've tried other brands of thread clippers and I've found this one to be the sharpest.
Stork Embroidery Scissors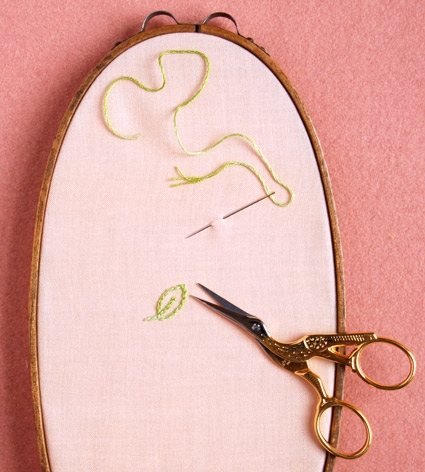 I love the beautiful shape of these elegant Stork Embroidery Scissors but more importantly they are very sharp and have a precise point. If you embroider you know how important a good pair of embroidery scissors is. A regular pair of scissors can't get close enough to the fabric to leave you with a neat, non-bulky back of your embroidery. One of embroidery's mantras is that the back should look as neat as the front and these scissors can help you get closer to that seemingly impossible goal. The fine tips also allow you to remove stitches from the front when you need to. I use these exclusively for cutting embroidery thread so they are always sharp and I keep them with my (comically vast) thread stash so they are always at the ready!
Find our full range of scissors here.
Happy Cutting! –Molly