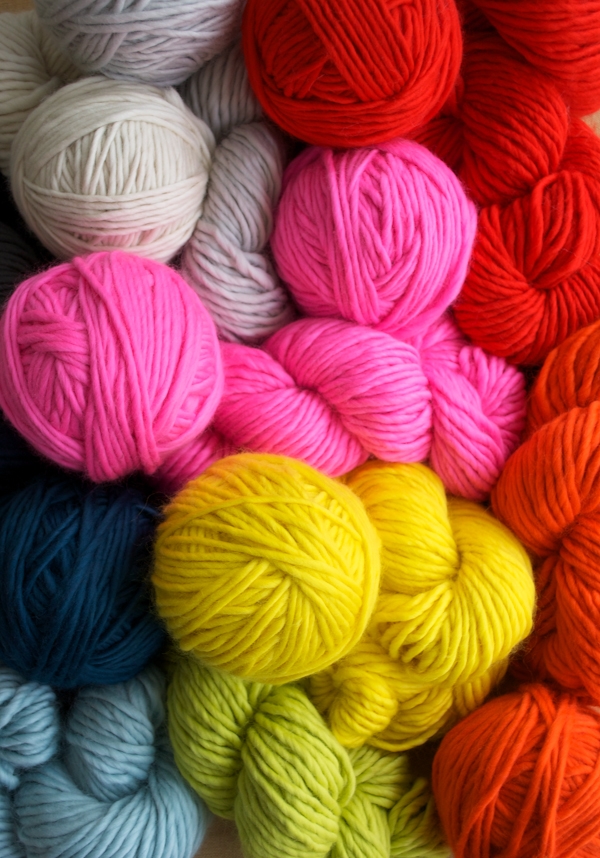 We are so grateful to end this harrowing week with the happiest announcement we've had in a long time. Today Purl Soho launches our very own collection of yarn, starting with our super scrumptious Super Soft Merino!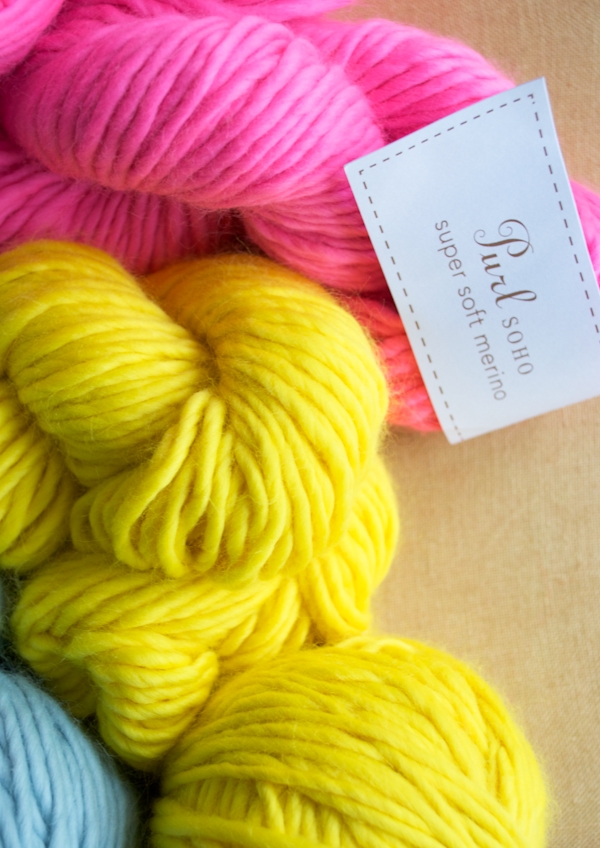 A thick cloud of 100% Peruvian merino, Super Soft Merino is the dreamiest, cuddliest, toastiest yarn you can imagine. This loosely spun single ply knits up at a cozy 3 stitches to the inch, perfect for winter chills and quick gifts!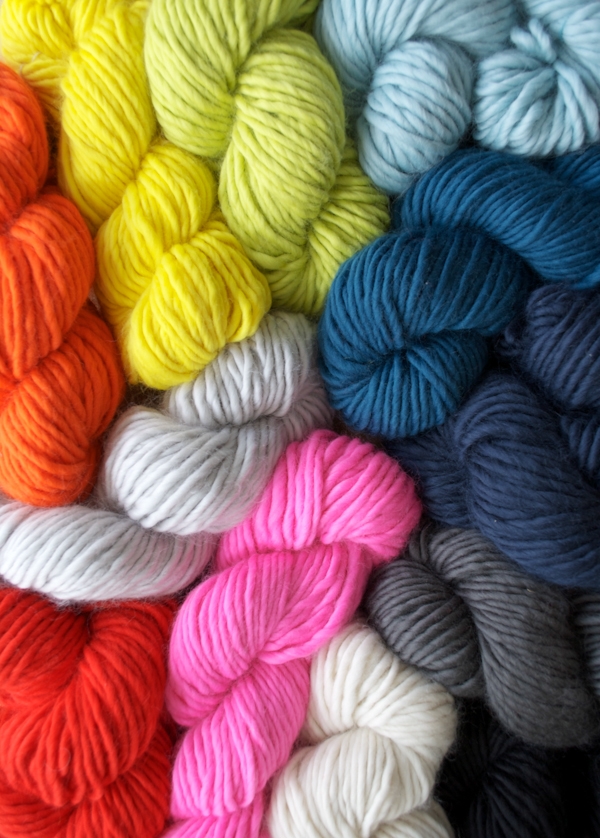 As readers of the Purl Bee know, our love for yarn is followed closely by our love for color! Creating a signature palette for our Super Soft Merino was unbelievably fun, like picking a bouquet of garden-fresh flowers. Our beautiful rainbow includes a dozen of our very favorite colors: Super Pink, Red Zinnia, Clementine Orange, Yellow Yellow, Extra Green, Desert Sky, Peacock Blue, Timeless Navy, Oyster Gray, Toasted Charcoal, Soft Black and Heirloom White.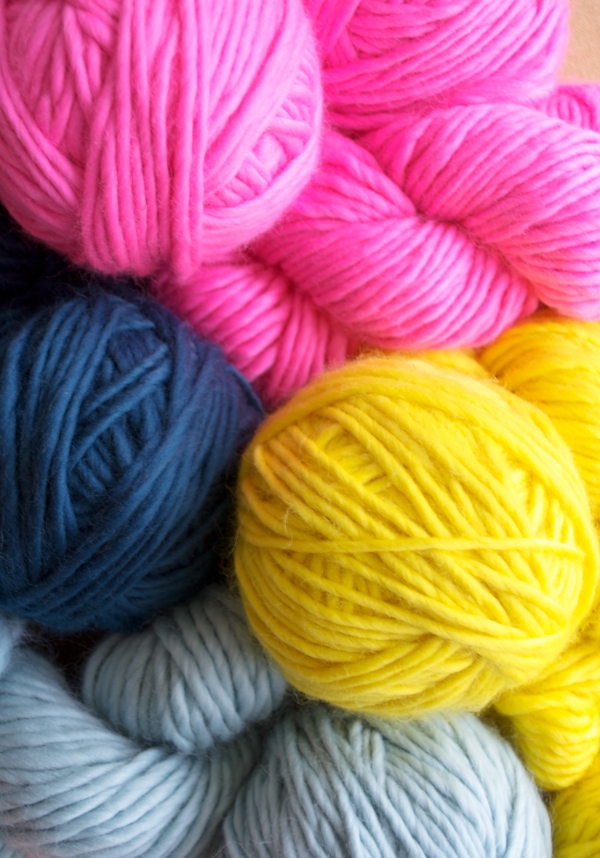 Each skein is an ample 87 yards long. Want to start with a scarf? Just two skeins knit up into a beautifully classic scarf, or try three skeins for a luxuriously generous neck wrapper!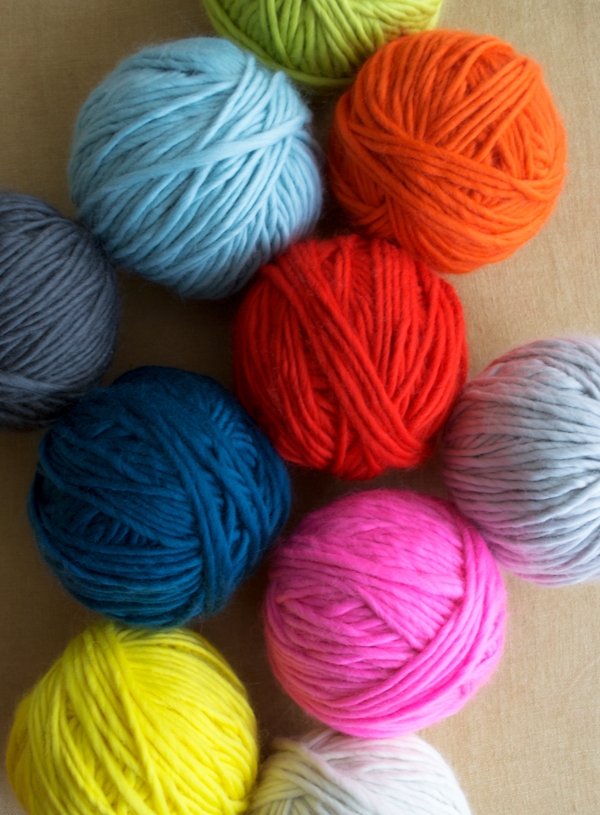 We have lots of Purl Bee patterns in the works, but we also can't wait to see what you, our ingenious readers, create with Super Soft Merino. Big, cozy sweaters, sweeping wraps, dramatic cowls, cushiony baby blankets, sophisticated lap throws, and fabulous hats; monotone, stripes, ombre, fair isle, colorblocking, the possibilities are endless!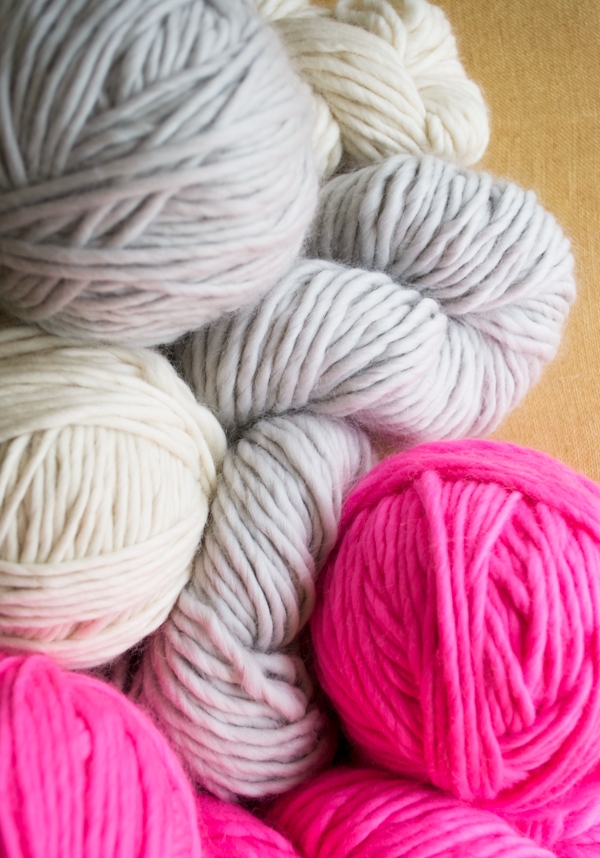 To celebrate this exciting venture and to get you super inspired, we're having a…
Super Soft Merino Giveaway!
HOW: To enter leave a comment on this post telling us what you're inspired to make with Super Soft Merino. Be sure to enter your email address in the email field on the comment submission form so we can contact you if you win. (Don't worry; we never publish or share email addresses!)
WHEN: Leave your comment by 6pm est, Tuesday, November 6th 2012. The winners will then be chosen at random.
WHAT: One lucky winner will receive 10 skeins of Super Soft Merino and a second winner will receive 3 skeins. The winners will get to choose whatever color (or colors!) they want!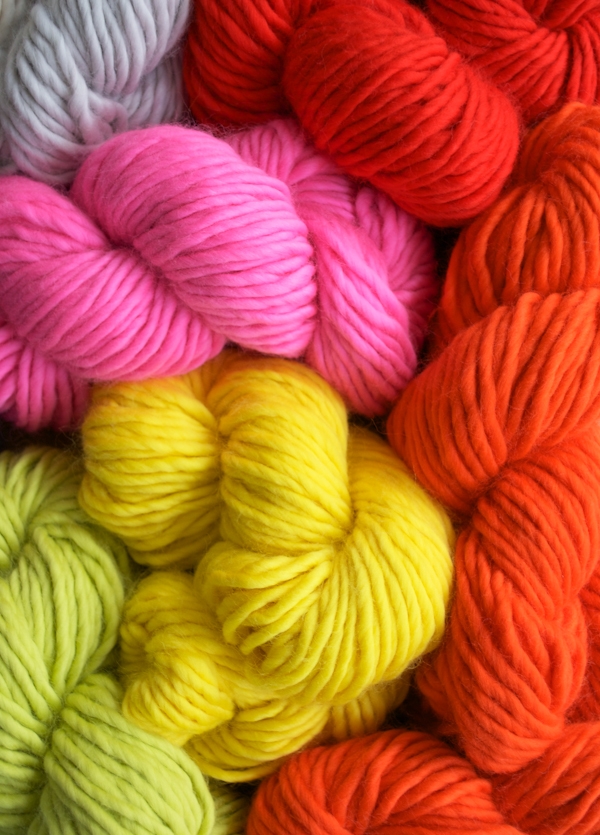 A big colorful pile of Super Soft Merino is our dream come true. Give it a try; you'll know what we mean! Ready to check it out? Browse our whole collection of Super Soft Merino right here and get inspired!
UPDATE on 09/11/2012 by Purl Bee
We have two winners! Our first place winner is Lauren who plans to make "a big cushy cowl out of that light blue" (sounds beautiful to us!), and our second place winner is Valgerdur, all the way from Sweden! She has lots of plans for Super Soft Merino: "a warm winter sweater for my little boy, cowls for my sisters for Christmas or even a baby blanket for a friend´s unborn child." We're so happy for both Lauren and Valgerdur, and we thank all of our wonderful readers for commenting and sharing your enthusiasm! – Whitney