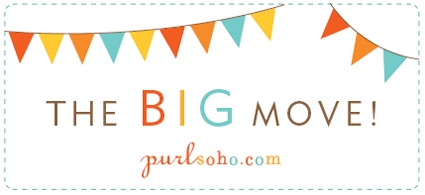 In case you haven't heard, we're moving our two teeny-tiny New York shops, Purl and Purl Patchwork, to a much bigger space, at 459 Broome St. in Soho this April (you can find more information on The BIG Move right here).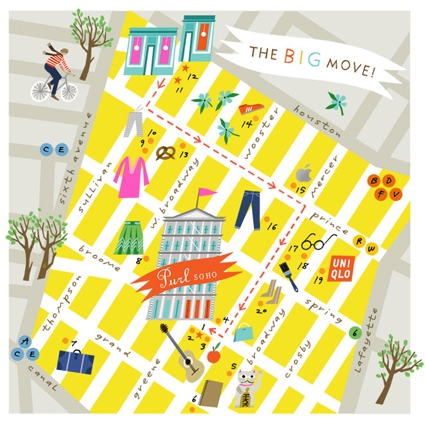 When we decided to move we knew we wanted designer, illustrator and author Lena Corwin to create a map to show you that our new shop is just a hop, skip and a jump from our original locations. Lena's book, Printing by Hand, is one of our all time favorites and her blog is a visual treat that inspires us everyday! In addition to all this she is also known for her cartography, you may recognize her adorable illustrated maps from the pages of Elle Decor.
We love looking at Lena's sunny map and imagining a Soho stroll in springtime, just follow the dotted lines! We included a handful of our favorite Soho spots on our BIG Move Map as well. Make sure you check out the gorgeous clothes at Dosa (#9) and Makie (#10), stop for a snack at Birdbath Bakery (#13), peek in the window at Kate Spade (#4), and end up at our new location, Purl Soho (#1)!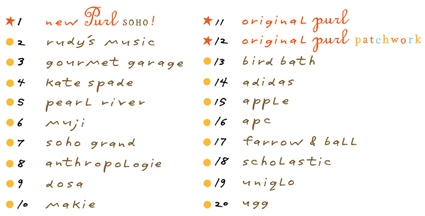 If you'd like to download and print a bigger version of The BIG Move Map to bring with you next time you visit Soho, you can do so here. We really hope it encourages you to make a day of exploring our lovely neighborhood.
We'll be open at our current locations until the day of The BIG Move. Stay tunned for the precise dates in mid-April 2010!
P.S. To see more of Lena Corwin's work check out her online shop (where she sells a great poster based on her maps!)