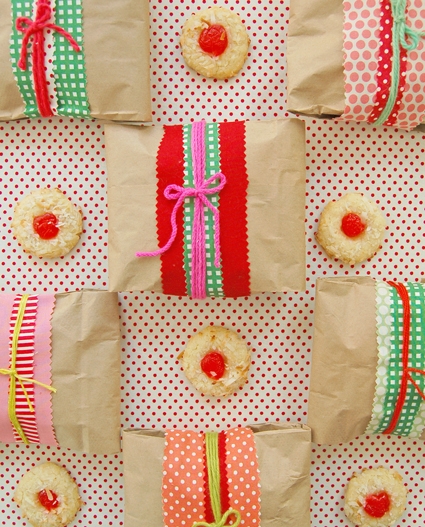 Christmas can be stressful, but taking some time to bake with my friends and family is one of the great joys of the season for me. I use leftover yarn and fabric from Christmas projects to wrap up my goodies. I love transforming simple things like paper lunch bags and leftover yarn and fabric scraps to create charming gift packages almost as much as I love turning flour, butter, sugar, and eggs into cookies! It's a fun and inexpensive way to spread some delicious holiday cheer. Happy Holidays! –Molly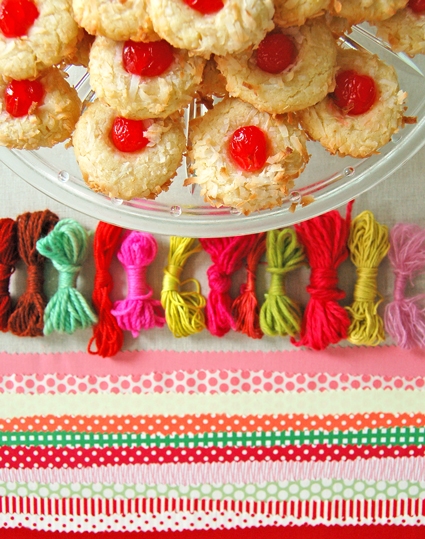 Wrapping
All you need to make cute cookie packages like these are: cookies (my Grammy's recipe is below), ziplock bags, paper lunch bags, fabric scraps, yarn scraps and tape.

Simply put eight cookies into a ziplock bag and slip it into a paper lunch bag that has it's bottom cut out.


pinking shears, one wide (12-inches x 3-inches) and one narrow (12-inches x 1-inch) in contrasting colors. Wrap the fabric strips around the package, with the narrow one on top, and tape them neatly in the back.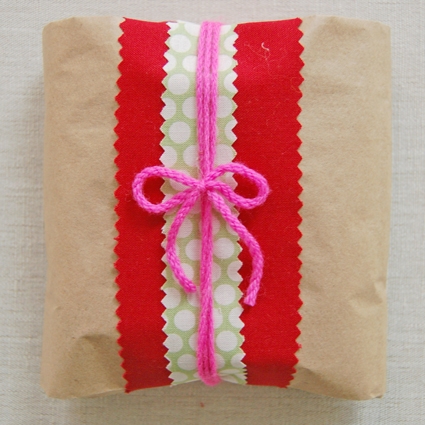 To finish wrap a pretty piece of yarn around the fabric a few times and tie a bow. This is a wonderful way to use those smaller scraps we all have lying around and can't seem to get rid of!
Grammy's "Swedish" Pastries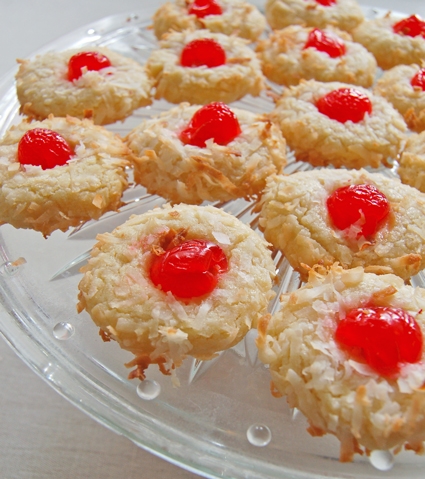 These cookies are from a recipe my Grammy used to make around the holidays. They are called "Swedish Pastries". As far as I can tell they are not Swedish at all but rather very American (circa 1950). My Grammy's recipe box is full of things from this bygone era of American cooking such as "Cantonese Chicken", "Mexican Casseroles" and at least two different recipes for something called "Emerald Salad" which involves lime Jello, nuts, onions and mayonnaise!
While I might not be trying the Emerald Salad any time soon her Swedish Pastries are actually really good. They are the perfect cookie to make with friends and family, kids included, because they are simple, delicious and pretty!
The Recipe
To make about three dozen cookies:
1 cup butter
1 cup sugar
2 eggs, separated
2 cups flour
1/4 tsp salt
1 tsp almond extract
1 jar maraschino cherries, drained of their juice
1 bag of shredded coconut
Cream butter and sugar until light and fluffy. Add the egg yolks (but keep the whites for the next step) and the almond extract and beat to incorporate. Add the flour and salt and mix until ingredients are just holding together. The dough will be crumbly. Form it into a ball and refrigerate for two hours.
Preheat the oven to 350 degrees. Cut all of the cherries in half. Lightly beat the egg whites. Form dough into walnut sized balls. Dip each ball in egg whites and then roll in the coconut. Place onto the cookie sheet and flatten slightly with the palm of your hand (these cookies won't rise or spread much). Make and indentation in the center of each cookie with your thumb and place a cherry half on it.
Bake for about 12 minutes, turning the cookie sheet half way through baking. Let stand for 2 minutes before removing to wire racks to cool.