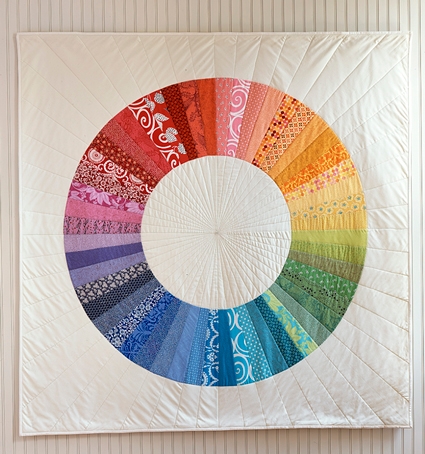 Joelle's Color Wheel Quilt is one of our favorite projects from her new book, Last Minute Patchwork + Quilted Gifts.  It is a spectacular heirloom, a treat for the eyes, and a fun color experiment. We couldn't wait to get our hands on this incredible pattern and start picking out fabrics!
Luckily, the book includes templates for making the segments of the wheel as well as the background shapes and thorough details to help us along with its construction.  Joelle explains how she cut and assembled the fabric, including tips on chain-piecing the segments together.  That's all very helpful, but one question remains:
How do you choose all those colors? The gifted colorists at Purl Patchwork have created a brand new Color Wheel Fabric Bundle to help solve this dilemma!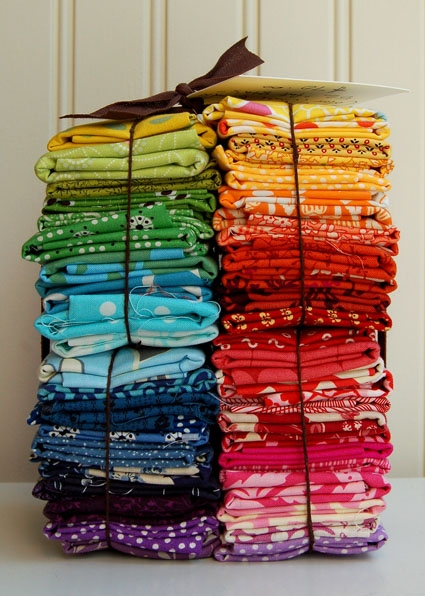 The Color Wheel Fabric Bundle includes 52 bright and brilliant cotton prints from some of our favorite designers to make up the color wheel.  Each print is cut into fat eighths, or 9 x 22 inch rectangles which is enough fabric to assemble your own color wheel.
To complete the quilt, you'll also need 7.25 yards of white cotton fabric for the background, quilt back, and binding; template plastic, pattern paper, thread, and a fabric marker, which are not included.