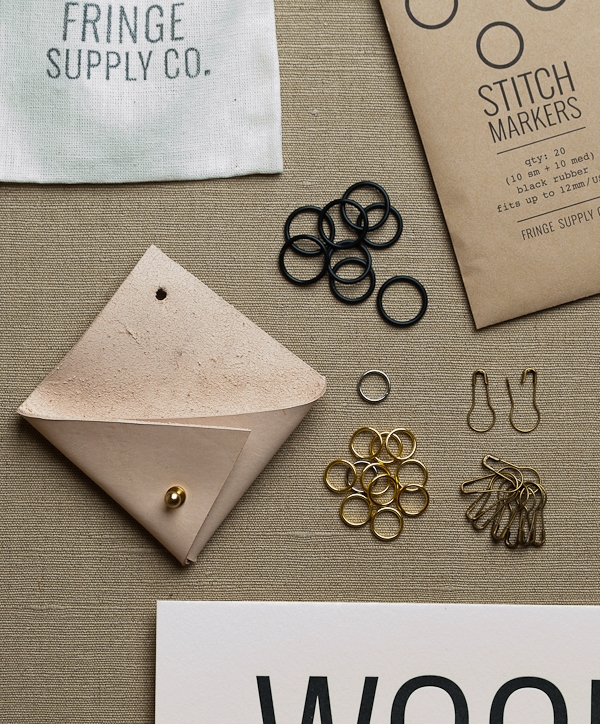 If you read Karen Templer's blog, Fringe Association, as regularly as we do, then you know that not only does she illuminate the world of knitting for us, but her company, Fringe Supply Co., also keeps us beautifully outfitted with the tools we need to embark on our own knitting adventures. And now Purl Soho is so happy to announce that we, too, are selling the things we love from Fringe Supply Co.! (Details below…)
Plus, this week on Fringe Association, the Purl Bee team reflects on our favorite tools, notions and accessories. For Karen's Our Tools, Ourselves feature we discuss the supplies we can't live without, the things we love for all the same reasons we love Fringe Supply Co. products: for their superior quality, soundness and beauty. Click right here to find out what makes our list!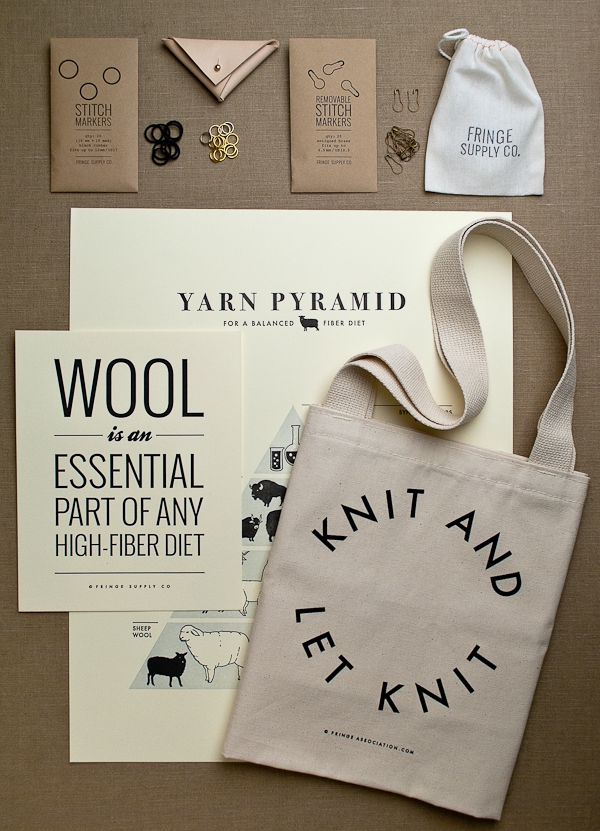 And here are those details we promised, all the lovely (and witty!) items from Fringe Supply Co. that Purl Soho is now proud to offer…
Stitch Markers
The Black Stitch Markers are utility-chic black rubber and come in a resealable paper envelope.
The Removable Stitch Markers are elegant coil-less safety pins in antiquated brass, which also come in their own little envelope.
And the Leather and Brass Stitch Marker Set includes a dozen jewel-like brass and nickel markers housed inside a petite leather pouch, which is handmade at Fringe Supply Co.'s own studio.
Prints
Every knitter knows a sense of humor goes a long way, and the High-Fiber Letterpress Print puts us on the right path. Lovingly pressed on Crane and Co.'s creamy cotton rag, the print reads, "Wool is an essential part of any high-fiber diet." Hee hee!
A reconfiguration of the classic food pyramid, the letterpress Yarn Pyramid Print is an amusing reminder of how essential yarn is to our daily diets. Put your yarn appetite into perspective!
Tote
The Knit and Let Knit Tote is not only sturdy, roomy and chic, it's also emblazoned with the Fringe Association credo. Proportioned for actual use, this cotton canvas tote is both accommodating and durable with wide, comfortable straps and a generous gusset. Perfect, really.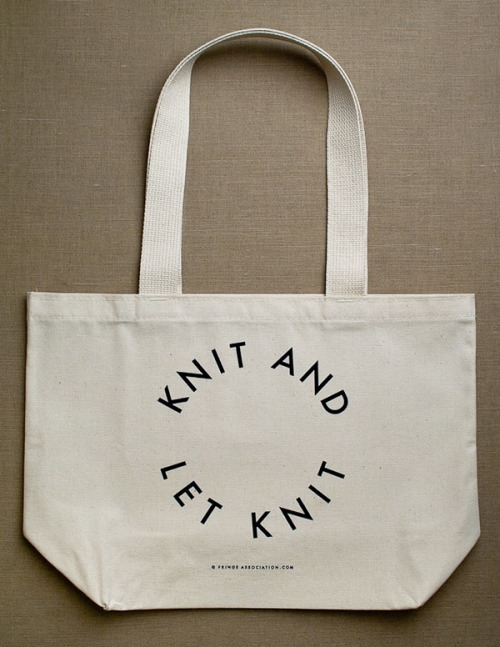 Click right here to browse all of Purl Soho's Fringe Supply Co. products and get supplied!