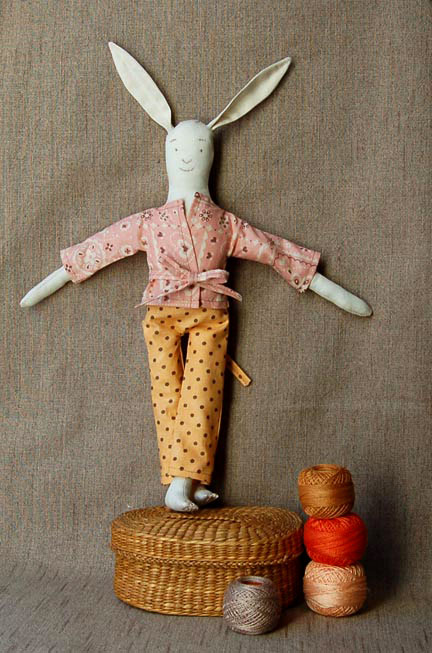 Materials
Finished Measurements:
Purl Rabbit stands 12 inches tall from heel to head.
Rabbit's shirt is 3 inches long and 9 inches from cuff to cuff.
Rabbit's pants are 3 inches wide and 6 inches long.
Visit our Purl Rabbit Project Journal for the doll pattern.
Rabbit Shirt
Cut two shirt fronts, one shirt back, and two ties from the Purl Rabbit Clothes PDF.
Fold the ties into quarters lengthwise so that the raw edges are hidden.  You can do this by hand, ironing the fabric as you go, or you can feed the fabric through the bias tape maker to fold it, then iron it.  Stitch across the length of the tie to secure the folds.
Sew 1/4-inch seams along the bottom edge, neck edge, cuffs, and front edge seams.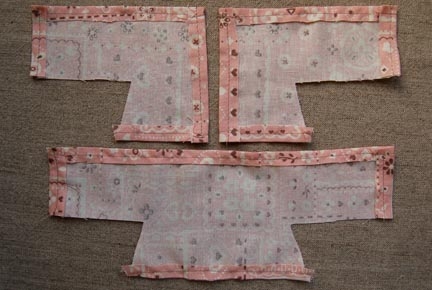 Lay the shirt back pattern piece right side up on your work surface. Place one tie at both side seams, just below the sleeve.  Lay the shirt front pattern pieces on top, right sides down. Pin in place. Sew the sleeve and side seam, securing the tie and joining the back to the fronts. Clip a small V in the armhole of each sleeve (don't cut the seam!) to ease the fabric.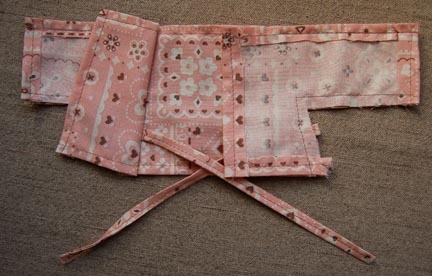 Turn the shirt right side out and press it. Pret-a-porter!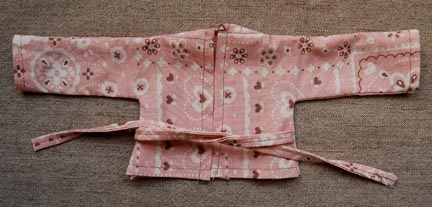 Rabbit Pants
Cut pants and tie pieces from the Purl Rabbit Clothes PDF.
Fold the pant legs along the line indicated and press them. With your ruler, mark a line along this crease, from the bottom of the pants to 2 1/4-inches from the waist.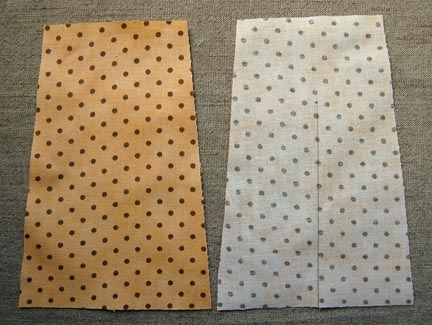 Use the bias tape measure to make two waist ties as you did for the Rabbit Shirt. Set them aside.
Turn, press, and sew a 1/4-inch hem at the waist and the cuffs.
With right sides together,  pin the outer side edges of the pants.  Insert the waist ties at the right and left edges so that the ties overlap each other across the waist band and the ends are captured in the side seams. Sew the side seams.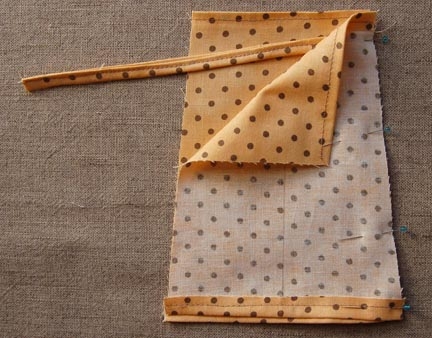 Next, sew the U shape around the inner leg seam.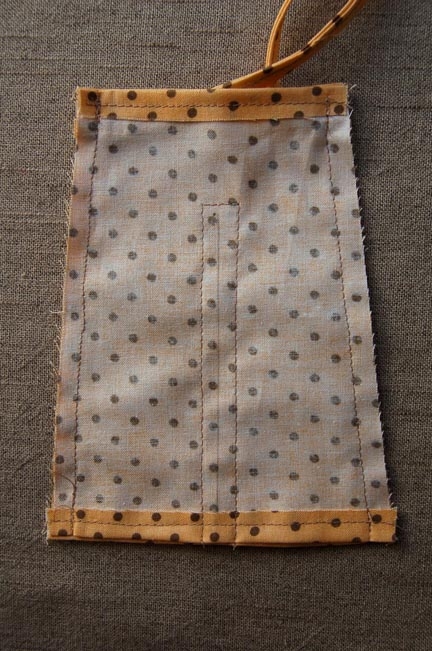 Clip the fabric at the top of the U to make the fabric lay nice and flat.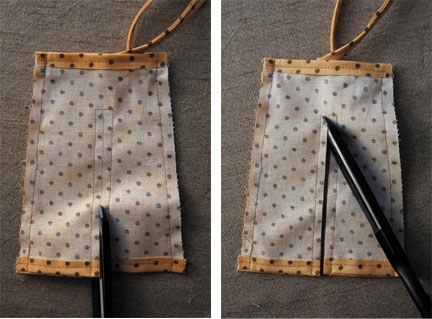 Turn the pants inside out and press.
Don't they look dapper!