Pro Potholder Loom + Loops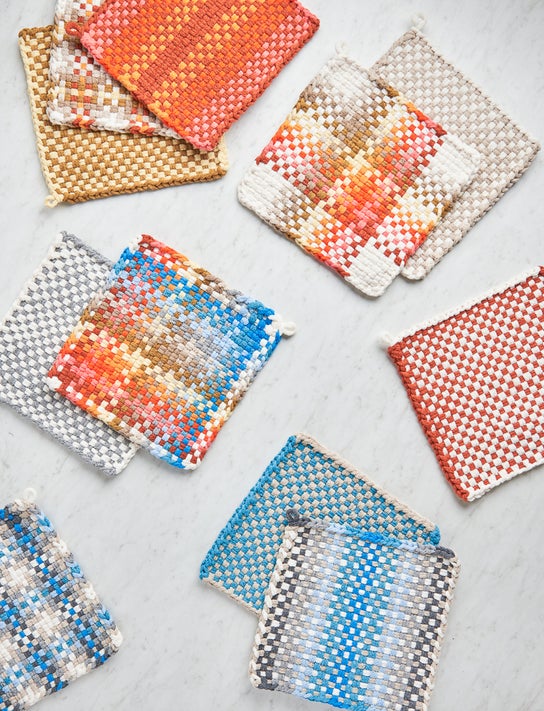 Pro Potholder Loom + Loops
Big sibling to the Traditional Potholder Loom, this Pro version uses a slightly bigger loom to make slightly bigger potholders! Intended for ages 6 and up, the Kit includes a weaving and finishing hook, a bag of multi-colored Potholder Loops, fully illustrated instructions, plus a sturdy 10-inch metal frame. Need more Loops? Choose from nearly 2 dozen colors! 98% cotton, 2% Lycra for elasticity, and made in the USA, each bag has enough Loops to make two solid-colored potholders (at least 108 loops per bag). Note that these Loops are only suitable for the 10-inch Loom and that colors may vary from dye lot to dye lot. Want to make Potholders like ours? Download a free PDF pattern here! 

For the more classic 7-inch size, check out the Traditional Potholder Loom + Loop Kit here!

PLEASE NOTE: The bags of Loops do not come with a Loom or instructional booklet. They are just Loops!
Product Details
Materials
To make our set of Potholders, you'll need...
A Pro Potholder Loom Kit (This includes a multi-color bag of Loops, but to make our set you'll need the following bags instead...)
2 bags of Loops in Winter White
1 bag of Loops in Spice
1 bag of Loops in Salmon
1 bag of Loops in Orange
1 bag of Loops in Tiger Lily
1 bag of Loops in Daffodil
1 bag of Loops in Ochre
1 bag of Loops in Autumn
1 bag of Loops in Flax
1 bag of Loops in Silver
1 bag of Loops in Powder Blue
1 bag of Loops in Robin's Egg
1 bag of Loops in Turquoise
Patterns
The Potholder Loom Kit includes instructions for some of the designs shown here. Please download this PDF for information about which colors and patterns we used!
Size
Finished Dimensions: About 8 x 8 inches
You Might Also Like...
Purl Soho Recycled Zip Bag from Baggu In Aloe
Regular Price
$18.00
$10.80
Baggu makes our very favorite zippered bags, lightweight, durable, and very handy! Featuring our logo on a 40% recycled nylon sourced from pre-consumer waste, each bag measures 12 x 15 inches…Perfect for on-the-go knitting or hand-sewing projects! To purchase this Aloe bag, click add to basket or click here for more color options!