Traditional Potholder Loom + Loops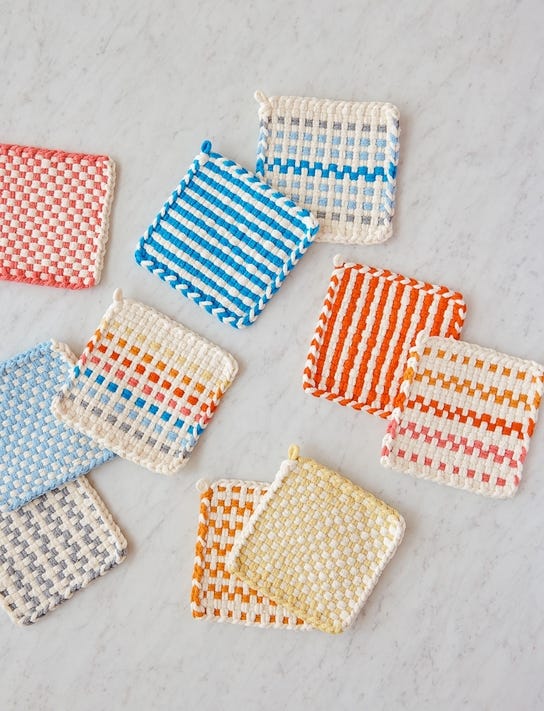 Traditional Potholder Loom + Loops
A blast from the past, Friendly Loom Traditional Potholder Loom + Loops still fill an afternoon with absorbing craftiness! Harrisville's award-winning Friendly Loom Traditional Potholder Kit is intended for ages 6 and up and comes with a weaving and finishing hook, a bag of multi-colored Potholder Loops, fully illustrated instructions, plus a sturdy 7-inch metal frame. Need more Loops? Choose from nearly 2 dozen colors! One hundred percent cotton and made in the USA, each bag has enough Loops to make two solid-colored potholders (at least 72 loops per bag). Note that these Loops are only suitable for the 7-inch Loom and that colors may vary from dye lot to dye lot. Want to make Potholders like ours? Click Product Details, above, for more info!
PLEASE NOTE: The bags of Loops do not come with a Loom or instructional booklet. They are just Loops!
Materials
To make our set of Potholders, you'll need...
A Friendly Loom Potholder Loom Kit (This includes a multi-color bag of Loops, but to make our set you'll need the following bags instead...)
3 bags of Loops in Winter White (you'll have just enough!)
1 bag of Loops in Daffodil
1 bag of Loops in Tiger Lily
1 bag of Loops in Orange
1 bag of Loops in Salmon
1 bag of Loops in Turquoise
1 bag of Loops in Powder Blue
1 bag of Loops in Silver
Patterns
The Potholder Loom Kit includes detailed instructions for all the designs shown here (and more!). Here are the colors and patterns we used...
Daffodil + Winter White (page 3 in booklet)
Tiger Lily + Winter White (page 3)
Orange + Winter White (page 3)
Salmon + Winter White (page 3)
Turquoise + Winter White (page 3)
Powder Blue + Winter White (page 3)
Silver + Winter White (page 3)
Daffodil, Tiger Lily, Orange, Salmon, Turquoise, Powder Blue, Silver + Winter White (page 6)
Tiger Lily, Orange, Salmon + Winter White (page 6)
Silver, Powder Blue, Turquoise + Winter White (page 6)
Size
Finished Dimensions: About 6 x 6 inches