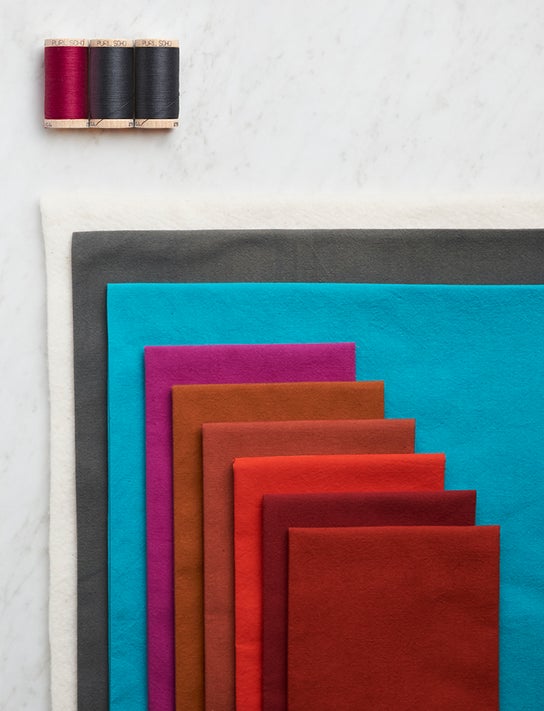 With its band of dancing flecks of color, our Little Bits Quilt reads like a line of music on an empty page or like a flock of birds in a vast sky. We love the quiet space of this quilt, interrupted by just a flutter of joyful color. Utterly achievable for even a beginner quilter, the fun of making the Little Bits Quilt is in the surprise of creating the randomly arranged colorful bits, plus the satisfaction of the parallel lines of quilting, like a really wide wale corduroy. Turns out, a little bit goes a long way! The color inspiration comes from Spectrum Cotton, our collection of garment-dyed fabric in three dozen gorgeous colors. Choose from three Little Bits Quilt Bundles, which include all the fabric, thread, and batting you'll need!
Product Details
Materials
Our Little Bits Quilt Bundle includes…
Fabric A: 4¼ yards of Purl Soho's Spectrum Cotton, for Quilt Top and Binding
Fabric B: Six ⅛ yard pieces of Spectrum Cotton in six colors, for "Little Bits"
Fabric C: 4¼ yards of Spectrum Cotton, for Backing
2 spools of Purl Soho's Organic Cotton Sewing Thread, for Quilt Top + Quilting
1 spool of Organic Cotton Sewing Thread, for hand sewing the Binding
Quilters Dream's Cotton Batting, Twin size, Thinnest Loft: Request
You will also need….
Our bundle comes in three palettes…
MORNING
Fabric A: Spectrum Cotton in Rock Wall
Fabric B: Spectrum Cotton in Purple Thistle, Whiskey Brown, Terra Cotta, Cherry Tomato, Red Pear, and Orange Russet
Fabric C: Spectrum Cotton in Pure Pool
Two spools of Organic Cotton Sewing Thread in color 4833
One spool of Organic Cotton Sewing Thread in color 4806
Quilters Dream's Cotton Batting, Twin size, Thinnest Loft: Request
Size
Finished Dimensions: Approximately 64 inches x 66 inches