Welcome to Purl Soho's Bandana Cowl Knit-Along!

Join for free and be automatically entered to win a $1,000 Purl Soho gift card!
We're casting on for our Bandana Cowl! Eligible participants who sign up are automatically entered to win a $1,000 Purl Soho gift card at the end of the journey, as well as more amazing prizes along the way. Here's all you need to do…
Sign up by entering your email below

Check your email inbox for a promo code for 20% off Plenty and a free pattern download

Choose your favorite color of Plenty and cast on... You only need one skein!

Look forward to emails with tips and encouragement, plus invitations to Zoom calls and more!

To be eligible for prizes, you must be a resident of the United States and 18+ years old, but everyone everywhere can sign up for the promo code, pattern download, and to join the fun!

For all the official rules, please click here.
Sign up here to join our free Knit-Along… We can't wait to knit with you!
When you sign up, you consent to receive monthly KAL emails, as well as our promotional email newsletters with all our latest yarns, patterns, and news. Your information will only be used in accordance with our Terms Of Use and Privacy Policy.

Share your progress here!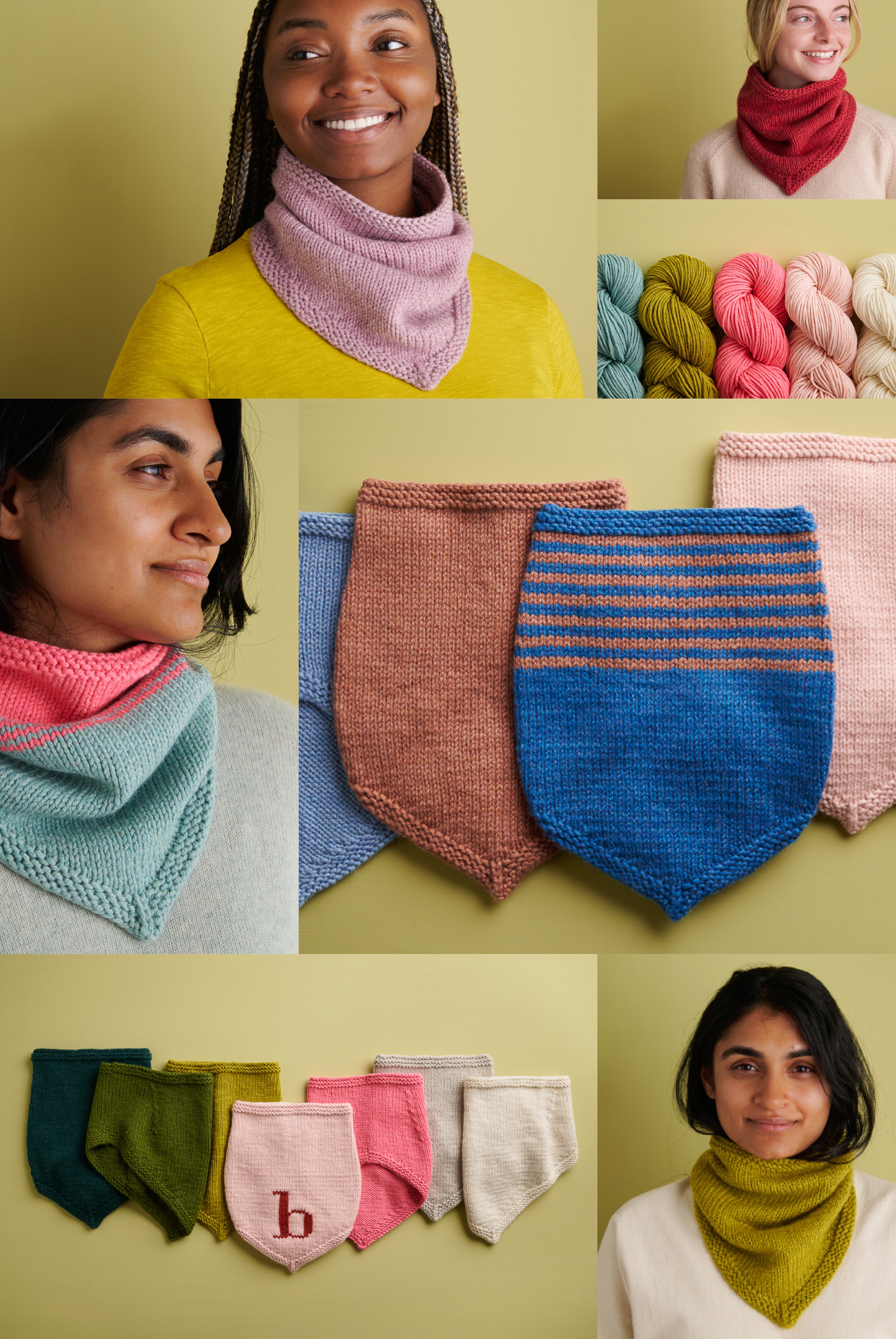 What's A Knit-Along?
A Knit-Along (or "KAL") is when a group of knitters work on the same project at the same time, learning from and supporting each other along the way. For this KAL, we'll be casting on for our Bandana Cowl, a much-loved free pattern that uses our Plenty. As you work, we'll send you occasional emails to keep you on track and will also invite you to meet-ups on Zoom for some real-time chats.
What To Expect
The official cast on day is October 13th, 2022, but knitters can join at any time between now and November 30th, 2022. The KAL will last seven weeks, with the goal to finish your Bandana Cowl by November 30th, 2022.
We'll be sending you emails full of useful info, including links to relevant tutorials and reminders about our giveaways. We'll also be hosting Zoom meetings for KAL-ers to see each other's smiling faces and gorgeous WIPs! Click here to sign up for the next one, which is on Thursday, December 1st at 6pm Eastern/3pm Pacific.
Don't worry if you're joining after the official cast-on day. There's plenty of time to catch up, and you'll still receive emails and invites!
We all want to see each other's progress, so be sure to share on Instagram with the hashtags #PurlSohoKAL and #PurlSohoBandanaCowl, and you can upload your photos right here, too. We can't wait to see what you make!
The Bandana Cowl is a one-skein, super fun knit that makes a wonderful gift. Our Plenty super fine merino comes in lots of gorgeous colors… Use just one for classic Bandana Cowl or branch out with color blocks, stripes, Fair Isle, or duplicate stitch. We love to see what you come up with, so have some fun with it!
And Giveaways, Too!
Signed up? If you live in the United States and are 18 years or older, you are automatically registered for our amazing KAL giveaways!
Lots of giveaways of our favorite Purl Soho products, including yarn bundles, notions, project bags, and more

At the end of the KAL on December 1, 2022…

One lucky knitter will receive a $1,000 Purl Soho gift card

Two will get $500 Purl Soho gift cards

Four will receive $250 Purl Soho gift cards
We will also be giving away special surprises along the way for knitters who share progress photos on Instagram with the #PurlSohoKAL hashtag, on this page, or by emailing them to knitalong@purlsoho.com! Plus, eligible knitters who share progress photos by November 30th will also be included in a separate giveaway for another round of Purl Soho gift cards in the same amount as listed above. Keep on knitting!
We will announce the winners on Instagram, and winners will also be notified by email, so please make sure you've signed up with your current and correct email address and have cleared Purl Soho from your spam folder.
For official rules, please click here.
Questions?
Feel free to reach out us with any questions at knitalong@purlsoho.com. We'll get right back to you!
Oh, and looking for info about our last Knit-Along? Click here to see all the fun we had with our Lightweight Raglan Pullover!