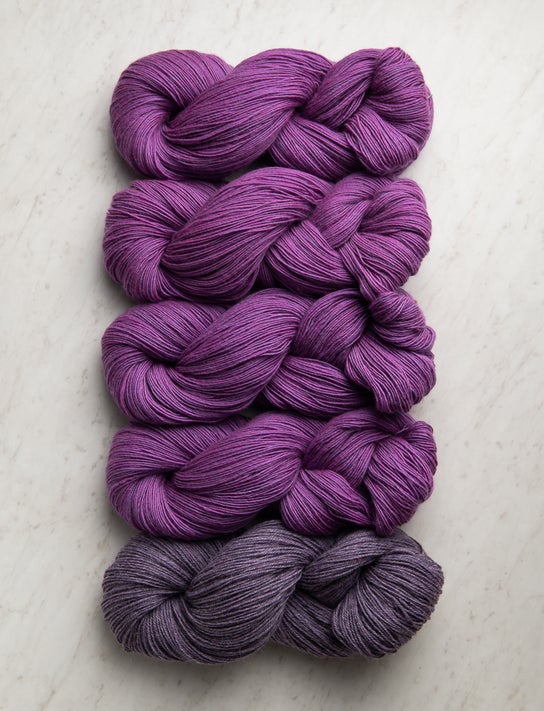 Knit in our 100% merino Line Weight, Katrina Walser's Ticking Ribbed Wrap pattern puts a much softer spin on the iconic stripes of the classic woven fabric. Line Weight is a delicate single ply whose loose twist lets you feel the exquisite softness of the merino fiber. It knits into a light fabric that blooms and relaxes when hand washed. Once you knit the body of the wrap, you attached the  Quartz fringe with a crochet hook. With its two plies and merino-suri mix, Quartz has a bit more strength for fringe less prone to felting or unraveling. We've put together seven gorgeous palettes, each with four skeins of Line Weight for the wrap version (and 2 skeins for the scarf version) and one of Quartz in the same color family. Soft and cozy, with character and beauty, this wrap ticks all the boxes for us!
Product Details
Materials
Our Ticking Ribbed Wrap Bundle comes in Scarf and Wrap sizes. It includes…
Yarn A: 2 (4) skeins of Purl Soho's Line Weight, 100% merino wool. Each skein is approximately 494 yards/100 grams; approximately 975 (1700) total yards required.
Yarn B (for fringe): 1 skein of Purl Soho's Quartz, 65% merino wool, and 35% suri alpaca. Each skein is approximately 420 yards/100 grams; approximately 55 (95) total yards required.
You will also need…
SAMPLES: We used the Lotus Flower + Wild Lupine bundle for our Scarf and the Cobalt Turquoise + Icicle Blue one for our Wrap.
GAUGE
33 stitches and 50 rows = 4 inches in stitch pattern
SIZES
Scarf (Wrap)
Finished Dimensions: Approximately 10 (17½) inches wide x 72 inches long, not including fringe
You Might Also Like...
Addi Rocket US 3, 24-Inch Circular Needles
Addi Rockets are the ultimate circular needles for speedy, snag-free knitting! Click here to see our full range of sizes and lengths, or click Add To Basket to purchase these US 3, 24-inch needles for knitting up your very own project!