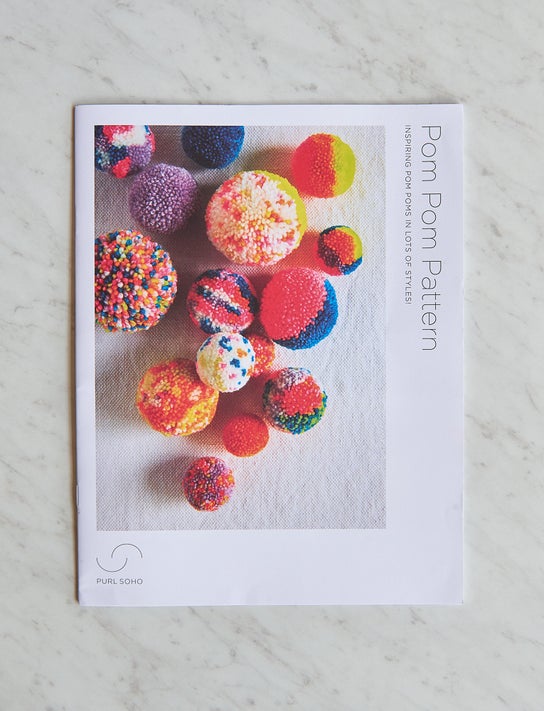 Regular Price
$8.80
$5.28
Let the merry making begin with plenty of pom poms! These step-by-step instructions dispel the mystery of making the perfect pom pom, not just a one-color classic, but special designs, too, like all-over sprinkles, patches of color blocks, and scattered polka dots. You'll also learn how to combine designs for your own custom remixes. We used a fun bouquet of our Pocket Posy, a great yarn for long-lasting fluffiness, as well as our Pom Pom Maker Set, a brightly colored Plexiglass tool set that includes two U-shaped makers, plus six trim guides for giving tidy pom pom haircuts. We say, bring pom poms to the party… And the more the merrier! 
Product Details
Materials
To make 9 to 25 pom poms, depending on size…
475 yards of yarn in a variety of colors, preferably fingering weight. We used 6 skeins of Purl Soho's Pocket Posy (75% superwash merino, 15% cashmere, 10% nylon) in the colors Heirloom White, Sour Gooseberry, Marigold Orange, Pink Papaya, Winter Heath, and Beetle Blue.
A U-shaped pom pom maker and trim guides. We used Purl Soho's Pom Pom Maker Set, which includes two makers (1¾ and 2½ inches wide) and six trim guides (1 to 2½ inches in diameter).
A skein of embroidery floss. We used DMC's Embroidery Floss in Ecru.
Sharp scissors
Finished Sizes
1 to 3 inches in diameter, using Purl Soho's Pom Pom Maker Set
PLEASE NOTE: If you have purchased a hard copy of this pattern and would also like to receive a downloadable PDF, please email us at customerservice@purlsoho.com.