Ocean Currents Wrap Bundle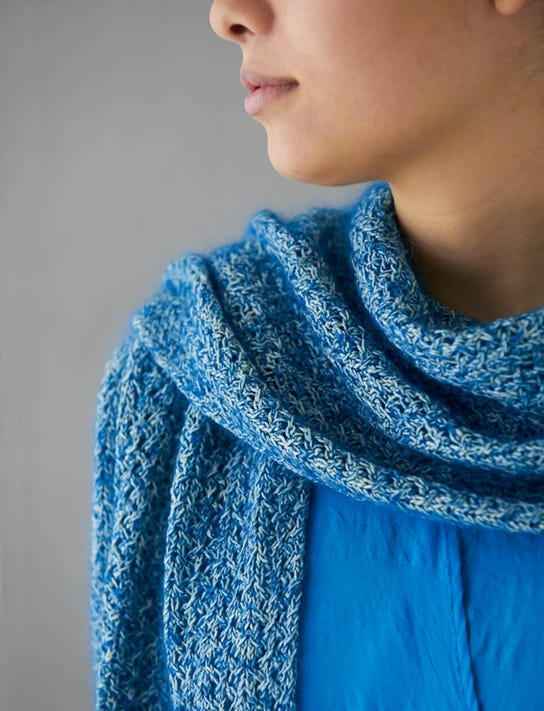 Ocean Currents Wrap Bundle
An easy-lace layer that's both elemental and effervescent, our Ocean Currents Wrap carries the calm beauty of a seascape and the drama of the ocean's surprises! To suggest the subtle shifts of color and texture in ocean depths and crests, we put together a sublime combo of yarns: earthy Cattail Silk for a grounding beach walk and wild Tussock for windswept surf. The lace pattern is a simple 4-row repeat, ideal for knitters who are new to the open-air approach or anyone who prefers their lacework less intricate. Please click Product Details, above, for more information about colors, gauge, and finished size!
Product Details
Materials
Our Ocean Currents Wrap Bundle includes…
Yarn A: 2 skeins of Purl Soho's Cattail Silk, 100% silk. Each skein is 618 yards; approximately 1,095 yards required. We used the color Willow Tea.
Yarn B: 4 skeins of Purl Soho's Tussock, 60% super fine kid mohair and 40% silk. Each skein is 328 yards; approximately 1,184 total yards required. We used the color Cerulean Sea.
Choose from six palettes...
Yarn A: Cattail Silk in Willow Tea; Yarn B: Tussock in Cerulean Sea (This is the bundle we used for our sample!)
Yarn A: Cattail Silk in Moon White; Yarn B: Tussock in Gray Quartz
Yarn A: Cattail Silk in Porcelain White; Yarn B: Tussock in Yellow Mimosa
Yarn A: Cattail Silk in Pale Wisteria; Yarn B: Tussock in Bright Thistle
Yarn A: Cattail Silk in Rabbit-Ear Pink; Yarn B: Tussock in Ripe Boysenberry
Yarn A: Cattail Silk in Flower Field Gray; Yarn B: Tussock in Bright Jade
You will also need…
Gauge
25 stitches and 38 rows = 4 inches in stitch pattern, holding together a strand of Yarn A and a strand of Yarn B
Size
Finished Dimensions: Approximately 15 inches wide x 70 inches long