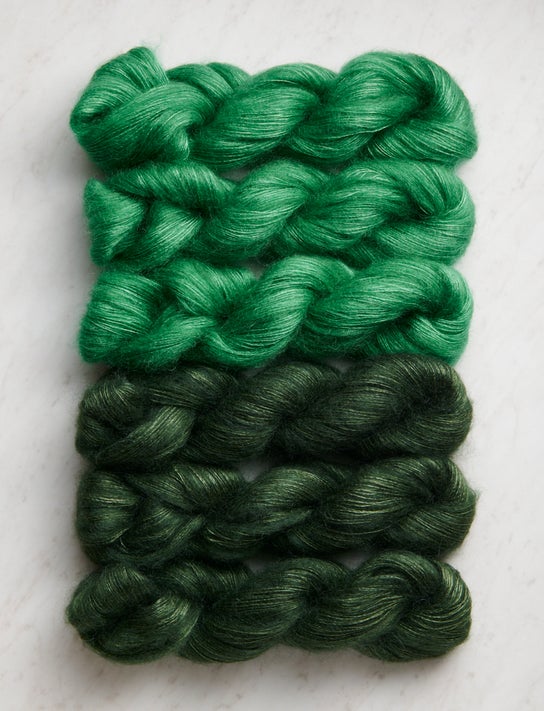 Like the sun glinting through the columns of the Parthenon, illuminating the beauty Ancient Greeks found in balance and harmony, our Lace Columns Wrap embraces the elegance of graceful lines. In our mohair-silk Tussock, light glistens off the silk and mingles with the soft mohair, while the unique depth of color comes from holding two strands in different, but related, shades. We've created eight gorgeous Lace Columns Wrap Bundles so you can pick the one that shines for you!
Product Details
MATERIALS
Our Lace Columns Wrap Bundle includes... 
Color A: 3 skeins of Purl Soho's Tussock, 60% super fine kid mohair and 40% silk. Each skein is 328 yards/ 25 grams; approximately 700 total yards required. We used the color Lucky Green.
Color B: 3 skeins of Tussock; approximately 700 total yards required. We used the color Cypress Green.
You will also need... 
GAUGE
19 stitches and 27 rows = 4 inches in stitch pattern, holding Color A and Color B together
SIZES
Scarf (Wrap)
Finished Dimensions: 8¾ (17¼) inches wide x 70 inches long
Sample: We knit the Wrap size.
You Might Also Like...
Addi Rockets US 5, 24-inch Circular Needles
Addi Rockets are the ultimate circular needles for speedy, snag-free knitting! Click here to see our full range of sizes and lengths, or click Add To Basket to purchase these US 5, 24-inch needles for knitting up your very own project!