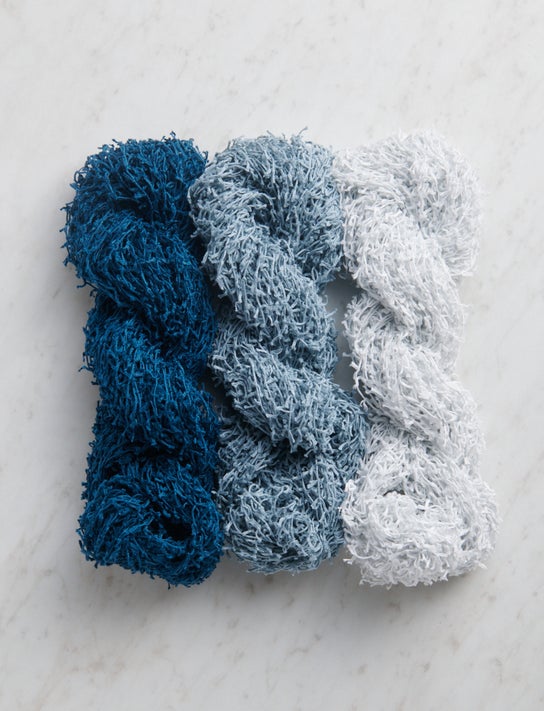 Our 100% cotton Home Life yarn, creates wonderfully soft and squishy knits, inspired by the warm and welcoming feeling of home! With short cotton tabs spun into its core, Home Life knits up into a marvelously shaggy texture with a surprise at the end: Loose and relaxed after binding off, if you choose to send it through the washer and drier, the fabric shrinks, becoming fluffier, fleecier, and super-duper-softer, with a very satisfying density and plushness. Our Home Life Bundles include three skeins that create exactly one set of Home Life Washcloths or Scrubbing Mitts in the same color family. For yourself or for a friend getting married, a cousin moving into a new home or your summer-weekend-away hosts, this stack of hand knits is a truly thoughtful contribution to the home life of someone you love!
Product Details
MATERIALS
Our Home Life Bundle includes…
3 skeins of Purl Soho's Home Life, 100% cotton. Each skein is 61 yards/ 33 grams; approximately 60 yards required per washcloth
A Purl Soho cotton drawstring bag
Choose from 6 palettes…
MILLET: Fresh Cream, Pale Stone, and Sand Dollar
CAMEO: Petal Pink, Sugar Biscuit, and Pink Bisque 
LICHEN: Dune Grass, Spicy Mustard, and Golden Pear
OCEAN AIR: Pearl Blue, Tidal Pool, and Deep Teal
SWEET PEA: Pale Lilac, Celestial Blue, and Mauve Moor
You will also need…
For the Home Life Washcloth
For the Scrubbing Mitt
GAUGE
20½ stitches = 4 inches in garter stitch, unlaundered
NOTE: The row gauge in this pattern is not listed because you are simply knitting to a desired length. Any row gauge will do, as long as your stitch gauge is correct!
SIZE
Home Life Washcloth
Finished Dimensions, Unlaundered: Approximately 7¾ x 7¾ inches
Finished Dimensions, Laundered: Approximately 6½ x 6½ inches
Scrubbing Mitt
Finished Dimensions, Unlaundered: Approximately 7¾ inches in circumference x 7¾ inches in length
Finished Dimensions, Laundered: Approximately 7¾ inches in circumference x 6½ inches in length
You Might Also Like...
Lykke US 6, 6-inch Driftwood Double Pointed Knitting Needles
Lykke's Double Pointed Knitting Needles are made from laminated birch and allow stitches to glide smoothly without slipping out of control! Click here to see our full range of sizes and lengths, or click Add To Basket to purchase these US 6, 6-inch needles for knitting up your very own Scrubbing Mitt!