Home Life Washcloth Bundle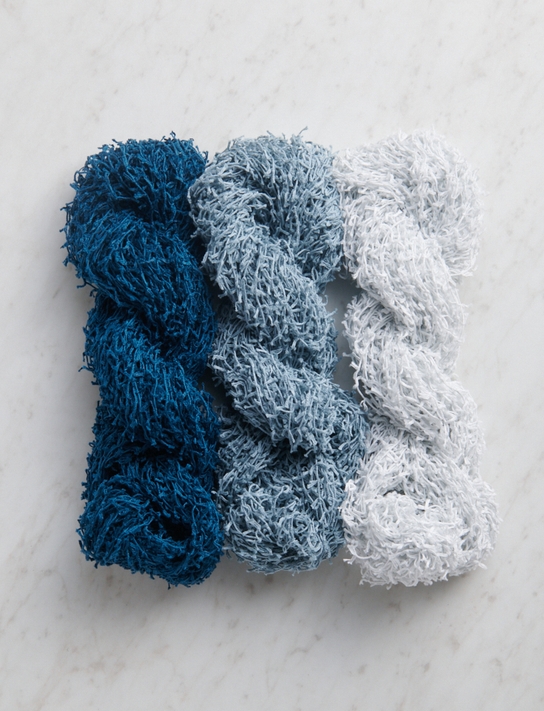 Home Life Washcloth Bundle
Our Home Life Washcloth, knit up in 100% cotton Home Life yarn, is a wonderfully soft and squishy knit, inspired by the warm and welcoming feeling of home! With short cotton tabs spun into its core, Home Life knits up into a marvelously shaggy texture with a surprise at the end: Loose and relaxed after binding off, if you choose to send it through the washer and drier, the fabric shrinks into a fluffier, fleecier, super-duper-softer washcloth with a very satisfying density and plushness. Our Home Life Washcloth Bundles include three skeins that create exactly one set of washcloths in the same color family.  For yourself or for a friend getting married, a cousin moving into a new home, or your summer-weekend-away hosts, this stack of washcloths is a truly thoughtful contribution to the home life of someone you love!
Product Details
MATERIALS
Our Home Life Washcloth Bundle includes…
3 skeins of Purl Soho's Home Life, 100% cotton. Each skein is 61 yards/ 33 grams; approximately 60 yards required per washcloth
A Purl Soho cotton drawstring bag
A postcard with a link to the free pattern
Choose from 6 palettes…
MILLET: Fresh Cream, Pale Stone, and Sand Dollar
CAMEO: Petal Pink, Sugar Biscuit, and Pink Bisque 
LICHEN: Dune Grass, Spicy Mustard, and Golden Pear
EUCALYPTUS: White Cabbage, Viridian Green, and Holly Green
OCEAN AIR: Pearl Blue, Tidal Pool, and Deep Teal
SWEET PEA: Pale Lilac, Celestial Blue, and Mauve Moor
You will also need…
GAUGE
20½ stitches = 4 inches in garter stitch, unlaundered
NOTE: The row gauge in this pattern is not listed because you are simply knitting to a desired length. Any row gauge will do, as long as your stitch gauge is correct!
SIZE
Finished Dimensions, Unlaundered: Approximately 7¾ x 7¾ inches
Finished Dimensions, Laundered: Approximately 6½ x 6½ inches
You Might Also Like...
Addi Rocket US 6, 24-inch Circular Needles
Addi Rockets are the ultimate circular needles for speedy, snag-free knitting! Click here to see our full range of sizes and lengths, or click Add To Basket to purchase these US 6, 24-inch needles for knitting up your very own project!