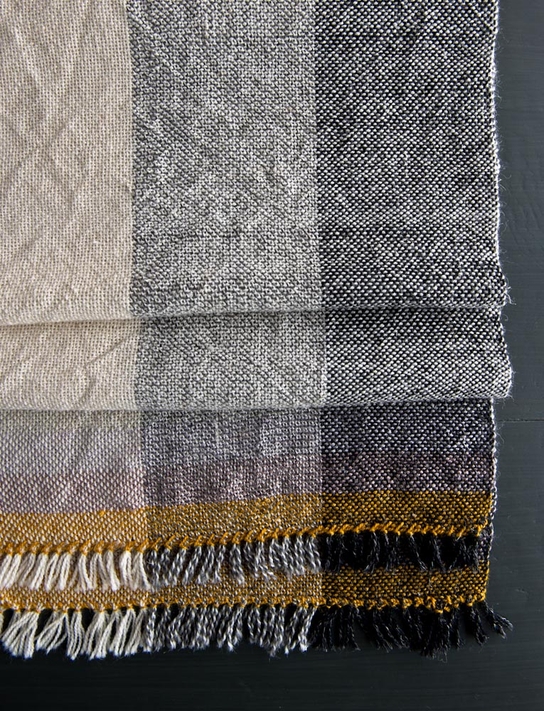 Inspired by winter fields yielding to spring's warmth, our Field Scarf embraces a quiet subtlety, while Purl Soho's Linen Quill adds a straight-from-nature beauty. We wove our scarf on Schacht Spindle Co's amazing rigid-heddle Cricket Loom, a table-top loom about the size of a record player. It only takes a few hours to learn how to use the Cricket Loom and only a little longer to weave a beautiful scarf like this! Pick up all the yarn you need to get started with our Field Scarf Bundle, and please click Product Details, below, for more information.
Product Details
Materials
Our Field Scarf Bundle includes...
8 skeins of Purl Soho's Linen Quill, 50% fine highland wool, 35% alpaca, and 15% linen

Main Color (MC): 2 skeins of Pale Oats
Weft Color A: 1 skein of Turmeric Yellow
Weft Color B: 1 skein of Rose Granite
Weft Color C: 1 skein of Lavender Opal
Weft Color D: 1 skein of Oatmeal Gray
Warp Color A: 1 skein of Kettle Black
Warp Color B: 1 skein of Salt + Pepper
Note: This is enough yarn for exactly 4 Field Scarves, if you alter the colors' positioning for each scarf.
You'll also need...
Structure
Plain Weave
Warp
Warp Length: 110 inches (includes 16 inches of loom waste)
Warp Ends: 162
Width in Reed: 12 5/8 inches
Ends Per Inch (E.P.I.): 12 3/4
Pick Per Inch (P.P.I): 12
Size
Finished Dimensions, Unblocked: 12 1/2 inches x 94 inches long with a ½ inch-fringe
Finished Dimensions, Blocked: 12 1/4 inches wide x 92 inches long with a 1/2-inch fringe
You Might Also Like...
The Cricket Loom is compact, well-made and super capable! Superiorly engineered by Schacht Spindle Co., the Cricket is made of high-quality, unfinished apple ply and hard maple. It comes with an 8-dent reed, a threading hook, warping peg, table clamps, two shuttles, and two balls of yarn.