Curlicue Pullover Pattern Download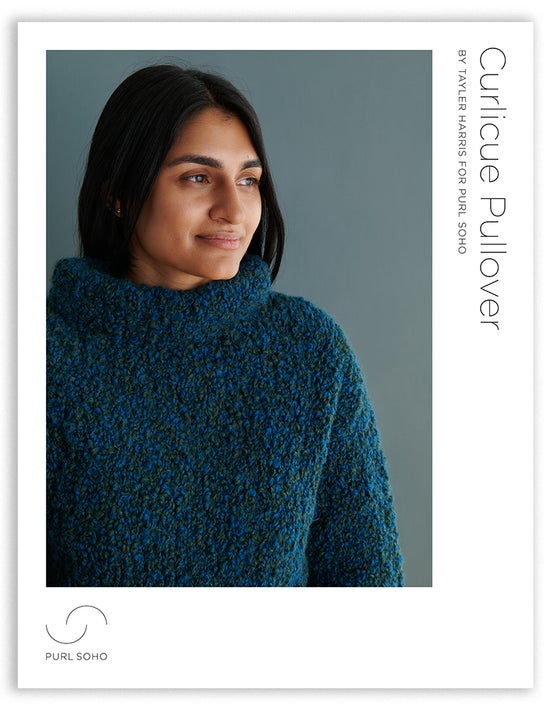 Curlicue Pullover Pattern Download
In our soft, loopy Fiddlehead alpaca, you will find wild joy in each and every stitch of your Curlicue Pullover, designed by Tayler Harris! You may not have ever knit with a yarn quite like Fiddlehead... It is surprising in a number of ways and absolutely beautiful in every way you can imagine!
Lots of highly textured yarns involve a bit of nylon, but not Fiddlehead. It is 100% natural, 100% alpaca, and 1000% incredibly soft against your skin!

With its fine strand of alpaca at its core and rippling fluffy alpaca roving, Fiddlehead is akin to a bouclé, but instead of loops, Fiddlehead's structure is undulating waves that knit up into an amazing, curly texture, just like a baby lamb! 

Super surprising is how light Fiddlehead feels. The wavy roving provides loads of volume, but it also keeps the alpaca (which is already lighter than wool) feather-light... You'll be shocked by how airy and buoyant this cozy sweater feels!

Fiddlehead knits up on US 11 or 13 needles (8 or 9 mm), so the biggest surprise of all may be how quickly you're binding off!
Tayler also took advantage of the smooth durability of our extra fine merino Plenty for the double-thick hem (yep, we have a tutorial for that!), cuffs, and drawstring. Aside from that, it's just you and those fluffy Fiddlehead knit stitches, in the round for the body up to the underarms and also in the round for the sleeves, from top down so you can try your sweater on as you go. The final super-cozy step of this sweater: You pick up around the neckline and knit a short tube, folding it over and stitching it down to create a stand-up, double-thick funnel neck that feels like a kitten!
Product Details
MATERIALS
Yarn A: 7 (8, 8, 9, 10) (10, 11, 12, 13) skeins of Purl Soho's Fiddlehead, 100% alpaca. Each skein is 65 yards/ 100 grams; approximately 430 (475, 515, 570, 610) (650, 715, 770, 830) total yards required. We used Northern Spruce for one sample and Heirloom White for the other.
Yarn B: 1 (2, 2, 2, 2) (2, 2, 2, 2) skein(s) of Purl Soho's Plenty, 100% extra fine merino. Each skein is 139 yards/ 100 grams; approximately 135 (155, 170, 180, 195) (210, 220, 235, 245) total yards required. We used Laurel Leaf with the Northern Spruce sample and Heirloom White with the Heirloom White sample.
US 9 (5.5 mm), 32-inch or 40-inch circular needles
A set of US 9 double pointed needles

Spare US 9 or smaller circular needles

US 11 (8 mm), 32-inch or 40-inch circular needles

US 11, 16-inch circular needles

A set of US 11 double pointed needles

Several yards of smooth scrap yarn

A crochet hook to fit the size of scrap yarn
Stitch holders or scrap yarn
Blocking wires and T-pins (optional, but recommended)
GAUGE
9 stitches and 14 rows = 4 inches in stockinette stitch on larger needles with Yarn A
15 stitches and 19 rows = 4 inches in stockinette stitch on smaller needles with Yarn B
SIZES
39 (43½, 46¼, 50¾, 55) (58¾, 63, 66¾, 71)
To fit actual chest circumference of approximately 30–32 (34–36, 38–40, 42–44, 46–48) (50–52, 54–56, 58–60, 62–64) inches, with approximately 6–9 inches of ease
Finished Chest Circumference: 39 (43½, 46¼, 50¾, 55) (58¾, 63, 66¾, 71) inches
Finished Length from Shoulder to Bottom Edge: 23 (24, 24½, 25¼, 25¾) (26, 27½, 28, 29¼) inches
Finished Sleeve Length from Underarm: 17½ (16½, 16¾, 16¾, 16¼) (16, 15¾, 15½, 15¼) inches
Samples: The Northern Spruce + Laurel Leaf sweater shown here is size 39, worn with 4½ inches of ease, and the Heirloom White + Heirloom White sweater is size 43½.
You Might Also Like...