Tension can determine the size, shape, and longevity of your project.  The size needles you use, the fibers that make up your yarn, even your mood — all of these variables affect the tension of your knitting.  It is as personal as your handwriting, and it can change with each project.
Finding the correct tension for specific patterns and projects is easy. Here are a few simple guidelines to help you along.
Find the Right Fit
Experiment to find the right tension.  Your yarn should feel comfortable and slide easily along the needle. You should not have to struggle, break into a sweat, or break a needle in a effort to make one knit stitch.
A good place to start is with the recommended needles for the pattern and the yarn.  We  used Blue Sky Alpaca Sport Weight for this experiment, whose label recommends US size 3 – 5 needles for a gauge of 5 – 6 stitches per inch. We made four swatches with four different size needles, cast on 20 stitches for each swatch, and came up with very different results.

Swatch 1
Needles: US size 2 Crystal Palace bamboo needles
Gauge: 6 stitches = 1 inch
Finished Dimensions: 3.25 x 2.75 inches
These needles are smaller than average for this yarn; they yielded a tight, dense fabric that continued to curl even after blocking. This fortified fabric is suitable for mittens and other projects that keep out the cold, but would not be recommended for sweaters, scarves or other projects that would benefit from a fabric which drapes and breathes.
Swatch 2
Needles: US size 5 Lantern Moon ebony needles
Gauge: 5.5 stitches = 1 inch
Finished Dimensions: 3.75 x 3.5 inches
The size 5 needles yield comfortable, even stitches that hardly needed blocking.  This is a desirable fabric for sweaters or other medium weight projects.
Swatch 3
Needles: US size 8 Addi Turbo aluminum needles
Gauge: 4 stitches per inch
Finished Dimensions: 4.5 x 4 inches
Larger than recommended, these smooth aluminum needles glide through the yarn making a loose fabric.  Scarves and shawls benefit from a drapey, but not quite lacey stitch like this. However, this fabric would be too drapey for a sweater because it would not hold its shape.
Swatch 4
Needles: US size 10 Lantern Moon ebony needles
Gauge: 3.75 stitches = 1 inch
Finished Dimensions: 5 x 4.5 inches
More loose and open than the previous swatch, this swatch knit up quickly at almost half the recommended gauge.  The stitches are very open, which allows the alpaca fibers to somewhat fill the spaces between each stitch.  This fabric would be suitable for a scarf or a shawl.
Adjusting the Tension
As you can see, there is not one perfect tension for your yarn. It all depends on the project and the knitter. Keep in mind:
1.  Try a few different needles of different material to get the gauge and tension that is best for your project. If your stitches are sliding off the needle willy-nilly, you might need to go down a size or two.  If your stitches just won't budge, try a smoother material like aluminum.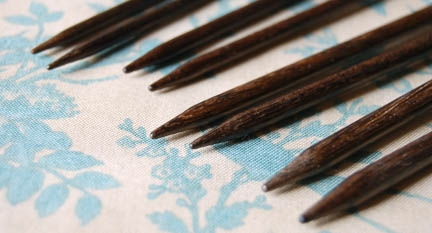 2.  Keep a loose grip on the yarn as you knit.  Don't tug on the yarn as you complete each stitch.  If you'd like your fabric to be more dense, go down a needle size or two rather than trying to knit tighter.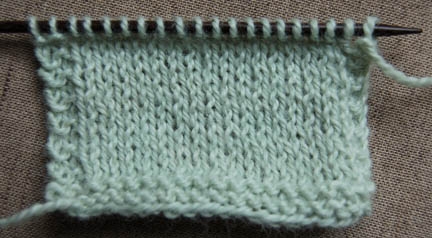 3.  Maintain even tension by consciously focusing on your knitting rhythm for the first few minutes after you pick up your needles.  Knitters who like to watch movies or listen as they knit find their tension getting too tight during a chase scene or too loose during a song and dance number.  Commuter knitters find their tension changes from the ride to work and their ride home.  Unless you like your knitting to be a diary of your day, pay attention to the way you begin to knit; that will keep your hands focused even while your eyes wander.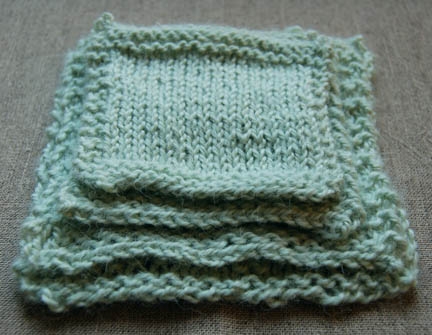 Wondering how to measure your test swatches?  Maybe our Swatch Tutorial can help!