Brioche Stitch creates a wonderfully lofty, widely ribbed fabric. People often find it intimidating, perhaps due to the yarn overs or maybe because of the abbreviations used in the pattern, but really, this stitch pattern is surprisingly easy. Watch our video tutorial below for a step-by-step explanation of working Brioche Stitch with one color of yarn, and skip down to the Fixing Mistakes section of our still photo tutorials (below) to learn how to hit the undo button when you make a snafu!
It's as easy as that! And for people who prefer still photos to videos, below is a step-by-step photo tutorial for one-color brioche, including how to fix mistakes and a few helpful notes to keep in mind!
For assistance with more Brioche Stitch techniques, visit our Brioche Stitch: Two-Color Brioche + Fixing Mistakes Tutorial and our Brioche Stitch: Basic Decreases Tutorial!
Notes
Slip Stitches
Slip all slipped stitches purlwise unless indicated otherwise.
Counting Stitches
When counting stitches in Brioche Stitch, yarn overs are not included in the stitch count; they are paired with a knit stitch, and the knit/yarn over pair is counted as a single stitch.
The stitch pattern will produce a very pronounced rib; count only the purl and knit columns when counting stitches.
Stitch Multiple
The most basic version of Brioche Stitch is worked over an even number of stitches, which creates a fabric whose selvages are slightly different. To create identical selvages, add one stitch to the end (or more to both sides for a more pronounced selvage).
Abbreviations + Terms
bk2tog [brioche knit 2 together]: Knit next knit stitch together with its paired yarnover
YOS [yarn over slip]: Bring yarn forward, slip 1 purlwise, bring yarn over right needle
Photo Tutorial
And now, the above instructions broken down, step-by-step, as worked in our Brioche Scarf Pattern (pictured below)…
Set-Up Row: *Bring yarn forward, slip one purlwise…
bring yarn over right needle…
repeat from * to end of row.
Then, work Row 1.
Row 1: *Bring yarn forward, slip one purlwise…
bring yarn over right needle…
knit the next stitch together with its paired yarnover, repeat from * to end of row.
Repeat Row 1.
NOTE: It takes several rows for the rib to take shape.
Fixing Mistakes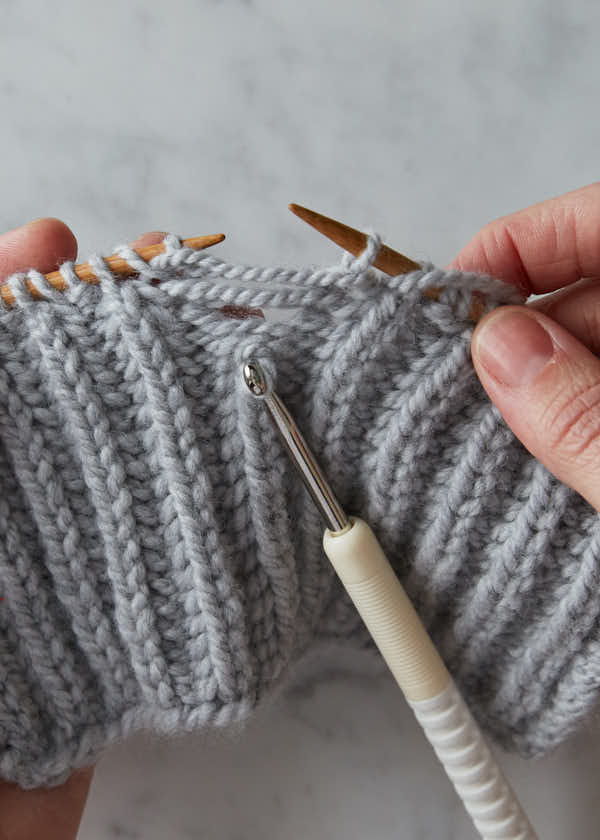 With a crochet hook, catch the dropped stitch, being careful not to twist it. Separate the strands of yarn from the unknit stitches above it.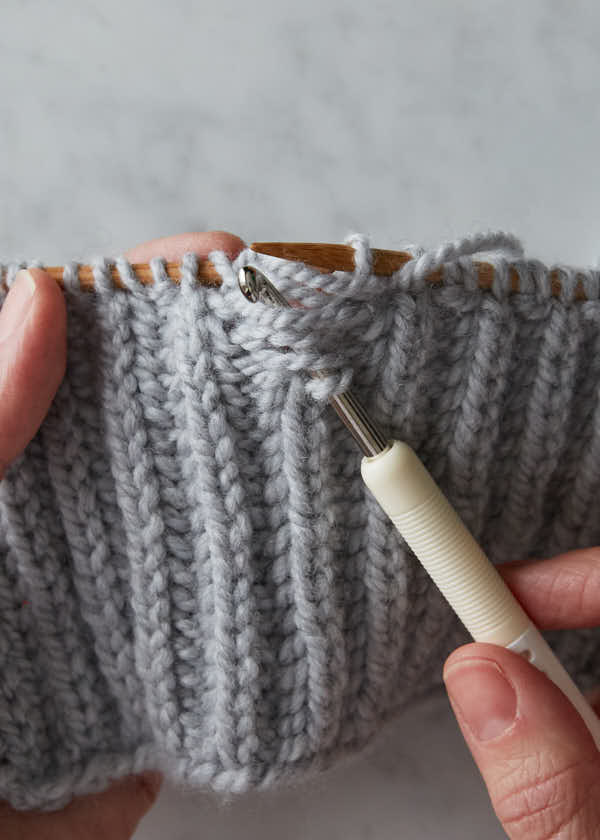 Pass the crochet hook behind the three strands of yarn directly above the on-hold stitch.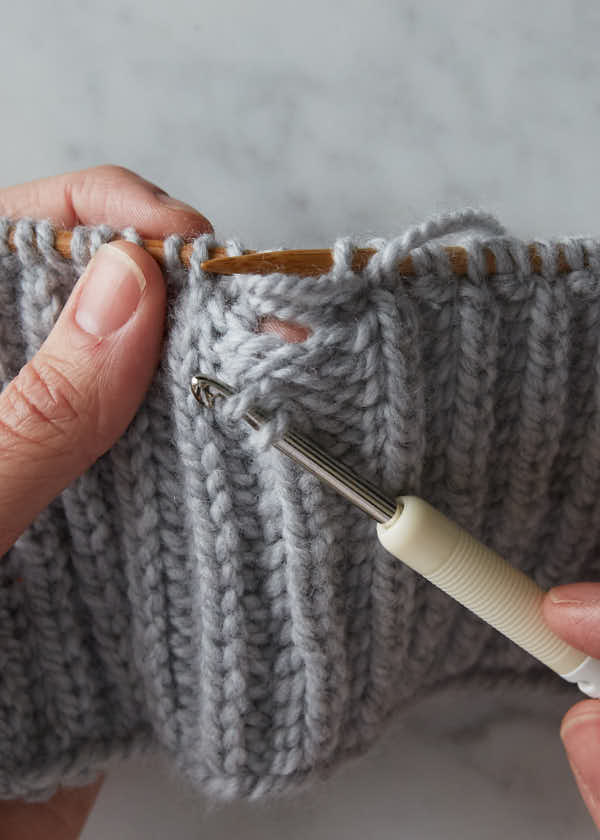 Catch the third strand of yarn with the crochet hook and bring it below the bottom two strands to the face of the fabric.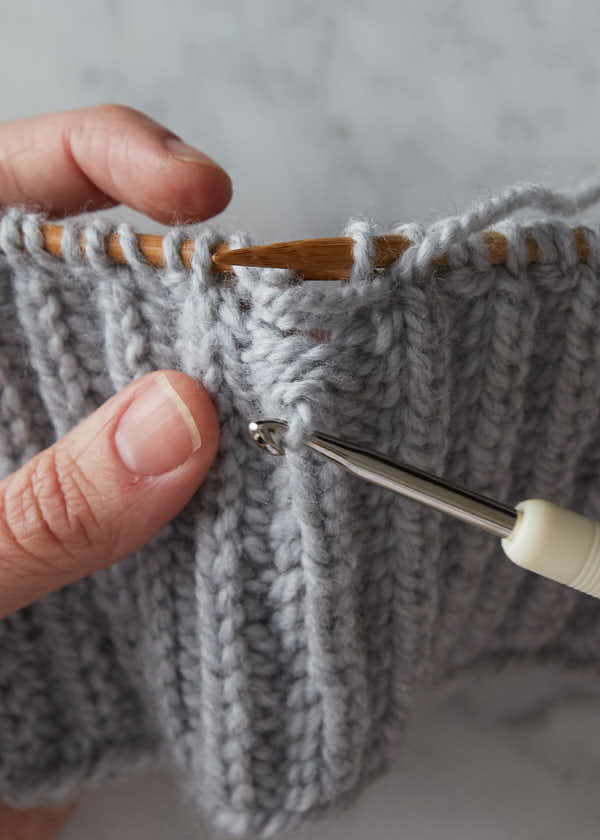 Pull the strand through the on-hold stitch, making a new stitch on the crochet hook.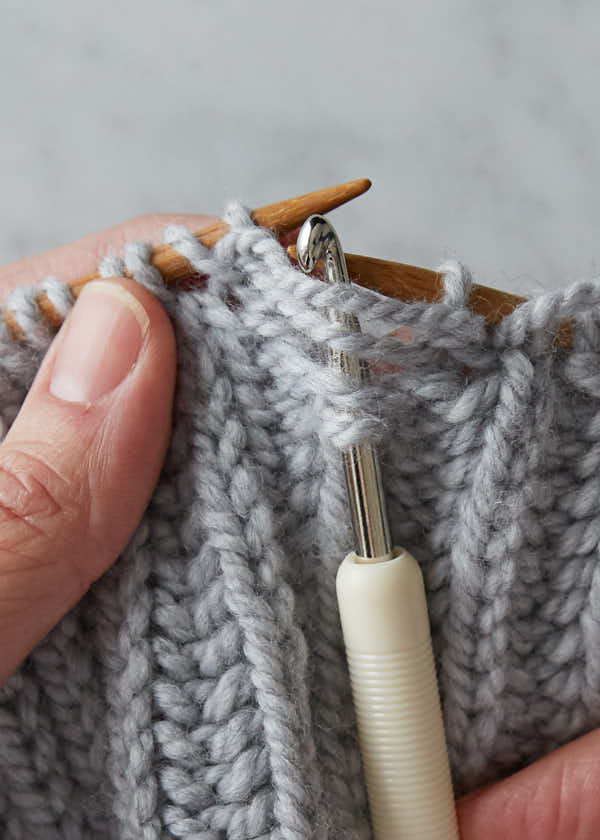 Repeat these steps with the next three strands of yarn until all the strands have been chained up. Place the final stitch back on the needles.
NOTE: If you have one leftover strand of yarn, check if it's the paired yarn over to be placed on the needle with the final picked up stitch.
Give It A Try
Check out these One-Color Brioche Projects to give this stitch a try!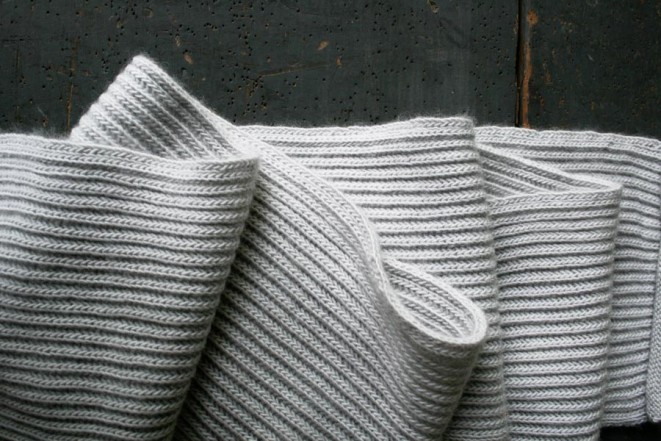 Our Brioche Vest (pictured above left), our Husk Wrap (pictured above right) and our Brioche Scarf (pictured below).