Every stitch of your Reversible Cross-Collar Cowl will be full of anticipation. You'll be excited to finish and wear this beautiful, versatile piece (or gift it to someone very special), but you'll also look forward to the knitting ahead… Simple stitches with a color change for extra fun, a light-worsted-weight yarn that feels just right in your hands, and all of it in our exceptionally soft Nigh DK cashmere. It's going to be amazing!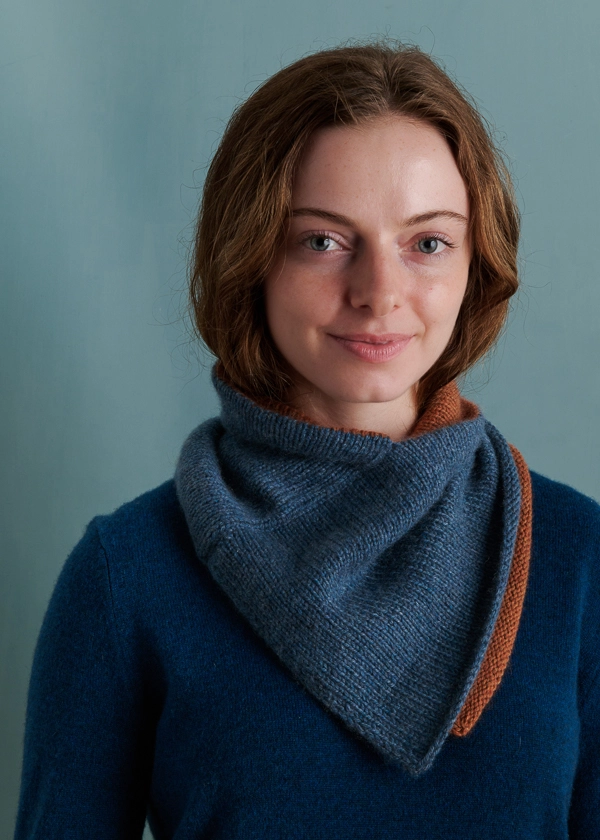 This smart design is, remarkably, just a simple rectangle. You start with one color, work stockinette stitch for 8 inches, then switch to your second color and do the same.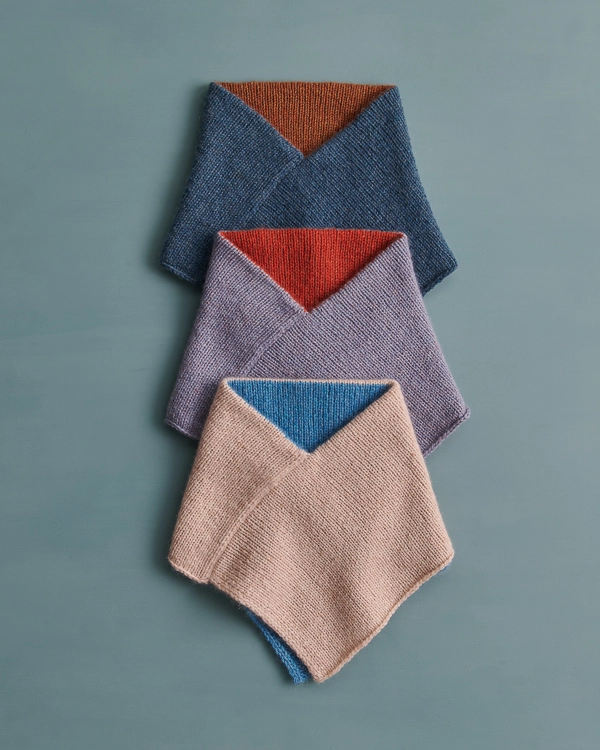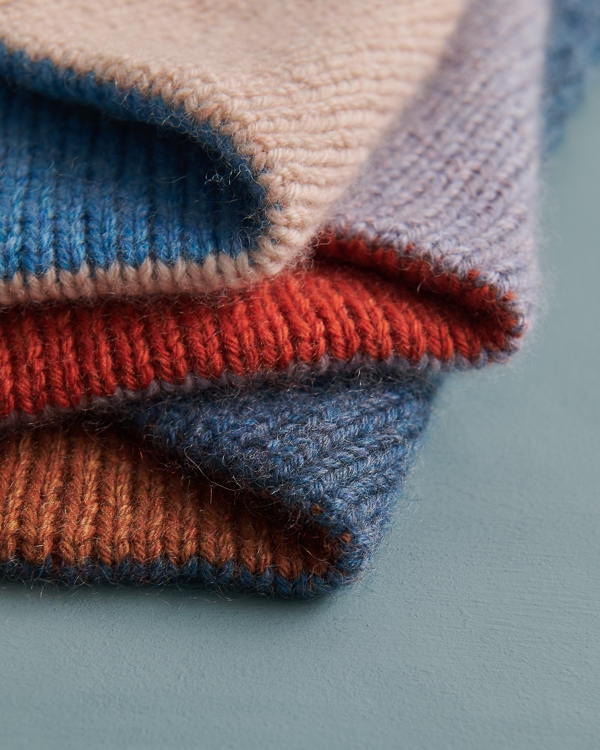 The clever part is one fold and two simple seams, both of which we explain step-by-step with a photo tutorial. Amazingly, in the end, you have a super lovely, super cozy cowl that you can wear with either color on the outside!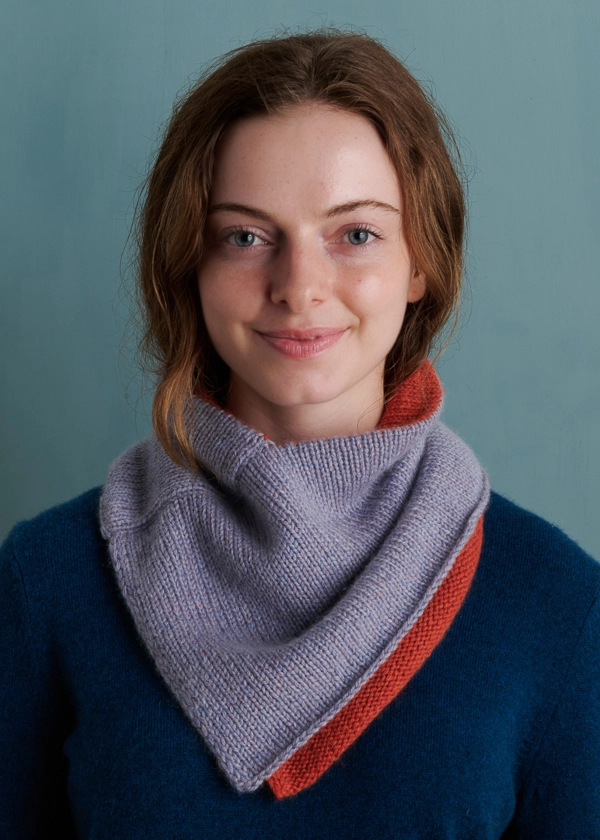 The magnificent beauty of our Nigh DK complements the easy elegance of this cowl. It's made of exquisite, 100% Mongolian cashmere, a fiber that comes from the downy undercoat of goats, designed by nature to be extremely soft, feather-light, and very, very warm.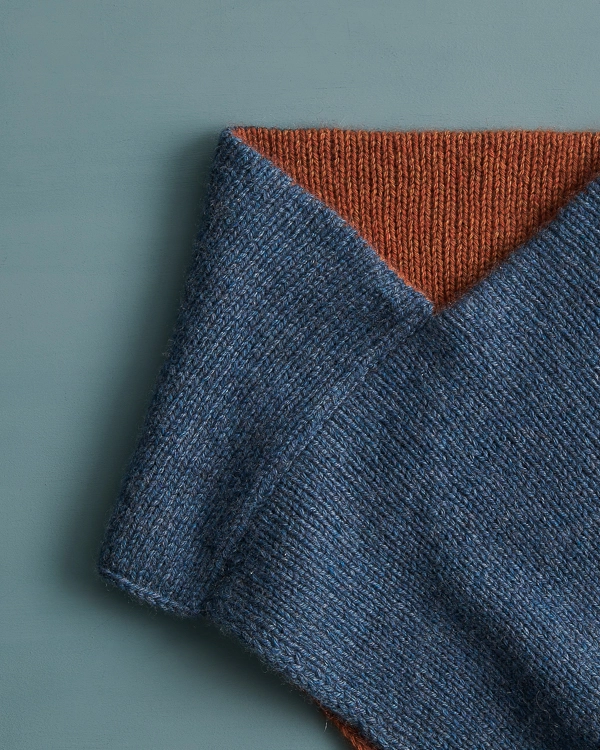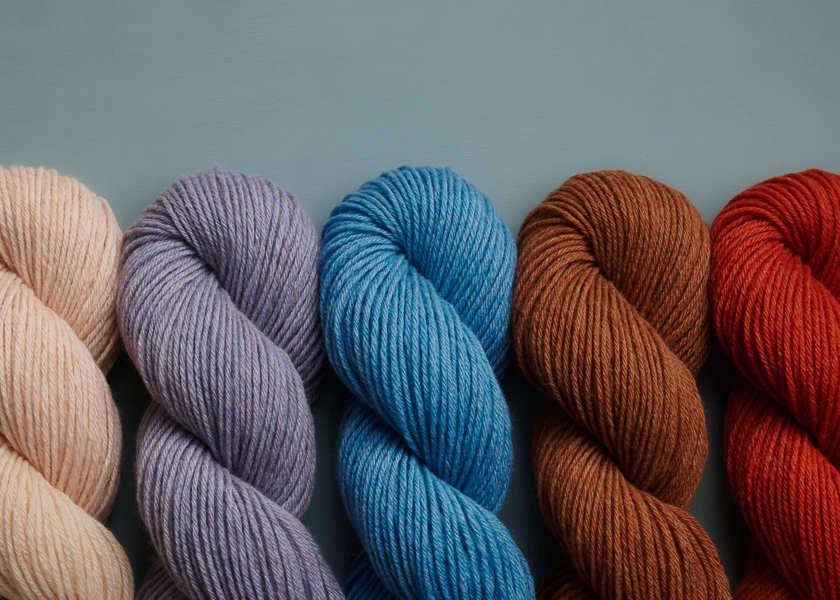 Nigh DK's four plies knit into a smooth fabric with a delicate cashmere-halo that floats above the surface, a truly extraordinary yarn to knit and to wear!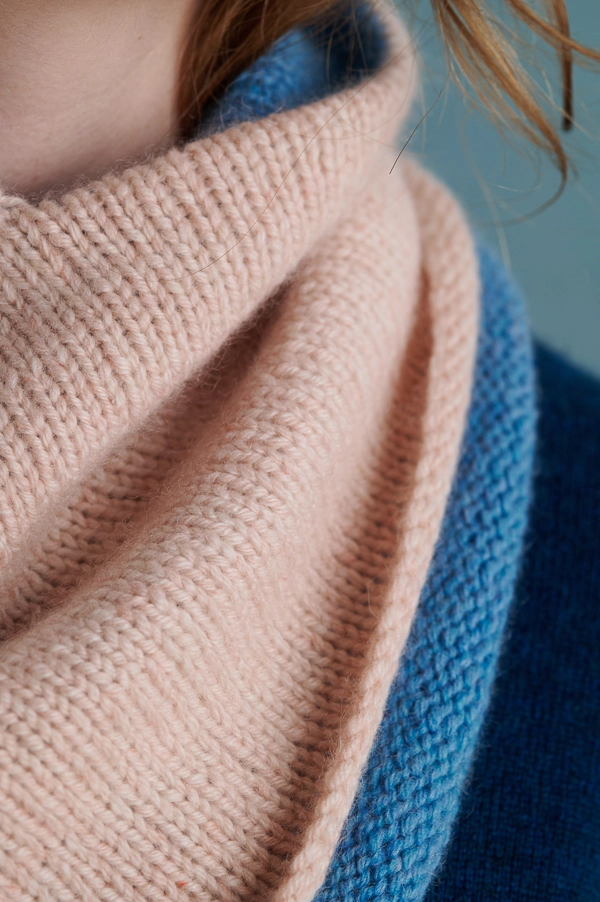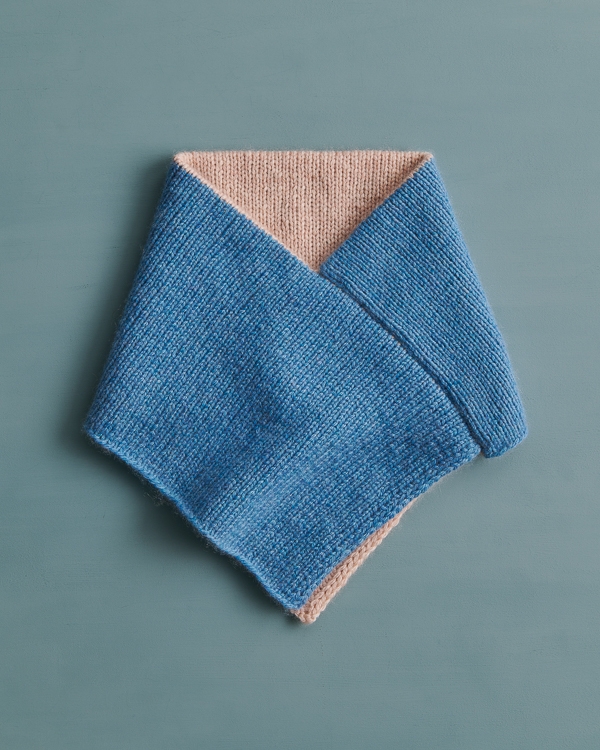 Dive into Nigh DK's gorgeous palette and pick two colors you love… You only need one of each for this beautiful knit, and we hope you enjoy every stitch in this very special yarn!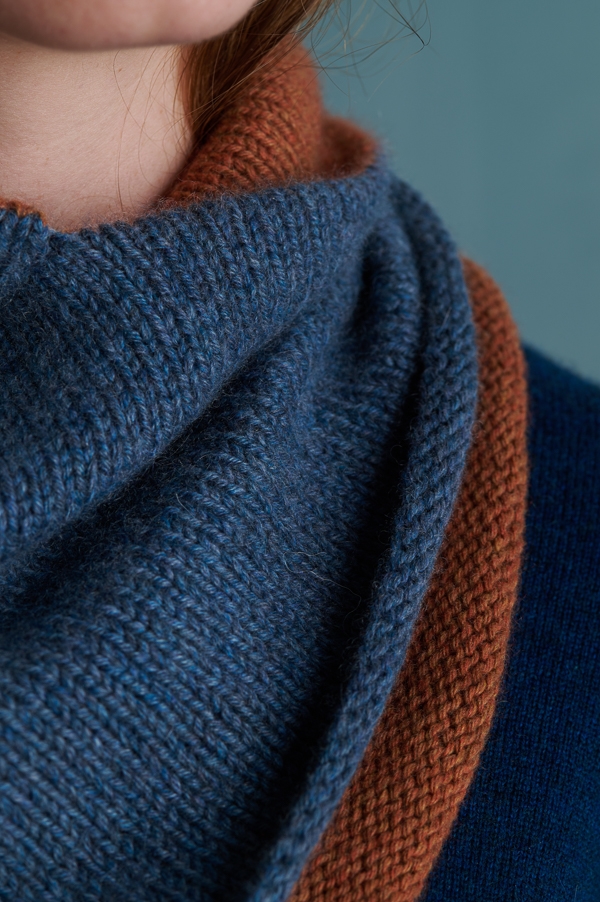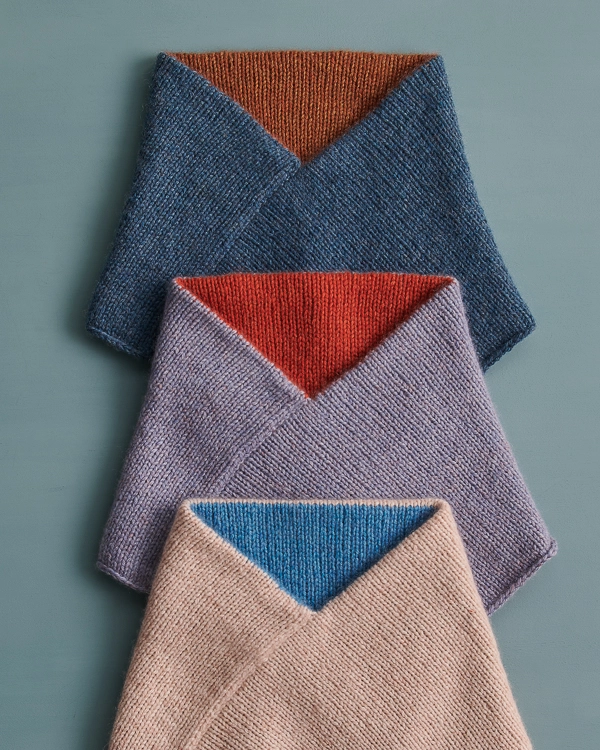 Designed by Purl Soho designer, Gianna Mueller. Click here to see even more of Gianna's designs!
Share your progress and connect with the community by tagging your pics with #PurlSoho, #PurlSohoBusyHands, #PurlSohoReversibleCrossCollarCowl, and #PurlSohoNighDK. We can't wait to see what you make!
P.S. You can find our beautiful Nigh DK right here!
Materials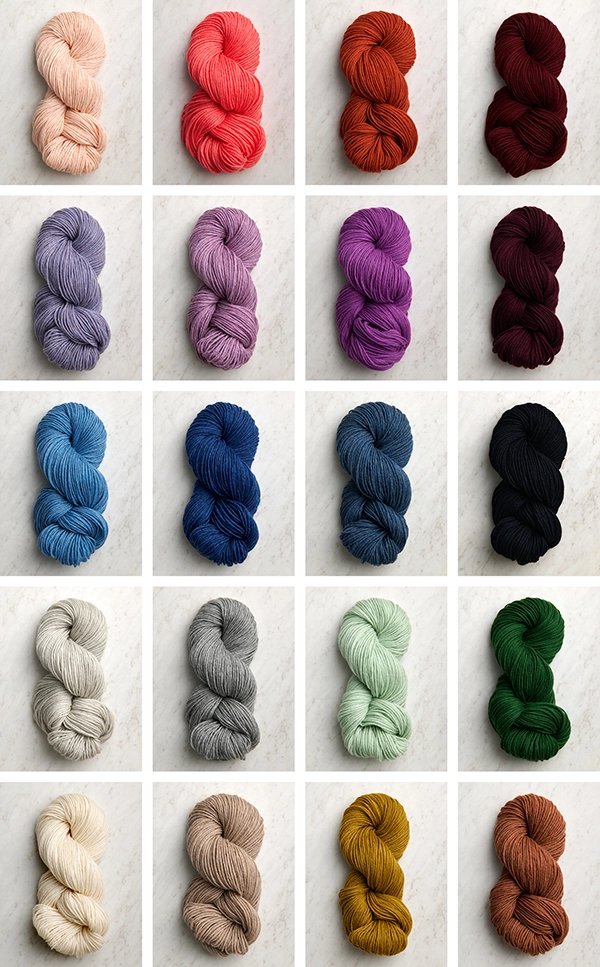 2 skeins of Purl Soho's Nigh DK, 100% Cashmere. Each skein is 199 yards/ 55 grams

Color A: 1 skein; approximately 170 yards required
Color B: 1 skein; approximately 170 yards required
Samples: We used Pink Pearl + Morning Sky, Raindrop Blue + Sugar Maple, and Ocean Storm + Warm Cognac for our cowls.
You can also choose from one of our 10 beautiful Reversible Cross-Collar Cowl Bundles pictured below!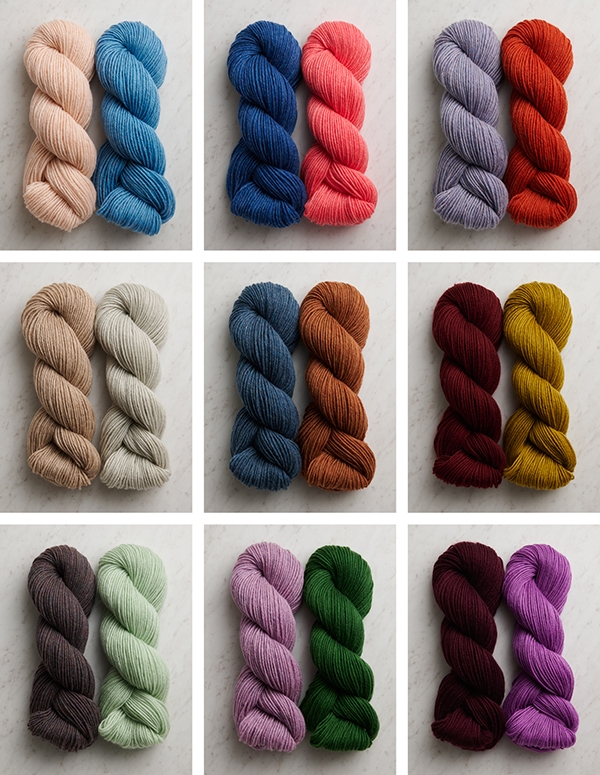 GAUGE
20 stitches and 31 rows = 4 inches in stockinette stitch, blocked
SIZE
Finished Neck Opening: approximately 18 inches circumference, comfortably stretching an additional 5 inches
Finished Height from Point: 10 inches
NOTES
SLIP STITCHES
Slip all stitches purlwise with yarn in front.
PATTERN
BEGIN
With Color B, cast on 111 stitches. We used a basic Long-Tail Cast On.
Set-Up Row (wrong side): Purl to last 3 stitches, slip 1 (see Notes), k1, slip 1.
Row 1 (right side): K1, slip 1, knit to end of row.
Row 2: Purl to last 3 stitches, slip 1, k1, slip 1.
Repeat Rows 1 and 2 until piece measures approximately 8 inches, ending with Row 2.
Cut Color B, and join Color A.
Repeat Rows 1 and 2 until piece measures approximately 16 inches, ending with Row 2.
With right side facing you, bind off knitwise, leaving a 2-foot tail.
ASSEMBLE
Orient rectangle with wrong side facing up and Color A at top. Fold piece in half so bind off and cast on edges are aligned at the bottom and right side of Color A is facing you. Using Mattress Stitch and 2-foot tail, seam together the two vertical edges on the right side of the folded rectangle (you will know you're seaming the right edge if it doesn't have the slipped-stitch selvage).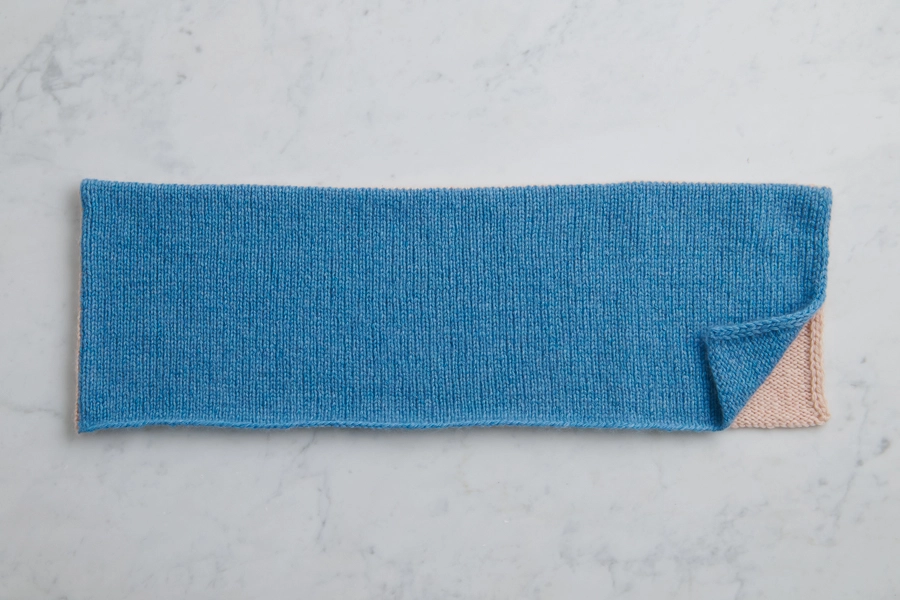 Once edge is seamed, turn piece over so that right side of Color B is facing up and seamed edge is on the left side, as shown above.
Fold right and left sides down towards the center of the piece, and align seamed edge with the top folded edge of the right side.
With a new length of Color A and starting at the bottom of the seamed edge, insert needle through bind-off edge from bottom to top, then through first stitch at selvage edge, again from bottom to top. 
Locate the little bars of Color A that make up the seam of the left edge. Skip a bar on the left edge, insert your needle below the second bar and pull it through.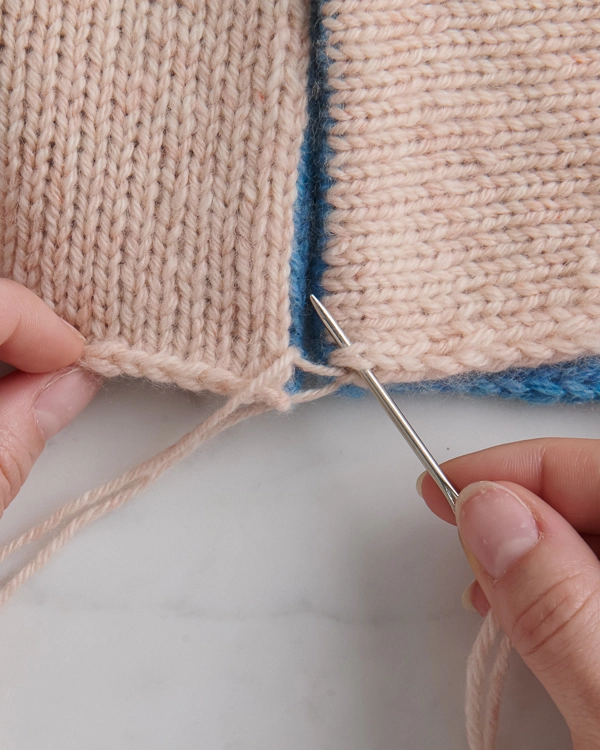 Then insert needle underneath both legs of the next Color A stitch on the folded edge, from bottom to top.
Repeat these two steps, working into every other bar on the left side and every stitch on the right folded side, until you have worked all the bars.
Insert needle through end of mattress stitch seam on left edge and pull tail through to weave in.
Finish
Weave in all ends and gently wet block.