You may think of stockinette as so basic it's boring, but think again! Stockinette has many surprises up its sleeve, including the beauty of its "wrong" side. Sometimes ignored for its sleeker knit stitch counterpart, the purl side has the advantage of texture: nubbly and rustic, tactile and fascinating!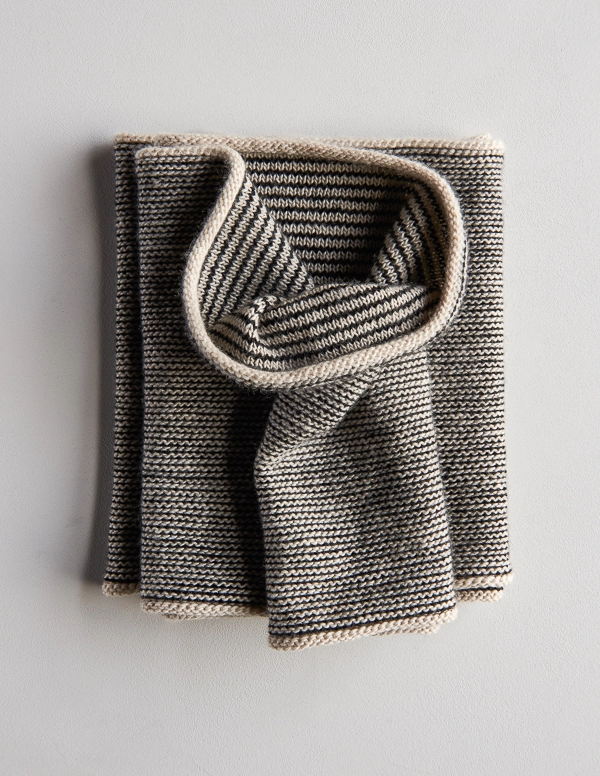 For our Newsprint Cowl, we pushed this texture even further by adding stripes, so those purl bumps turn into blips of color like printed words across a page. And when the knit side folds over, as it's bound to do, the contrast is far from boring!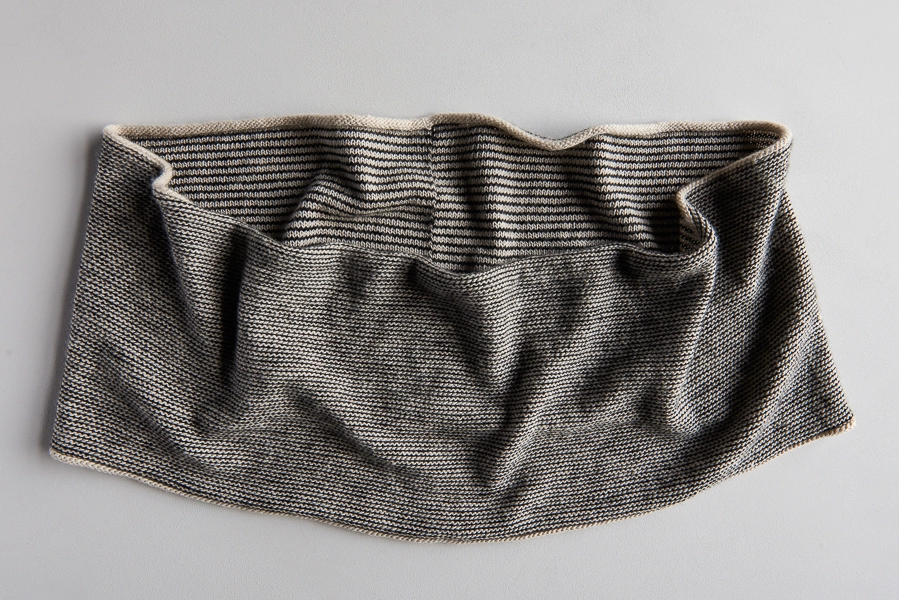 To achieve the subtle effect of printed words, we used our light and lovely Line Weight. It's also as soft as can be and just the right weight for fall, winter, and spring! -Michele Wang
P.S. Michele Wang is an amazing knit designer and good friend to Purl Soho. Be sure to check out her new book of patterns, Capsule Winter 2017, and thank you, Michele, for contributing this original design here! -The Purl Soho team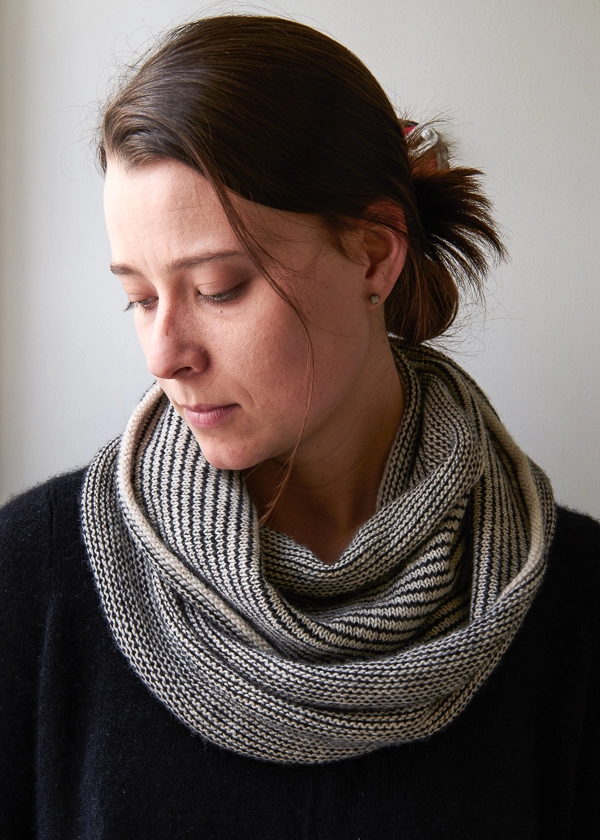 Materials
Main Color (MC): 1 skein of Purl Soho's Line Weight, 100% merino wool. We used Wheat Flour.
Contrast Color (CC): 1 skein of Line Weight. We used Soft Black.
US 4, 32-inch circular needles
We love Wheat Flour and Soft Black for their classic "newsprint" look, but here are some other equally pretty color ideas…
Main Color: Heirloom White (left) + Contrast Color: Kiln Red (right)
Main Color: Honey Pink (left) + Contrast Color: Super Pink (right)
Main Color: Dove Gray (left) + Contrast Color: Trout Brown (right)
Gauge
24 stitches and 35 rounds = 4 inches in stockinette stitch
Size
Finished dimensions: 12 inches high and 58 inches in circumference
Notes
The purl side of this Cowl is considered the right side, but you will make the Cowl with the wrong side facing you. This is so that most of your stitches will be easier knits rather than more difficult purls.
Because the wrong side is facing you, when you carry up the yarns for striping, be sure to twist them on the side facing you, aka the knit stitch side of the Main Body.
For more tips on carrying up yarn, please visit our Stripes in the Round Tutorial, but keep in mind that this tutorial carries the yarn up the backside of the work. The concept is the same, but again, here, you'll carry the yarn up the front of the work!
Pattern
Begin + Work Trim
With Main Color (MC), use a Long Tail Cast On to cast on 348 stitches.
Place a marker and join for working in the round, being careful to not twist the stitches.
Rounds 1-4: With MC, purl to end of round.
Work Main Body
Round 1: With CC, knit to end of round.
Rounds 2 and 3: With MC, knit to end of round. (See Notes, above, for tips on where and how to carry up the yarn for striping.)
Repeat Rounds 1-3 until piece measures about 11 1/2 inches from cast-on edge.
Cut CC yarn.
Next Round: With MC, knit to end of round.
Work Trim
Rounds 1-4: With MC, purl to end of round.
Bind off all stitches purlwise.
Weave in the ends and gently block your Newsprint Cowl!